Mini Figure Pack
Eight Figures, Actually a Handful

Marvel Universe Handful of Heroes Series 2 Pack
Item No.: Asst. 93163 No. 94220
Manufacturer: Hasbro
Includes: Battle mat, 8 figures
Action Feature: n/a
Retail: $6-$8
Availability: 2010
Other: Series 2

PREVIOUS
RSS
NEXT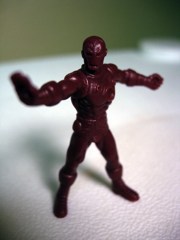 I held off on buying a packet of Handful of Heroes for a while, and now I regret it. It seems the line won't see a third series, and Hasbro has sadly opted not to use this format for its other properties. As a kid, I had a smattering of M.U.S.C.L.E., MicroMachines, Kenner's Star Wars MicroCollection, and D.I.N.O. Mites toys. I like small figures, and this 1 1/2-inch line of figures, on paper, warms the heart. As Hasbro now preps its Star Wars Squinkies knock-off and some other "impulse" figure toys for 2012, I am saddened that they opted not to extend this style to Star Wars or G.I. Joe. They're delightful-- expensive, but delightful.
This packet included The Punisher, War Machine, Iron Man, Iron Man (MK I), Spider-Man, World War Hulk, Doctor Doom, and Bi-Beast which I've never heard of before. (I suppose before his mutation, he was merely Bi-Curious Beast. Thank you, I'll be here all week.) The poster for series 2 shows that of 40 figures, 8 are Hulks, 5 Iron Mans, 3 Wolverines, and 5 Spider-Man. So of the 40 figures, over 50% of the line are variations on 4 characters, which is a little unfortunate given that a line like this practically begs for weird characters. Having only bought one set and loving it, I'm not too keen on buying more because I got so many major characters in this set that I fear a second set would result in at least 50% duplicate characters. With 23 characters and Hasbro making sure you get Spider-Man or some major guy in every packet, they basically shot themselves in the foot for repeat purchases. Your average kid gets a Spider-Man, Iron Man, and Hulk in every box-- why buy a second packet? Sure they're awesome, but one purchase is actually quite satisfying.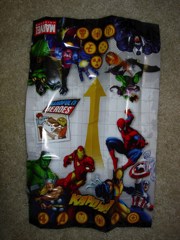 While not "hard plastic," the HOH figures are not as flexible as M.U.S.C.L.E. or their cousins. If anything, they feel like a significantly higher-quality incarnation of those little green military figures we've all seen. The sculpting is crisp, the molding is clean, and there's no real danger of ugly flash hanging off them yet. (Well, with the exception of my War Machine figure, as seen below, which I decided to keep on for now.) I fear that this kind of plastic means they could get damaged if not properly stored over time, but it does have an advantage-- their feet aren't huge and they have no display stands, but they can stand with virtually no problems. This may not sound like a big deal, but I was actually stunned all 8 could stand up perfectly well right out-of-the-box and that the detailing was really nice.
The sculpts are good, but in some cases I don't understand-- why does Doctor Doom have what appears to be Mjolnir? Is it a fake hammer? Did he get it in some series? I'd have been fine if he were just holding up his fist in rage. Both Iron Man figures were great with excellent detail, and Spider-Man looked a little pudgy but still seems fantastic. The Punisher was great, War Machine seems cool with a weird helmet, and Bi-Beast... I don't know who Bi-Beast is. I'm being told he's a Hulk villain. Speaking of Hulk, World War Hulk with his axe and armor is super-cool.
If you like mini figures and are a compulsive collector, do not buy Marvel HOH figures. There are reportedly 3 colors of each of the 40 sculpts per series, and so far there are reportedly a grand total of 240 figures including all variations. I'm not crazy about the glittery or clear flavors, but I do like what Hasbro did here and would love to see it refined in the future. (Request: no more glitter/clear. More variety per pack-- I should never have 2 Iron Man or 2 Spider-Man in a set. And if you're feeling really saucy, a playset or diorama would be marvelous.) If Hasbro did Star Wars figures like this I'd be real broke real fast. I wish they handed out samples of the Marvel guys at a summer convention so I would've known I should run out and buy these prior to the line being basically over.
--Adam Pawlus
Additional Images

Click here to see more Hasbro figures in Figure of the Day.
See more Marvel figures in Figure of the Day:
Day 4: Hasbro Iron Man 2 Iron Man (Blast-Off Figure Stand) Action Figure
Day 7: Hasbro Marvel Universe Ghost Rider Action Figure
Day 15: Hasbro Marvel Universe Iron Patriot Action Figure
Day 24: Hasbro Marvel Universe Dark Wolverine Action Figure
Day 31: Hasbro Marvel Universe Dark Spider-Man Venom Action Figure
Day 34: Hasbro Iron Man 2 Iron Monger (Comic Series) Action Figure
Day 39: Hasbro Spider-Man Super Poseable Spider-Man
Day 40: Hasbro Spider-Man Stealth Ninja Spider-Man
Day 50: Hasbro Spider-Man Toxic Blast Venom
Day 55: Hasbro Iron Man 2 Iron Man (Original) Action Figure
Day 60: Hasbro Iron Man 2 Iron Man Silver Centurion Action Figure
Day 65: Hasbro Spider-Man Dive Bomber Green Goblin
Day 70: Hasbro Iron Man 2 Deep Dive Armor Iron Man
Day 73: Hasbro Marvel Universe Iceman
Day 75: Hasbro Iron Man 2 Hulkbuster Armor Iron Man
Day 84: Hasbro Iron Man 2 Comic Series War Machine
Day 91: Hasbro Spider-Man (Kid Series) Monster Claw Carnage Action Figure
Day 103: Hasbro Marvel Universe Marvel's Firestar
Day 108: Hasbro Marvel Universe Spider-Man Action Figure
Day 115: Hasbro Iron Man 2 Comic Series Guardsman
Day 124: Hasbro Iron Man 2 Movie Series Iron Man Mark V
Day 131: Funko Thor Pop! Vinyl Thor Vinyl Figure Bobble Head
Day 137: Toy Biz Spider-Man Animated Super Articulated Spider-Man
Day 141: Funko Thor Pop! Vinyl Loki Vinyl Figure Bobble Head
Day 154: Hasbro Iron Man 2 Movie Series Iron Monger
Day 209: Hasbro Iron Man 2 Comic Series Iron Man #30 Action Figure
Day 249: Funko Marvel Universe Pop! Vinyl Iron Man Vinyl Figure Bobble Head
Day 290: Hasbro Spider-Man Mighty Muggs J. Jonah Jameson
Day 292: Hasbro Marvel Universe Compound Hulk
Day 300: Hasbro Spider-Man Mighty Muggs Venom
Day 306: Funko Marvel Universe Pop! Vinyl The Hulk Vinyl Figure Bobble Head
Day 311: Hasbro Spider-Man Mighty Muggs Spider-Man
Day 320: Hasbro Marvel Universe Handful of Heroes Mini Figure Pack
Day 336: Hasbro Spider-Man Mighty Muggs Demogoblin
Day 427: Funko Marvel Universe Pop! Vinyl SDCC Exlusive Spider-Man Vinyl Figure Bobble Head
Day 542: Hasbro Avengers Target Exclusive 8-Pack Figure Collection Captain America Action Figure
Day 578: Hasbro Avengers Target Exclusive 8-Pack Figure Collection Hulk Action Figure
Day 584: Hasbro Avengers Target Exclusive 8-Pack Figure Collection Thor Action Figure
Day 603: Hasbro Avengers Target Exclusive 8-Pack Figure Collection Iron Man Action Figure
Day 628: Hasbro Avengers Target Exclusive 8-Pack Figure Collection Nick Fury Action Figure
Day 757: Hasbro Avengers Assemble Captain America
Day 872: Hasbro Iron Man 3 Marvel Legends Iron Man Mark 42
Day 878: Hasbro Iron Man 3 Marvel Legends Iron Monger
Day 916: Hasbro The Amazing Spider-Man Movie Ultra-Poseable Spider-Man
Day 936: Hasbro The Amazing Spider-Man Night Mission Spider-Man
Day 1,007: Hasbro Guardians of the Galaxy Marvel Legends Infinite Series Drax
Day 1,011: Hasbro Guardians of the Galaxy Marvel Legends Infinite Series Iron Man
Day 1,021: Hasbro Iron Man 3 Marvel Legends Heroic Age Iron Man
Day 1,047: Hasbro Guardians of the Galaxy Marvel Legends Infinite Series Star-Lord
Day 1,150: Funko Guardians of the Galaxy Pop! Vinyl Entertainment Earth Exclusive Ravagers Dancing Groot
Day 1,155: Funko Hikari Vinyl Marvel Guardians of the Galaxy Planet X Groot
Day 1,158: Hasbro Guardians of the Galaxy Marvel Legends Infinite Series Gamora
Day 1,235: Hasbro Marvel Legends Infinite Series Guardians of the Galaxy Classic 5-Pack
Day 1,300: Funko Hikari Vinyl Marvel Metallic Hulk Vinyl Figure
Day 1,484: Hasbro Captain America Civil War Spider-Man, Captain America, and Iron Man Action Figures
Day 1,494: Hasbro Marvel Legends X-Men Iceman
Day 1,501: Hasbro Marvel Legends Series Spider-Man
Day 1,514: Hasbro Marvel Legends X-Men Marvel's Phoenix
Day 1,515: Hasbro Marvel Legends X-Men Marvel's Rogue
Day 1,527: Hasbro Marvel Legends X-Men Wolverine
Day 1,664: Hasbro Guardians of the Galaxy Marvel Legends Infinite Series Groot Evolution
Day 1,667: Hasbro Guardians of the Galaxy Marvel Legends Infinite Series Rocket Raccoon
Day 1,729: Hasbro Guardians of the Galaxy Marvel Legends Infinite Series Groot
Day 1,749: Hasbro Marvel Legends Series 12-Inch Deadpool
Day 1,792: Hasbro Marvel Legends X-Men 6-Inch Deadpool
Day 1,820: Hasbro Marvel Mighty Muggs Captain America
Day 1,916: Hasbro Marvel Legends Marvel Knights Man-Thing
Day 1,988: Hasbro Marvel Legends X-Men Cable
Day 2,007: Hasbro Marvel Legends Thor Ragnarok Thor and Marvel's Valkyrie
Day 2,016: Toy Biz X-Men Steel Mutants Wolverine vs. Sabretooth
Day 2,028: Hasbro Gamerverse Marvel vs. Capcom Infinite Black Widow vs. Ryu Action Figures
Day 2,031: Hasbro Marvel Rising Secret Identity Doreen Green Squirrel Girl Doll
Day 2,037: Hasbro Gamerverse Marvel vs. Capcom Infinite Iron Man vs. Mega Man X Action Figures
Day 2,040: Hasbro Marvel Legends Venom Venom Action Figure
Day 2,048: Hasbro Deadpool Chimichanga Surprise Unicorn Deadpool
Day 2,109: Hasbro Playskool Heroes Series 2 Marvel Super Hero Adventures Clear Spider-Man
Day 2,116: Hasbro Marvel Legends 80th Anniversary The Grandmaster and Korg Action Figures
Day 2,201: Hasbro Spider-Man Bend and Flex Spider-Man Action Figure
Day 2,229: Hasbro Spider-Man Marvel Legends Retro Spider-Man Action Figure
Day 2,303: Hasbro Marvel Legends Deadpool Deadpool in Boxers
Day 2,342: Hasbro Marvel Legends 375 Spider-Man Action Figure
Day 2,381: Hasbro Avengers Bend and Flex Captain America Action Figure
Day 2,438: Hasbro Marvel Iron Man Action Figure
Day 2,444: Hasbro Marvel Hulk Action Figure
Day 2,453: Hasbro Marvel Spider-Man Action Figure
Day 2,459: Hasbro Marvel Legends 375 Iceman Action Figure

Want to buy this figure? Check Marvel availability at our sponsors:
Entertainment Earth