Captain America
Special Value!

Avengers Target Exclusive 8-Pack Figure Collection
Item No.: No. A1212
Manufacturer: Hasbro
Includes: Shield, gun, 7 other figures, smattering of accessories
Action Feature: n/a
Retail: $49.99
Availability: October 2012
Other: Retooled Shield Launcher Captain America, this design may have been planned for a carded release and/or is a prerelease of said figure

PREVIOUS
RSS
NEXT

A common complaint I hear is "who buys these stupid exclusive 8-packs?" In Star Wars, I make the complaint all the time. However with the 8-Pack Avengers Figure Collection it turned out I was the target audience, so to speak. I love action figures, I don't buy a lot of the Marvel figures, and I wanted a cheap (but good) representation of the main cast. I was just complaining that I wanted $5 or $6 figures to a buddy of mine, and then this shows up a few days later. $6.25 beats $8.99 or $9.99 per figure, and as I didn't have movie versions of any of these guys it just happened to work out pretty nicely. (Sure, I've got some Iron Man figures but not the "Movie" one.) The deco on some figures is better, and on some it's a little worse. Oh, and all the rocket-firing weapons were completely dropped, so if you want those you'll need to buy the carded figures to the tune of $72-$80. There are some scale issues across the set (Hawkeye is a little tall, Hulk is a little short) but on the whole it's a very decent package of figures. It's not perfect, but these things never are.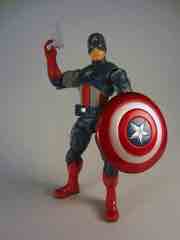 From my research, Captain America is the gem of this set, falling into our favorite category of "just different enough to make you mad." It's similar to the Shield Launcher figure, minus the titular Shield Launcher. Deco has been improved, the figure's thigh no longer has a holster for his gun, and there's a new head with a sculpted (not painted) "A" for "Adulteress" and some newly-sculpted wings on the sides. As I was actually very much in the market for a 3 3/4-inch Cap figure, this worked out pretty well.
So that's what you hardcore fans probably wanted to know... but already know. So what about the schmucks like me who just want a decent Steve Rogers figure? This one's pretty good, because he looks good and has a shield. He also has a strange level of articulation, with a ton of unique leg joints but no wrists, no ankles, and no waist. 13 total joints await you, and they do a pretty good job of keeping the sculpt nice and clean. A waist joint would have been nice, I admit, I was actually hoping it might have a spring-loaded shield-smashing action. (For the record, the only figure with any spring-loaded gimmick in the set is Hulk.)
The figure has a decent likeness, with a strong chin and a decent mask which, together, is a likable approximation of movie star and Doug Loves Movies guest Chris Evans. (Seriously, listen to the episode, it's a ton of fun and has Leonard Maltin and Adam Scott.) The gun is silver, and the shield has some added deco which makes it look great. It's amazing what a little black paint on the straps can do, but the metallic red, white, and blue front of the shield make it extra awesome.
I flat out do not understand why you'd give a figure double-jointed knees but no ankle joints, but a lot of what Hasbro has been doing since late 2010 has been largely confusing to me. As a part-time superhero collector the entire set is a bunch of fun, as most of the figures have deco closer to the movie and arguably superior to many of the individually carded releases. Cap is particularly nice, although it's going to be interesting to see if the Avengers movie line continues in 2013... and if they actually make super-articulated versions of everybody this time. If you don't have any of these guys and the set goes on sale/clearance, buy it. If this set was $39.99 or less, I'd give it extremely high marks in the value department. At $50, it ain't bad.
--Adam Pawlus
Additional Images
Additional Hasbro Avengers Target Exclusive 8-Pack Figure Collection Images

Click here to see more Hasbro figures in Figure of the Day.
Click here to see more Marvel figures in Figure of the Day.
Want to buy this figure? Check Avengers availability at our sponsors:
Entertainment Earth