Hoverboard
Pre-Order Release

Back to the Future II Prop Replica
Item No.: n/a
Manufacturer: Mattel
Includes: Board, display stand, preorders include mini DCUC/MOTUC-sized Hoverboard with handlebars
Action Feature: Movement-based sound effects
Retail: $130
Availability: December 2012
Other: MattyCollector.com Exclusive, needs 3 "AA" batteries (not included)

PREVIOUS
RSS
NEXT

A wise man (OK, Oingo Boingo) once said "All I really want are all those things that I can't have" and an actual, honest-to-goodness Hoverboard has been at the top of that list for a lot of us. Because of its prominent Mattel logos, there's really only one company who can make it, and supposedly their ability to do so is tied with a collector's line license that hasn't borne much fruit. There was talk of Movie Masters figures, or so I seem to remember, but other than die-cast vehicles (and nice ones, at that) it seems that this artifact may be the sole creation that isn't a DeLorean. It fits the bill of being somewhere in between pretty good/good enough, and the pricing seems to be in line for similarly sized and similarly featured plastic collector toys in this day and age.
If you preordered it, you got a bonus, 6-inch-scale tiny Hoverboard which works great with your DC Universe Classics or Masters of the Universe Classics toys. If not, well, you didn't. The inclusion of the bonus part is clearly marked on the box (see below in the gallery) so you should know what you're getting.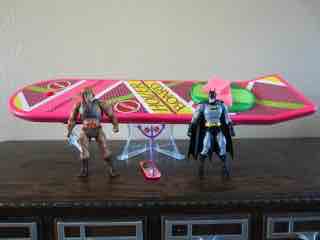 For the price, and knowing it came from a toy company whose previous replicas have fallen closer to really nice roleplay toys rather high-high-high-end $300+ prop replicas, this item feels about right for 1.3 Benjamins in the year 2012. Not because it's a great value, but the rapidly increasing prices of everything, especially big stuff, puts things in perspective. Its quality and heft is probably on par with Diamond Select Toys' excellent range of Star Trek roleplay replicas, and considering it's much larger my plastic-addled mind says "it costs about the same as 3-4 Phasers and is also as cool as about 3-4 Phasers or 2 Tricorders." I'd love it to be cheaper, but well, I'd love Matty figures to be $10 and not $22. That's the life of the modern toy collector. But price aside, how is it?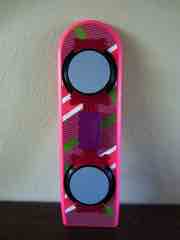 I don't own a lot of high-end collectibles, my interests lay mostly in the lower-end stuff. But this, I like. While some people may have been expecting a heavy wood or resin board, I was expecting something like what I thought I saw in the movie, which was probably a pretty crappy kickboard with a sticker or decal on it. That's sort of what this is... it's a big plastic piece with a giant sticker on it. It looks like it should have been made of a lenticular material and wasn't, although I'm no expert on the prop and to be honest, it's not like it harms my expectation for this piece. I was just expecting a pink slab of plastic with some Mattel logos on it.
One thing that did surprise me was a liberal use of velcro on the item. There's a big pink strap near the rear with a rotating area for your foot, and there are a couple of pink stripes below where the handlebar hole is. I honestly don't know the function of it, I'm guessing this was on the real prop and replicated here.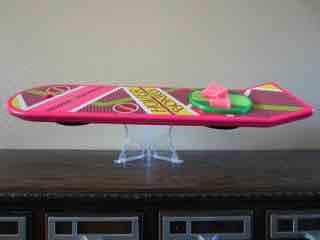 Other than the moving green disc on the back, there aren't many moving parts here. There's not even an on/off switch, as the board is activated by movement. It goes to sleep when you put it on its side, and I had problems waking it up after I put it on the bonus free clear plastic display stand. I flipped it over and tried again, and it woke right up. There's a hovering sound effect which may be a little loud (as the piece vibrates a bit), and it makes numerous different "whoosh" sounds depending on how you tilt or move it. If you slide it over the carpet, it'll make a recognizable sound too.
A clear, plastic display stand has a hard-to-see movie logo on it, and can be folded either way. Message To Idiots Like Me: The stand can be folded either way. You want the flat feet facing out. Otherwise it'll topple over to your right-hand side. It's very heavy under the green foot disc, so be sure to have the feet facing out. Do not be stupid. I was stupid. Thank you.
The full-size prop feels like a cross between a toy and a prop replica, and I think it gets a B+ on authenticity and the price. (If it had lenticular stickers, I'd give it an A. Unless I'm wrong about the lenticular part. It's a hunch.) But how's that bonus mini Hoverboard?
The miniature replica has a bonus part, handlebars. The big one has a place to stick handlebars, but the piece (a key part of the "real world" device) was left out. It plugs in to a hole on the front, and it's worth noting that the foot strap and green disc is articulated. It swivels around so, maybe, Batman or the Mighty Spector can make use of this little piece. Like its larger counterpart, the deco is largely labels with a little bit of paint.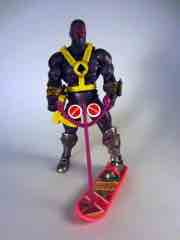 I can't say that in this economy, after roughly 20 non-stop years of awesome collectible sci-fi toys from dozens of companies, that this is a must-buy piece. However. There haven't been really any Back to the Future Hoverboards of any kind ever. This is it, and since Mattel is unlikely to ever license out their logo to a prop maker, this could well be the only way you'll ever be able to get one. If you're expecting a high-end expensive-feeling EFX/Master Replicas/Icons-type prop, this isn't it. If you're OK shelling out $130 for a superlative roleplay item for collectors which will encourage your idiot family to complain that you own one and that it doesn't actually hover, you should run out and get it. I was expecting Mattel to just paint a normal skate deck and slap on some Magic Sliders onto the bottom, so the added sound effects and articulated foot pad are a nice touch. I'm not sorry I got one, unless someone makes a better one in the next five years. It'll probably cost more though, and what I wanted was just a board that looked cool too have in my basement. This fits the bill, and then some.
--Adam Pawlus
Additional Images

See more Back to the Future figures in Figure of the Day:
Day 552: Mattel Back to the Future II Hoverboard Prop Replica
Day 985: Funko Back to the Future Marty McFly ReAction Figure
Day 1,008: Funko Back to the Future George McFly ReAction Figure
Day 1,008: Funko Back to the Future Doc Brown ReAction Figure
Day 1,078: Funko Back to the Future Biff Tannen ReAction Figure
Day 1,290: Mattel Hot Wheels Back to the Future Time Machine - Hover Mode
Day 1,390: Funko Pop! Movies Back to the Future Marty McFly Vinyl Figure
Day 2,205: Playmobil Back to the Future DeLorean Time Machine Vehicle with Figures
Day 2,231: Playmobil Back to the Future Marty McFly and Dr. Emmett Brown Figures
Day 2,255: Playmobil Back to the Future Advent Calendar with Figures
Day 2,265: Hasbro Transformers x Back to the Future Deluxe Gigawatt Action Figure
Day 2,352: Playmobil 70634 Back to the Future Part II Hoverboard Chase
Day 2,363: Playmobil 70576 Back to the Future Part III Advent Calendar with Figures

Click here to see more Mattel figures in Figure of the Day.