Rung
WFC-S45

Transformers Generations War for Cybertron Siege Battle Masters
Item No.: Asst. E3431 No. E7145
Manufacturer: Hasbro
Includes: 2 blast effects
Action Feature: Transforms from Robot to Ornament
Retail: $5.99
Availability: October 2019
Other: Worth it, maybe get two to customize eyebrows on one

PREVIOUS
RSS
NEXT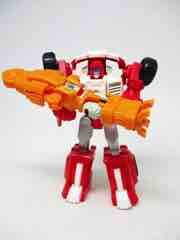 Comic-first character don't get a ton of toys, but when they do fans tend to get pretty excited. Despite being a rather large character, Rung is debuting as a small toy which incorporates quite a few of the important elements from his comic book appearances. I would vote this one "most likely to be sold upsized at 250% by knock-off manufacturers."
This figure is notable in that it is the only Battle Masters toy to be released so far to be of any real significance as a character goes. While the line has a number of original characters and remakes of/tributes to classic Targetmasters, this is the only figure that's a major character downsized to be a weapon - and it was a good choice. Swerve uses him as a bat once, which sort of makes this a perfect addition to your toy box if you've been collecting these guys for a few years. It's also one of the very best of these.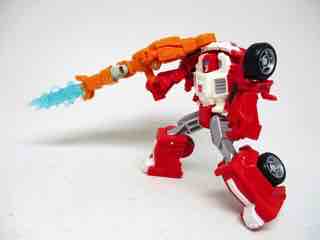 Despite the nickname "eyebrows," Rung's are unpainted - but that's not a big problem because he has plenty of other significant paint applications, like the blue of his glasses and chest, and the yellow markings on his chest as well as grey thighs.

The head sculpt has a slight scowl, and he's a little rounder than his relatively thin comic depiction. Hasbro and Takara-Tomy included all the major landmarks, though, and it's unmistakably Rungian. This is the Rung you want for any micro-scale dioramas, so if you've been hoarding "Legends"-class toys since the late '00s for possible future use with an Omega Supreme or Metroplex, this is going to fit right in with those. The arms and legs are ball-jointed, plus Hasbro gave it a jointed waist for no good reason. It's neat, and for fans it's going to be an easy purchase.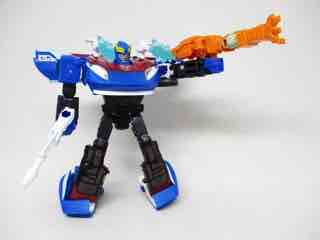 The transformation to ornament mode - or other modes, if you've read the final issues of The Lost Light - is a snap. No part has to be crammed on to him, al you have to do is fold up his backpack kibble and swivel up the arms. They plug in, and you're done. The waist can rotate but serves no purpose in transformation. You can use him as a bat, you can use him as a blaster, and you can also pretend he's kind of a miniature space ship - whatever works for you will be just fine.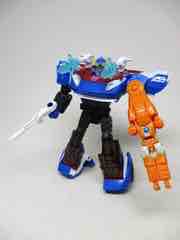 As a weapon - of sorts - it works. Swerve or other toys can carry him around, and you can plug in energy drills to his feet. I assume these were a reference to the Functionist Universe Rung, which involves a different, larger alt-mode with other ramifications. It's a decent mold and a nice way to make something you can play with that's also pretty true to the comic book incarnation.
This is a good Rung, and for its retail price is absolutely worth picking up. This may not be the best Rung we ever get - but it's hard to know. We've had one proper Straxus (Darkmount,) a single Scrounge, and it's not common for too many characters who start out as comic-only creations to get several toys. I am hoping we somehow, some day see a Deluxe-class Rung but I'm still glad we got this one. If nothing else, it's a great accessory for Swerve [FOTD #925] to re-enact that one scene from the comic book.
--Adam Pawlus
Additional Images

Click here to see more Hasbro figures in Figure of the Day.
Click here to see more Transformers figures in Figure of the Day.

Want to buy this figure? Check Transformers availability at our sponsors:
Entertainment Earth