Protectobot Rook
Defensor #2 of 5

Transformers Generations Combiner Wars Deluxe
Item No.: Asst. B0974 No. B2396
Manufacturer: Hasbro
Includes: Comic book, claw weapon, hand/foot/weapon
Action Feature: Transforms from Robot to Armored Vehicle to Hand to Foot
Retail: $15.99
Availability: May 2015
Other: Retooled to Swindle, Repainted as Wandering Roller

PREVIOUS
RSS
NEXT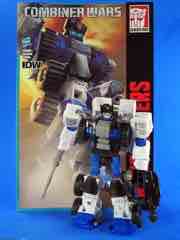 Drawing criticism mostly for not being a deluxe-class motorcycle, the criticism many gave Protectobot Rook this year was mostly nonsense. While we can all be critical of a toy for not being what we'd rather have, it's silly to ding a good figure for being different - while I still want a deluxe-sized motorcycle limb mold, Rook is a good toy in his own right. I appreciate that Hasbro made Rook rather than saying "Groove got hit by a Cybertronian bus and now he's a SWAT vehicle" - plus the design is fun and works well. Hasbro also tried a few new things here which did wonders in making a new figure that actually feels new, and sometimes that's tough in a nostalgia trip like Combiner Wars.
One of my big regrets in 2015 is not reviewing all the Combiner Wars guys already, so I'll be making up for that over the next few weeks. Rook here seems to sell out regularly, and with good cause - this is a fantastic robot. He has no real characterization in the comics or elsewhere, and his name comes from his fact that his head looks like a chess piece. What I see when I look at him is sort of a football helmet face guard, but that's me - there's a ring running across his nose and there's a thing around his chin. The faction symbol on his head is also pretty nifty, and fairly unusual - while these characters may be programmed for eternal war (or close to it), their faces usually eschew political statements.
Much like his remold Swindle, he's got a fair amount of articulation including unusual-for-Transformers rocker ankles. Particularly nifty are his fists - rather than having a 5mm hole in each hand, his knuckles sport a hole so you can use the included claw weapon as sort of a reaching gizmo. You can also plug in swords, BMOG axes, or other goodies if you have them. It changes up how the figure haves and interacts with your other toys, making it either an abomination or a breath of fresh air. The ankles and hands offer numerous new chances for how you can display the figure on your desk or a shelf, but the (un)fortunate truth is you're probably going to use him as an arm for Defensor. Well, it's not really sad, but it's an example of one of the problems of making some of these toys good in and of themselves. The Generation One combiner toys were often pretty skimpy - neat, cute, but ultimately simple toys who were best used as part of a greater whole. Meanwhile, the Combiner Wars limbs are actually pretty good toys in their own right - the combination.shtmlect is just a bonus.
And before we move on, let me note that the 5mm fist ports are perfectly sized to mount the larger "Combiner" hands in - which effectively gives him giant Hulk Hands, or it would were there green ones. Here's hoping.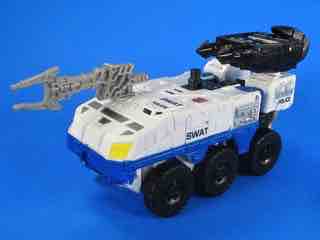 Rook turns into a no-nonsense SWAT vehicle - as you can see all over his person. This police vehicle probably speaks volumes on what changes have come to police equipment over the last decade, and while he's joined by the more traditional Streetwise and Prowl in this line, this is clearly a brutal vehicle. You can see some rescue equipment sculpted on the interior of his forearm - an axe, the jaws of life, gas cans - and these make for a distinctive vehicle mode too. He folds into his vehicular form fairly easily, with his head and much of his person being covered by a big backpack panel. All six wheels roll nicely, and he looks like one of the most dangerous alt modes this line has ever seen. It's a shame this couldn't have also been Strika.
Since there is no G1 counterpart, Rook gets to be his own man - a massive, bulky war machine who takes (presumably) some prisoners since he's a cop of sorts. The bright lights and black detailing do a lot to give the vehicle mode a sense of power, which is an interesting choice for a team made of mostly rescue vehicles. I suppose "rescue" can be applied rather liberally depending on the purpose of the mission, perhaps the SWAT vehicle is capable of rescuing a house from its occupants? Either way, it's a fun toy with ports to mount his weapon or any others you may have handy. The smaller BMOG gun from the Manta Ray is particularly fun to mount on him.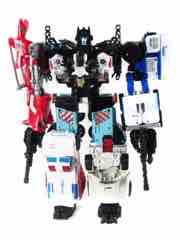 This toy may be the perfect combiner piece - as a leg, he's a solid wall of metal. As an arm, he's, well, well-armed. The brick-like armored leg is a perfect fit for Defensor - after all, armor is a good defense - and as an arm he's pretty solid. The vehicle's giant plate cover the shoulder nicely without restricting movement. It's almost a shame there's no "Rook squad" made of 4 of this guy with different deco and heads - he really seems like he'd be a good replacement Autotrooper. It's a neat toy, if you can get behind the idea of one of the replacement team members being pretty fun.
In a year packed with more fun toys demanding that you play with them than I can remember in quite some time, Rook stands out. This is a fun toy, which is also an essential part of a team that you'll probably want to buy anyway. I like my toys to feel rewarding and fun, and this is one of those toys that scratches those itches. I wish he had more personality in the comics, but at least the toy is good enough that maybe, just maybe, he'll inspire someone to give him a story down the road.
--Adam Pawlus
Additional Images

Click here to see more Hasbro figures in Figure of the Day.
Click here to see more Transformers figures in Figure of the Day.

Want to buy this figure? Check Transformers availability at our sponsors:
Entertainment Earth