Video Game Super Stars Mario Kart 64 Mario Action Figure
Vanished Quickly

Video Game Super Stars Mario Kart 64 Action Figure
Item No.: Asst. 44220-T No. 44221
Manufacturer: Toy Biz
Includes: Kart, Koopa shell projectile
Action Feature: Pull-back motor on Kart, launching Koopa shell
Retail: $9.99
Availability: Ca. 1999
Other: From Mario Kart 64

PREVIOUS
RSS
NEXT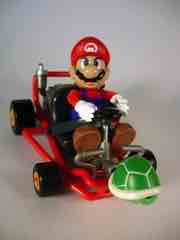 While Toy Biz is famous for its development of the Marvel properties (and having developed Batman only to have Kenner take it back), they also had a brief run with video games in the late 1990s. This Mario figure comes from Mario Kart 64, and is one of many games Toy Biz did for the USA - including Darkstalkers, Diddy Kong Racing, Resident Evil, Tomb Raider, Marvel vs. Street Fighter, and Marvel vs. Capcom. Some of these were plentiful and were closed out. Others, like Mario here, I saw at a Target once or twice and then never again. I always meant to get both, but on a college student budget that was simply not in the cards. Before I continue, I should note at least one other version of this figure exists - instead of a shell, it includes a launching Boo.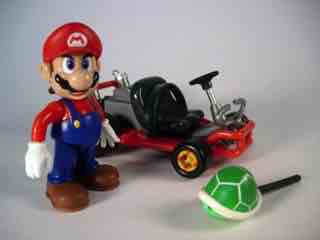 The figures were largely all under $10, and many had some pretty nice accessories - Link had Epona, and Mario has this kart. This roughly 3-inch figure was pretty much the last proper "action figure" of Mario until Jakks Pacific got the line a few years ago. We had some collectible figures, but the whole smallish articulated figure meant to interact with accessories didn't get a lot of play in the USA for quite some time. Mario's roughly a full head shorter than his Jakks counterpart, and comes complete with swivel wrists and ball-jointed elbows. Aside from that, he's got more or less normal articulation for his time - 7 joints. He stands fine, but his hands are just kind of strange - for driving or standing, they both seem odd. Mario himself is on model but not too on model as eh seems just a little off-color, a little thin, and a little more rat-like than most 3-D interpretations of the character. Of course, he looks loads better than the giant statues in stores like Software Etc. or Babbages in your malls, which basically seemed like a bad knock-off blown up to the size of a grade schooler. Toy Biz' figure is also better than what Applause did in the 1980s, mostly. Hey, it was one of the first legit Mario action figures I've ever seen, but I'm hesitant to say it was the first fully-poseable plastic representation of the plumber. (Although it may be.)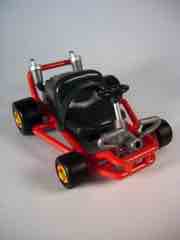 The figure has no problems fitting in his fairly sizable Kart - it has wheels, an engine, and a pull-back motor that actually works pretty well. The shell launching mechanism ties in to it. Toy Biz did a nice job designing it with minimal paint applications, and a really sharp paint mask on the Koopa shell itself. It's worth noting that the shell is basically a rocket with a shell tip, though, so it launches like most spring-loaded rockets other contemporary toys sported back in the day. This probably prevents it being too much of a choke hazard. Of note, the wheels are yellow with red stripes - this kind of added detail is pretty uncommon.
What really amazes me is that they bothered to include a seat belt - that's the kind of thinking I doubt we'd see, but yet, there it is. There are places for his hands and feet, and he more or less fits without a fuss. It's fascinating because back in the 1990s, Toy Biz really did put a lot of thought into making toys for kids first and foremost and gradually moved toward toys for collectors. At this time, they were very aware of the collector market but their product typically was made for kids first. I agree with this mentality, mostly because all the articulation in the world can't fix boring.
Mario was joined by Luigi, Donkey Kong, Bowser, Wario, and Yoshi to name a few - and good luck finding them for a fair price. Loose samples are pricey, and the plastic packaging frequently turns yellow - even if stored in a cool, dark, dry place. This is an amazing artifact from one of the great eras of couch multiplayer gaming, and the Nintendo64 basically ruled living rooms and dorms by virtue of having 4 controller ports - and very expensive controllers. Mario Kart was and continues to be a very big deal, and this is probably the only real action figure representation of the game not as a "vehicle" or "micro" toy - this is a real action figure with a real vehicle that you can really play with. If the price is cheap - let's say $20-$30 - go get one. It's pretty cool and a similar toy today couldn't be done for less than $15-$20 anyway. They're charmingly almost on-model and I doubt Nintendo would approve such a thing in 2016 - but hey, who knows?
--Adam Pawlus
Additional Images

See more Toy Biz figures in Figure of the Day:
Day 137: Toy Biz Spider-Man Animated Super Articulated Spider-Man
Day 1,392: Toy Biz Video Game Super Stars Mario Kart 64 Mario Action Figure
Day 2,016: Toy Biz X-Men Steel Mutants Wolverine vs. Sabretooth

See more Nintendo figures in Figure of the Day:
Day 134: Applause Super Mario Bros. Super Mario with Koopa Troopa Action Figure
Day 369: Applause Zelda II: The Adventure of Link Link PVC Figure
Day 833: K'Nex Super Mario Blind-Bagged Series #2 Boo Action Figure
Day 926: Hasbro Pokemon Ash & Pikachu
Day 1,032: Jakks Pacific World of Nintendo Skyward Sword Link Action Figure
Day 1,083: Nintendo Super Smash Bros. Amiibo Samus Aran
Day 1,107: Nintendo Super Smash Bros. Amiibo Link
Day 1,125: Jakks Pacific World of Nintendo Metroid Action Figure
Day 1,162: Jakks Pacific World of Nintendo Metroid Samus Action Figure
Day 1,182: Jakks Pacific World of Nintendo Mario Action Figure
Day 1,186: Jakks Pacific World of Nintendo Luigi Action Figure
Day 1,280: Nintendo Super Mario Maker Classic Color Mario
Day 1,296: Nintendo Super Smash Bros. Amiibo Mega Man
Day 1,299: Nintendo Super Smash Bros. Zero Suit Samus
Day 1,320: Jakks Pacific World of Nintendo 8-Bit Link Action Figure
Day 1,335: Mattel Hot Wheels Nintendo Cool-One (Super Mario)
Day 1,336: Jakks Pacific World of Nintendo 8-Bit Luigi Action Figure
Day 1,341: Jakks Pacific World of Nintendo 8-Bit Donkey Kong Action Figure
Day 1,345: Nintendo Super Smash Bros. R.O.B., Mr. Game & Watch, and Duck Hunt
Day 1,347: Jakks Pacific World of Nintendo ComicConBox.com Metallic Metroid Samus Action Figure
Day 1,349: Jakks Pacific World of Nintendo 8-Bit Mario Action Figure
Day 1,363: Jakks Pacific World of Nintendo Shy Guy Action Figure
Day 1,367: Jakks Pacific World of Nintendo Convention Exclusive Jakks Giants Link Action Figure
Day 1,369: Jakks Pacific World of Nintendo Jakks Giants Mario Action Figure
Day 1,380: Jakks Pacific World of Nintendo Tanooki Mario Action Figure
Day 1,392: Toy Biz Video Game Super Stars Mario Kart 64 Mario Action Figure
Day 1,398: Jakks Pacific World of Nintendo Boo Action Figure
Day 1,404: Medicom Nintendo Series Legend of Zelda Link Ultra Detail Figure
Day 1,430: Sonic Drive-In Mario & Luigi Paper Jam Mario Figure
Day 1,433: Nintendo Shovel Knight Amiibo
Day 1,438: Jakks Pacific World of Nintendo Metroid Gravity Suit Samus Action Figure
Day 1,444: Jakks Pacific World of Nintendo 8-Bit Red Link Action Figure
Day 1,447: Jakks Pacific World of Nintendo 8-Bit Star Power Mario Action Figure
Day 1,454: Jakks Pacific World of Nintendo 8-Bit White Link Action Figure
Day 1,475: Jakks Pacific World of Nintendo Samus Mini Action Figure
Day 1,490: Jakks Pacific World of Nintendo 8-Bit Classic Mario Action Figure
Day 1,537: Jakks Pacific World of Nintendo Metroid Action Figure
Day 1,568: Good Smile Company The Legend of Zelda: A Link Between Worlds Link Deluxe Action Figure
Day 1,599: Nintendo Toad Amiibo
Day 1,601: The Octavirate Forge Shapeways NES Inspired Zapper Gun 5mm Grip
Day 1,605: Nintendo The Legend of Zelda Link Amiibo
Day 1,624: Jakks Pacific World of Nintendo Blooper Action Figure
Day 1,647: Jakks Pacific World of Nintendo Metroid Phazon Suit Samus Action Figure
Day 1,649: Nintendo Super Smash Bros. Little Mac Amiibo
Day 1,652: Jakks Pacific World of Nintendo Goomba Action Figure
Day 1,668: Jakks Pacific World of Nintendo 8-Bit Toad Action Figure
Day 1,672: Jakks Pacific World of Nintendo Boo Glow Action Figure
Day 1,677: Jakks Pacific World of Nintendo 8-Bit Star Luigi Action Figure
Day 1,691: Nintendo Super Smash Bros. Zelda Amiibo
Day 1,733: Nintendo Super Smash Bros. Wii Fitness Trainer Amiibo
Day 1,751: Jakks Pacific World of Nintendo 8-Bit Toad Variant Action Figure
Day 1,795: Nintendo Super Mario Boo Amiibo
Day 1,811: Hasbro Nintendo Diddy Kong Monopoly Gamer Power Pack
Day 1,812: Nintendo Metroid Samus Aran and Metroid Amiibo
Day 1,823: Hasbro Nintendo Boo Monopoly Gamer Power Pack
Day 1,843: Hasbro Nintendo Luigi Monopoly Gamer Power Pack
Day 1,858: Hasbro Nintendo Wario Monopoly Gamer Power Pack
Day 1,896: Good Smile Company Metroid Prime 3: Corruption Samus Aran Action Figure
Day 1,897: Hasbro Nintendo Fire Mario Monopoly Gamer Power Pack
Day 1,991: Jakks Pacific World of Nintendo 8-Bit Princess Peach Action Figure
Day 2,068: Nintendo Super Smash Bros. Ridley Amiibo
Day 2,159: The Legend of Zelda: Link's Awakening Amiibo Link
Day 2,170: Nintendo Super Smash Bros. Simon Amiibo
Day 2,340: Mattel Hot Wheels HW Screen Time Standard Kart
Day 2,361: Nintendo Metroid Dread Samus Aran and E.M.M.I. Amiibo