Marvel's Rogue
Marvel Legends - The Rogue One

Marvel Legends X-Men Action Figures
Item No.: Asst. B8343 No. B8346
Manufacturer: Hasbro
Includes: Juggernaut left leg
Action Feature: n/a
Retail: $19.99
Availability: July 2016
Other: More or less as you remember her

PREVIOUS
RSS
NEXT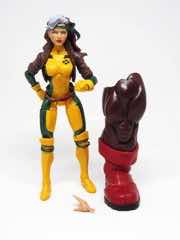 As part of what seems to be a grand parts sharing experiment, Marvel's Rogue has Phoenix's hand - and the sculpt (but not texture) of her lower body, too. It's clear Hasbro was working from a shared part library to bring us Kitty Pryde, Phoenix, and Rogue all in the same wave which is both a) welcome and b) evidence that comic book women have, on the whole, but one body type. And one butt! But it's a nice butt, I suppose - if these figures don't tickle your fancy, at least they're going to shame you into doing some sit-ups. I mean, I can't look at these and not feel like a slob... where was I? Right, Rogue looks pretty good.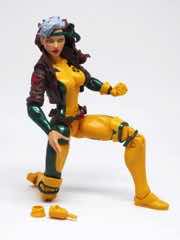 The 6-inch scale action figure is articulated exactly as well as Phoenix, what with her 26 points of articulation. Her costume is much as we fans of the 1990s video games, Toy Biz figures, and Saban cartoon remember - yellow boots, green and yellow spandex suit, gloves, sensible jacket, and red hair with a white streak. The big departure is her hair being more sensible - it's not as floofy as the quantity of hair products of the 1990s may require. The construction is good - new arms allow her to have sleeves with a new jacket piece hanging over her body. "Bracelets" complete the glove illusion provided by new hands, much as how new bands around her knees provide the illusion of full-blown boots. The bracelets hang low to mimic the bands on her boots, as I forgot they appeared in the old cartoon. Her belt hangs loosely around her tiny waist, and her right hand can be swapped out for an ungloved flesh hand.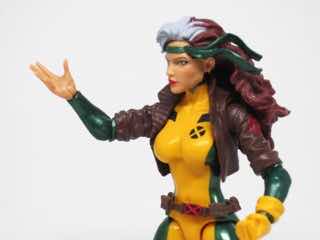 The eyes on mine appear to be glancing up a bit, and the deco is largely clean thanks to the nice lines and separate color parts making up her appearance. The mostly-yellow plastic figure has gorgeous metallic green paint plus perfect brown plastic for her coat, and the hair is - shockingly - perfectly decorated. Heck, the green headband is nice too - so is her make-up. There are always opportunities to put more detail in to these things, but I'm fine being on more of the Hasbro "toy" side of the uncanny valley, rather than whatever it is Hot Toys is usually doing. It creeps me out, man.
Given the parts-sharing, this is a most excellent Rogue - the added plastic bits help create the illusion of more new parts than we actually get, and all of the colors are bright and look quite nice. The "X" on her jacket sleeves is nice and clean, plus the brown jacket looks pretty nice in any light. She's tall, her clothes are too tight, and her costume, uh, lifts and separates. I'm never quite sure if this is progress or not, so let's say they did a good job replicating an iconic costume of one of Marvel's most famous mutants. I didn't have another Rogue figure - that I know of - so this one really works nice for me. I don't think I'll ever need to upgrade, what with the double-jointed knees and fancy fists. Hasbro did nice work here, all I need is some sort of flight stand.
--Adam Pawlus
Additional Images

Click here to see more Hasbro figures in Figure of the Day.
Click here to see more Marvel figures in Figure of the Day.