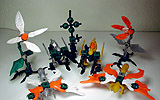 Zoids Blox Part 1 Set
Review Capsule
Originally 200 yen capsule toys, these seven mini-kits showed up on eBay for about six bucks and shipping. For that price, you get quite a bit of goodies to add on to your existing Blox/Z-Builders kts. By themselves, they're like Happy Meal LEGO sets from back in the day. If you're a Zoids Blox enthusiast, you need these. Otherwise, read on and find out what they are.
Introduction
In Japan, gashapon are fairly common in the toy biz. For a buck or two, you get a capsule with a little toy, model kit, or mug. While there were smaller Zoids figures before, this is the first time as far as we can tell that a fairly involved kit was offered.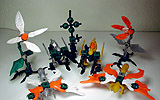 The set we purchased contained seven smaller sets packed in bags or in capsules. The first series has two insects, two plants, and two weapon stations as well as what seems to be just a random pile of parts. The former sets each come in two color schemes.
From what we can tell, Yujin basically licensed Zoids from Tomy and was given a little creative room to make some new parts for these kits. While most of them have no pilots, and don't appear to be aligned to a specific Zoids faction, they are fairly compelling for what they are. If you've been aching to get new parts to use with your Blox sets, or additional Blox core pieces, this is a gift from above.
...but if you're like me, and in your day, Zoids were wind-up toys and that's how you liked it, dagnabbit, they're still fairly neat toys in their own right.
NOTE: these small kits include noinstructions. As such, our photos may be slightly incorrect in terms of build.
Insects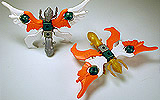 Pretty much every Zoids kit to date has been some form of animal, and as such, no set of gashapon should be without at least one cybernetic creature of some description. For this set, there are two varieties of insects of an undefined species.
Each kit consists of 21 pieces. There are two core Blox pieces, two round core Blox pieces, eight pieces for the legs, six wing pieces, a small rod to connect the core Blox pieces, and a head and a thorax.
Each set is light, and it seems the head and rear of each toy could be hollow. The sculpting isn't amazing by today's standards, and it looks like these could have really benefited from some paint or labels. But the thing is, these are gashapon-- cheap, disposable toys. As such, they're pretty nice.
Each one comes in two color schemes. If you buy a set online, you will most likely receive both.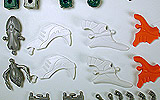 Here, you can see how a set looks prior to assembly. It's fairly easy to put together, though, even though the instructions don't appear to exist.
This set includes no pilots, weapons, or motorized parts. It is fairly posable, though, and seems to be the closest Zoids has gotten to a Mothra clone.
One warning, though, is that the bug legs on the brown/gold colored one tend to get some stress marks in some cases. Just be aware that forcing them into place may cause discoloration.
Plants
In the past two decades, there has never been a Zoids plant. And now, there are two.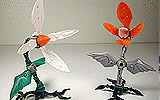 Each kit consists of 20 pieces, 10 of which are the flower part. There are two core Blox pieces, one round core Blox pieces, four petals, five other pieces for the flower, two "vine" pieces, two leaves, and four pieces that make up the roots. It comes in one of two color schemes, as you can see below.
Each petal can be opened and closed, and the vines are all on the Blox-style ball connectors to allow for some movement. Still, it's a plant, and movement isn't a high priority.
This is a nicely sculpted set, but again, a little plain. There are some components that will allow an aspiring customizer a lot of freedom, like the leaves that look like they could pass for wings, and the roots could probably make a decent horns and/or antlers.
The plant itself isn't a particularly compelling idea, just because the entire Zoids brand has been about action, battle, and movement. While they did manage to drop the movement in many recent kits, this is a very passive toy. Diorama builders and people that actually build things with their Blox/Z-Builders kits will love it, otherwise, it's a little bland. But if you've ever wanted to add a flower to the back of an owl before, this may be the set that gives you that chance.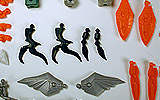 Again, no instructions. The small flyer that comes in the capsule pretty much shows what to do, though, and the average buyer should have no problem with this toy's assembly.
Weapons
Easily, the highlight of this series. These include weapons, a canopy, and even pilots in new colors. Or at least one new color. These are fairly nicely jointed and look like a low-budget Blox mecha and just these two kits seem to be worth the price of the set (before shipping, at least.)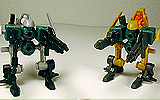 Each kit consists of 30 pieces. You get two cube Blox, two sphere Blox, two six-piece legs, five weapon pieces, a pilot, a cockpit, a sort of a head piece, three connector pins, a pair of fins, something that resembles an engine.
This is a really spiffy little kit, mainly because it has the most potential. It offers weapons for other kits, an extra pilot, an open-air seating area for the pilot, a little engine piece, moving toes for the feet, and more. Heck, even one of the rifles has a point of articulation so it can aim downward. This is a well designed low-budget toy if ever there was one.
Due to its construction, it's quite posable. Arms can go up and down, the legs and feet can be contorted all sorts of ways, and you can rebuild it into all sorts of things. It's a real treat, especially if you're jonesing for some Z-Knights type action these days. (For the unaware, it's a Tomy line similar to Zoids in which you built giant robot knights.)
The greatest thing about this particular kit is it can augment the others quite nicely. You can remove the cockpit piece and stick it on the Insect and you end up with a kit that now has a pilot. You can also add the weapons to that kit. Zoids toys don't typically inspire much in the way of free-play or creative construction, but these ones really do. It's hard not to snag it and see a sea of possibilities. The best thing is that even missing a piece like the cockpit or the guns, this set still looks pretty great.
This set had no instructions, and the circular black piece wasn't clearly visible on the flyer. As such, we guessed where it went.
"Other"
This... this isn't easily identified. It was a sack with a bunch of connectors and Blox pieces. What is it meant to be? Was it intended as spare parts, a booby prize of sorts in the Gashapon Vending Machines of Tokyo? We don't know.
This set included 15 pieces which, by themselves, really don't form anything of use.

When I opened this set, I was a little flummoxed. With no predefined play pattern, and the coloring as it was, I decided I could make like a shrub, bush, tree, or a crappy make-believe cannon out of it. People who do customs of these toys are sure to enjoy the additional pieces, but for those who like an obvious, simple, and easy to build finished product this is a bit of a shock.
What is it? Whatever you want it to be. Odds are it was just meant as a supplement for the many Zoiders out there who do the custom thing, as a few neat dragons seem to be showing up these days.

This is what you get. As can be seen, you get four spherical Blox pieces, three cube Blox, and a bunch of connectors, including some unusual ones that look like jacks. Obviously, for most toy junkies, this is a bit of a throw-away.
Scale
Just how big are these things? Bigger than you might think. Take a look at the image below.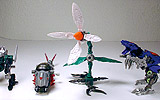 From left to right: Yujin Blox Weapon, Zoids Molga (New American Release), Yujin Blox Plant, Zoids Unenlagia (New American Release)
Packaging
These are capsule toys. As such, they come in little capsules with pieces of paper advertising what it was you just bought.
The set was purchased via eBay and they all came in a big plastic bag. Each set was individually wrapped, some in bags, some in capsules. The packaging itself is rather dull, but still notable. The third image is the front and back of the small paper insert.
Fin
For fans of the Blox concept, this is a genuine treat. It's like getting those little tiny LEGO bags for a dollar or two, and while not genuinely complicated, they're actually about as big as the basic Blox kits.
Saying that these aren't for everybody is a vast understatement. As little cheap toys, or as a Happy Meal type thing, these are marvels to be fawned over by Japanese toy enthusiasts the world over. They are nowhere near as impressive as the normal toys in this range, but do provide a great supplement to them. A second series exists and we're currently looking for a set.
If this sounds like something you might like, we advise you buy more than one set so you can have one in its normal configuration and an extra box of parts to futz with. It's a strong concept and a cheap way to augment toys you already own, and as such is worthy of your $6-$11 (cost before and after shipping via eBay) if you like the idea. If not, don't bother, because these aren't great standalone toys.
Reviewed and photographed by Adam Pawlus
Sample found on eBay in October 2003
Reviewed on October 21, 2003.