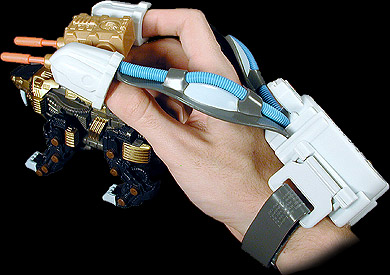 Zi-Comm Gauntlet with
Shield Liger Action Figure Review Capsule
Because Hasbro can't learn from their own mistakes, they revisited the "giant $15 accessory to activate features on $7 toy" concept with the Zi-Comm Gauntlet. The idea of a glove that kids can wear to get added features out of their toys is not necessarily a bad one, although the benefits of this toy don't seem to add much to the toys you already have. Worth it on clearance or for the gold Shield Liger, but otherwise just another piece of toy history.
Introduction
One of the final Zoids items from the current range is this Zi-Comm Gauntlet with Shield Liger Action Figure. It's a glove with metal fingers that if you place on the proper places on the large weapon on a Zi-Comm compatible toy, and it has a couple of built in sounds. Seriously, like two. The end result, like the Star Wars Comm-Tech Reader from 1999, is an overblown unnecessary extra, but since it's part of a dead toy line and received limited distribution, we find it amazingly interesting.
This set includes one figure, one pilot, one gauntlet, one weapons pack, and two projectiles.
Gauntlet
The centerpiece of this set is a gizmo you stick on your hand that performs few functions, like lighting up and making sounds. It takes three batteries, has three places to plug in Z-Builders pieces or Zi-Comm Units, and can barely fit on an adult hand. If it did properly fit my hand, I'd be worried, as this is a toy obviously aimed at boys aged four through eleven.
The name "gauntlet" is a little misleading, as it brings to mind a big heavy glove or an old arcade game. This is sort of a wristband with batteries and two thimbles. The design is odd, as it doesn't match Zoids toys all that much nor does it really bring to mind visions of a child's toy. Actually, it was commented that this looked more like an adult toy. If it vibrated, I'd tend to agree.
Basically, you wear this monstrosity around and can use it to either make sounds on its own, or activate a noise in the Zi-Comm Unit. We have two such units and so far have heard two unique sounds, and none of the electronic sounds manage to impress. The yellow button activates a gunfire sound, while the green activates a sort of roaring sound which could be either a battle cry or a revving engine. The red button is merely decorative even though it can be pushed inward. It just doesn't do anything.
The index finger and thumb slide into a grey thimble of sorts, and the metal contacts plug into specific corresponding metal pins on the toy. The reward for performing this activity is a sound effect.
The three holes near the wrist allow you to plug in Z-Builders/Blox and Zi-Comm Units to them, which, I suppose, is a good thing. Why you want to add a construction element to a role-playing toy is beyond my comprehension. Still, kids might find some use for it, but it seems that some other use could be found for the space on the back of the gauntlet.
It's a big electronic gimmicky thing with a single red LED. It certainly doesn't impress in terms of technology or aesthetics, but it's possible that kids with enough toys so that they could play with this might enjoy it. Possible, but not likely, as all of these came out near the point in the toy line's run where things were being dumped on clearance.
Action Figure
This is a repaint of a previously released toy, and it is not known to us if the color scheme is meant to represent a specific variant of the Zoid as appearing on a cartoon, comic, or video game.
The sculpting is good, but not great. A large gap in the front of the head looks bad, mostly because a little bit of paint could have done a great job of hiding it. The gap isn't there to improve the canopy's ability to open, so one has to wonder why it looks like this. Aside from that, it's fairly true to the model kit in terms of vents, bolts, and other little tidbits.
There isn't much in the way of articulation on this figure, but there's more than you might expect. Jointed at the legs, tail, jaw, and tail gun, you can get some decent poses out of this toy. You can't get too many, though, because two of the legs are tied to a button on the back that activates a sort of running action. It's acceptable given what the toy is supposed to be, though, and that's a low-cost alternative for youngsters who don't want a big, complicated, fragile Shield Liger model kit.
The paint ops are a little peculiar, as it's reminiscent of a recently released limited desert edition of the kit except instead of brown, it's gold. We assume it's meant to look special and serve no special tactical function, as the paint is clean where it appears and really doesn't seem conducive to hiding in the forests or whatever it is this thing is meant to do.
One would be a bad reviewer if they left out the canopy, which opens and is a barely translucent smoky brown plastic.
It's a neat toy on its own, and for like eight bucks or whatever it would have cost by itself, odds are it would be a decent enough value.
Accessories
The Zi-Comm Gauntlet also includes three projectiles, a Zi-Comm unit, and a small painted pilot figure.
The big special weapon pack has metal pins on the side that, if held properly by the gauntlet, makes a sort of walking noise. If it doesn't sound very exciting, then that's good, because it isn't and that means we described it right.
The two rockets fit into the Zi-Comm unit, which plugs into his back the same way a Zoids Custom Parts set might have done. It gives him some extra firepower, which is a plus seeing as how the initial kit has no weapons of any kind. The missiles are the kind you have to sort of flick out of the back, and as such are a little tricky to launch well compared to other forms of toy projectiles.
It's a neat enough accessory, but really isn't much different than the Zi-Comm units packed with other end-of-the-line Zoids action figures.
The anonymous pilot may look splotchy, but it should be pointed out that the thumbnail is larger than actual size, and the full picture is just freaking huge. The paint on the toy this small is quite impressive, even though the picture doesn't help to illustrate this fact. The sculpting is identical to the Gojulas Giga action figure pilot, but with new decoration. It can stand on its own, and as such is pretty slick.
Packaging
This set comes in a large-- well, let's be frank, huge-- blister card in the style of the rest of the line. The graphics aren't distinctive beyond the fact that they come on a really big package.
They manage to cram a lot into a fairly thin bubble, which is great in many ways. Of course, a box would look a little more elegant, but it would be much more difficult to give an idea of what the contents are and what they look like. The pilot is hidden in the lower right of the package, so before you throw it away, be sure to take him out of the package.
The instructions (not shown) are pretty good at illustrating what the toy is and how it works, which is good when you're getting something with lots of switches and metal contacts. In it, the gauntlet is shown with the included Shield Liger which, we should note, is identified as "not included." It seems unlikely that Hasbro could have intended to sell the gauntlet without the figure component, but hey, anything's possible.
Fin
This is a non-essential piece, to say the least. Zoids were originally a build-it-yourself motorized kit, and adding on spring loaded weapon packs and gloves with two fingers that activate three or four sounds don't seem to add much to the toys you already have. The included figure is nice enough, and odds are kids will get some fun out of the glove, but for $15, this isn't really worth it. For the clearance prices of $6-$11, though, it's pretty slick and for the hardcore Zoids fan, worth getting if for no reason other than the novelty value.
The figures that include the pieces that this gauntlet is compatible with cost $8-$13 before clearance or $2-$4 on clearance. It's hard to imagine that this is worth the added cost, but that's why the exclusive Liger was included. The whole package is an amusing enough thing to futz with and probably would be a nice birthday gift for a kid that isn't yours, but unless you're collecting Zoids figures, give this one a miss.
Reviewed and photographed by Adam Pawlus
Sample found at Phoenix area Toys "R" Us in March, 2004
Reviewed on April 6, 2004.