Iggy Pop
He of the Stooges

NECA Action Figure
Item No.: No. 60774
Manufacturer: NECA
Includes: Display stand, Microphone
Action Feature: n/a
Retail: $14.99
Availability: May/June 2011
Other: First, possibly only Iggy Pop figure

PREVIOUS
RSS
NEXT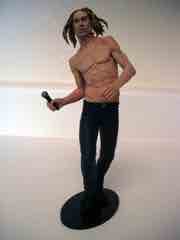 The amazing thing about the 21st century toy business is that there is a company who will make things, and get them into Toys R Us, which have absolutely no business a) existing or b) being at the Toys R Us. This Iggy Pop pretty much tops the list-- music toys aimed at anyone old enough to remember life before the Disney Channel generally will not find something suited to their music tastes in the toy aisle, but if you go to there now you will find an action figure of Iggy Pop. And not just young Iggy either, but more-or-less current Iggy. Amazing.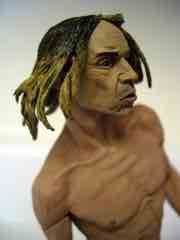 If you don't know who this is, here's a quick rundown: Iggy Pop is a musician originally best known for his work with The Stooges and later, a solo artist. You may know his song "Lust for Life" from its many appearances in TV and the movies, or perhaps the Stooges track "Search and Destroy" in the film The Life Aquatic with Steve Zissou. Depending on your age, it's possible you or your older brother are a fan. In my case, my dad saw them when they were still in/around Ann Arbor. Mr. Pop also did guest stints in TV and in the movies, if you're a regular reader of this site you might have seen him in the Star Trek: Deep Space Nine episode "The Manificent Ferengi" or in the movie Cry Baby. Also, if you're musically curious, I suggest you check out (i.e., "buy") the album "Raw Power" or locate ("steal") a live bootleg online called "Brazil 2009." The former is a great example of his youth, the latter a document of a retiree-aged person who, it would seem, could potentially take you in a fight. (Macrobiotic diet? I'm a fan, OK?) Anyway, to the figure.
This kind of product is typical of NECA-- it's a terrible toy but a fantastic low-price 7-inch statue. If you work in an office, this is the kind of thing you buy to stick on your desk. He has four points of articulation, with two very well-hidden ankle joints requiring a certain amount of futzing in order to get him to keep upright-- and so far it seems his ability to stand is limited by time and gravity, even though a display stand is included. Expect face-planting unless you have additional support. He also has an articulated waist and an articulated neck, but you'll notice the arms are separate, but not articulated, pieces of plastic. The right hand was sculpted to hold a microphone, if that's how you'd like it displayed. Otherwise he's just kinda standing and dancing. (If you want to smear him with peanut butter and throw him into an audience or cut him with broken glass, I suppose that's an option.) If you look close you'll notice a lot of muscles and bulging veins, the latter of which I rarely remember seeing on the figures I buy. Playmates' first Teenage Mutant Ninja Turtles line comes to mind, but not many others. This is why I'm glad NECA got it, and made the figure look just as hyperrealistic as the real deal.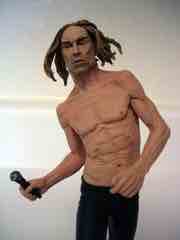 So the ripped (and on the back, slightly wrinkly) physique is basically right, and the head sculpt is pretty good. The paint is definitely decent, although I'm thinking it looks better if you don't get right in his face. About 2 feet away, he looks incredibly lifelike. The design and pose are pretty great, but the problem is that they're not conducive to remaining upright. The figure will fall over if you aren't careful, and if yours is like mine you might not even be aware there are ankle joints in the first place. (Trust me, they're stiff-- you may need to freeze or boil the figure to loosen them up.) I think the only way this could be easily improved is to steal a page from Hasbro's Star Wars Unleashed larger-scale figures and have a metal rod come out of the figure and into the display stand, much like how Gentle Giant and other companies have their resin/polystone statues. This figure will require additional support.

Iggy seems like a weird choice for a toy, but when you get right down to it a lot of musicians with a big following-- particularly in rock and metal-- have a lot in common with movie monsters. Rob Zombie, Alice Cooper, Ozzy Osbourne, and the like wouldn't seem that out of place next to a lot of creature figures, but Iggy is a bit more normal. He's ripped, he's old, and he has incredibly tight pants. If this were your dad, you'd be ashamed, but he's not, so he's awesome. The figure is a pretty accurate representation of the man at some point in the not-too-recent past, and while the face seems a little more made-up than he is currently, it's not all that farfetched for who he looked in the 1970s while working with one David Bowie. It looks amazing but depending on your needs, I might suggest that you not open it if you buy it-- he may be easier to display in the package when it comes to the long haul. Kudos to NECA for trying such a famous face in music and big ups to whoever got somebody at the Toys R Us drunk enough to put it on the pegs just feet away from Batman and Barbie. Somehow, it just seems right.

A fun note: at Toy Fair 2011, you can see an alternate head sculpt with less-dynamic hair and a slightly more gaunt expression. I have no idea when or if it's going to come out. Also notable, this was the thing that had me the most excited at the show as far as new licenses went. I mean, Iggy Pop! Devo was unusual, but toyetic. Alice Cooper, similarly so. But Iggy Pop is just a guy. A guy who, in real life, has done more amazingly crazy stuff (see: "Metallic 2X K.O.") than you could ever hope for. Hooray audience baiting.

--Adam Pawlus
Review sample provided by NECA

Additional Images

See more NECA figures in Figure of the Day:
Day 213: NECA Iggy Pop Action Figure
Day 541: NECA Terminator Kyle Reese Action Figure
Day 635: NECA Portal 2 Chell Action Figure
Day 2,162: NECA Predator Classics Series Berserker Predator Action Figure
Day 2,163: NECA Aliens Classics Series Neomorph Alien Action Figure

See more Music figures in Figure of the Day:
Day 147: McFarlane Toys Yellow Submarine John Lennon Action Figure
Day 151: Funko Music Pop! Vinyl Ozzy Osbourne Vinyl Figure
Day 155: McFarlane Toys Yellow Submarine Love Glove Action Figure
Day 168: McFarlane Toys Yellow Submarine Ringo Starr Action Figure
Day 184: McFarlane Toys Yellow Submarine Jeremy Action Figure
Day 197: McFarlane Toys Yellow Submarine Paul McCartney Action Figure
Day 213: NECA Iggy Pop Action Figure
Day 1,865: Playmobil "Fi?ures" Figures Rock Star
Day 2,440: Funko Pop! Rocks Frank Zappa Action Figure

Want to buy this figure? Check Music availability at our sponsors:
Entertainment Earth