Neomorph Alien
2017 Movie, 1993 Toy Styling, in 2019

Aliens Classics Series
Item No.: Asst. 996N031919? No. ???
Manufacturer: Neca
Includes: Baby Neomorph
Action Feature: Opening jaws
Retail: $14.99
Availability: December 2019
Other: Alien Covenant-adjacent

PREVIOUS
RSS
NEXT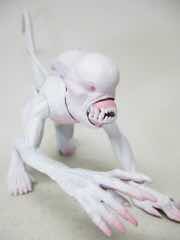 Often sold with the Berserker Predator as a set, this Neomorph Alien brings one of the characters from 2017's bleak Alien Covenant into the 1990s to varying levels of success. Kenner's Aliens line jumped from that movie - and its sequel - to include creatures based on bulls, snakes, gorillas, scorpions, and other animals - all of which came in sharp colors with nifty action features. Very few of them had much of anything to do with the on-screen creatures, which makes this Neomorph something of an oddity - it's a Kennerized adaptation of an actual movie creature, complete with a Kenner-esque action feature. (It should be noted said feature is kind of clunky.) If I were you, I'd say get the Berserker Predator first and get this one if you've got some cash burning a hole in your pocket - it's neat, but it has problems. Of course, so did some of those old Aliens figures.
Back in the 1990s, these figures tended to be pretty smooth with appropriate sculpted detail and minimal paint. NECA really went to town on decoration, adding tons of added sculpted skin texture and a lot more airbrushed pink highlights on what probably would have been a virtually unpainted figure 25 years ago. The proportions take a bit of a detour from the film, but that's OK - that's what Kenner would have done.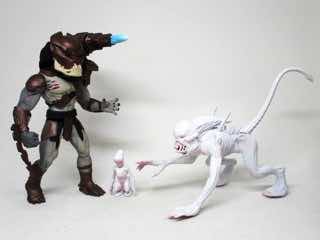 So while the look of the figure is very modern, its pose and functionality seem a bit closer to the 1990s. An arm-activated goblin shark jaw mechanism is a little tricky, but it more or less works - push down the right hand and the jaws extend. Sometimes they open, and sometimes not - and the arm has to be in the right position in order for the jaws to go back in place. It's not exactly elegant, but the older toys had a few issues as well.
The figure is posed in a three-point stance, reminding me a little bit of the Bull, Panther, Wild Boar, Rhino, and Night Cougar Aliens. They're a little scrunched up, but not as much as this guy - they fit a lot of figure in a small space. Much like those older figures, you also get a weird tail and some nasty looking spikes on its back and feels like a less chunky version of the 1990s Xenomorph toys. The mechanism in the mouth feels a little fragile, but the figure itself seems like it could stand up to a little more abuse. It's a very good design.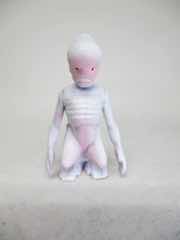 A very 1990s action figure accessory was the sidekick buddy figure - perhaps you remember Fish Stix, or Peter Puppy, or Nog. These little figures tended to have no articulation and be minimally decorated, so your Facehugger would be good but not amazing. NECA decided to do its Baby Neomorph with a lot of paint - the textured pale grey figure has pink highlights and strange red eyes. As I'm fairly sure the newborn bloodbursters lacked eyes, this is a weird change that's very much in line with 1990s action figures. It doesn't have to be completely accurate, it just has to be close. The figure has no articulation, but was made from a few parts fused together. Even moreso than its larger companion, this one is too nicely designed to pass for a 1990s release.
The packaging graphic design is very much in line with the 1990s line, however the rectangular bubble is not. Xenomorphs tended to be packaged in "egg" bubbles or in more form-fitting ones, as was the style near the end of the 1990s. Having said that, the packaged figure looks like it might fit in on your shelves or pegs with your other Kenner figures. NECA did a great job making something that's both new and old, and it feels like this is very close to something you'd have seen 25 years ago. If that appeals to you, I suspect you've already bought it. You know who you are if you want this - and you're probably in your 40s by now.
--Adam Pawlus
Additional Images

See more NECA figures in Figure of the Day:
Day 213: NECA Iggy Pop Action Figure
Day 541: NECA Terminator Kyle Reese Action Figure
Day 635: NECA Portal 2 Chell Action Figure
Day 2,162: NECA Predator Classics Series Berserker Predator Action Figure
Day 2,163: NECA Aliens Classics Series Neomorph Alien Action Figure

See more ALIENS figures in Figure of the Day:
Day 195: Kenner ALIENS Arachnid Alien Action Figure
Day 234: Kenner ALIENS Scorpion Alien Action Figure
Day 250: Kenner ALIENS Panther Alien Action Figure
Day 256: Kenner ALIENS Gorilla Alien Action Figure
Day 261: Kenner ALIENS Bull Alien Action Figure
Day 285: Kenner ALIENS Hive Wars Warrior Predator
Day 317: Kenner ALIENS vs. Predator 10-Inch Alien Action Figure
Day 359: Kenner ALIENS Hive Wars Acid Alien Action Figure
Day 365: Kenner ALIENS Vasquez Action Figure
Day 381: Kenner ALIENS Action Masters Ripley
Day 397: Kenner ALIENS Mantis Alien
Day 792: Super 7 ALIEN SDCC Exclusive Sales Samples
Day 821: Super7 x Funko Alien ReAction Ripley
Day 844: Super7 x Funko Alien ReAction Dallas
Day 852: Super7 x Funko Alien ReAction Alien
Day 857: Super7 x Funko Alien ReAction Kane in Space Suit
Day 861: Super7 x Funko Alien ReAction Ash
Day 1,149: Super7 x Funko Alien Egg Chamber Action Playset
Day 1,183: Super7 x Funko Alien ReAction Alien (with Metallic Flesh)
Day 1,199: Super7 x Funko Alien ReAction Ripley (Spacesuit)
Day 1,272: Super7 x Funko Alien ReAction Kane (Chestburster)
Day 1,277: Super7 x Funko Alien ReAction Kane (Facehugger)
Day 1,324: Diamond Select Toys Aliens vs. Colonial Marines Figure Set
Day 1,327: Super7 x Funko Alien ReAction Nostromo Crew (Dallas, Kane, Lambert)
Day 1,656: Super7 Alien M.U.S.C.L.E. Set A
Day 1,676: Super7 Alien M.U.S.C.L.E. Set C
Day 1,686: Super7 Alien M.U.S.C.L.E. Set B
Day 1,693: Super7 Alien M.U.S.C.L.E. Set D
Day 1,846: Super7 Aliens M.U.S.C.L.E. Set E
Day 1,864: Super7 Aliens M.U.S.C.L.E. Set A
Day 1,884: Super7 Aliens M.U.S.C.L.E. Set D
Day 1,929: Titan Merchandise Alien vs. Predator The Whoever Wins Collection Scar
Day 1,985: Funko Pop! 8-Bit Alien Xenomorph (Video Game) Pop! Vinyl Figure
Day 2,163: NECA Aliens Classics Series Neomorph Alien Action Figure
Day 2,167: Lanard Alien Collection Alien Queen Action Figure
Day 2,171: Lanard Alien Collection Xenomorph Drone, Egg & Facehugger, and Research Scientist Xenomorph Swarm Action Figure Set
Day 2,173: Lanard Alien Collection Advanced-APC Vehicle and Colonial Marine Sargent Xenomorph Attack Action Figure Set
Day 2,175: Lanard Alien Collection Xenomorph Runner, Planetary Rover Bike, and Weyland Commando Action Figure Set
Day 2,178: Lanard Alien Collection Power Loader, Colonial Marine, and Warrior Alien Xenomorph Attack Action Figure Set
Day 2,179: Kenner Aliens Wild Boar Alien Action Figure
Day 2,274: Lanard Toy Alien 7-Inch Drone Xenomorph Action Figure
Day 2,292: Lanard Toy Alien 7-Inch Warrior Xeno Action Figure
Day 2,308: Lanard Alien Collection Xenomorph Warrior, Rotating Sentry Gun, and Colonial Space Marine Xenomorph Swarm Action Figure Set
Day 2,554: Super7 Alien UCCSS Nostromo Action Figure Set 1 with Kane with Facehugger, Ripley with Jonesy, Ash with Removable Head

Want to buy this figure? Check ALIEN availability at our sponsors:
Entertainment Earth