Monster Mystery
Wax Phantom

Scooby-Doo Wendy's Kid Meal Toy Prize
Item No.: n/a
Manufacturer: Wendy's
Includes: n/a
Action Feature: Online game thing or whatever
Retail: $2.99ish
Availability: November 2014
Other: 1 of 5

PREVIOUS
RSS
NEXT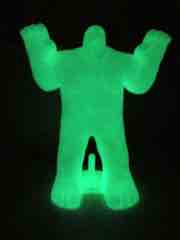 Back in the 1980s, cereal prizes and Happy Meal toys were the razor's edge of kiddie marketing. If it was cheap and came with food, it was part of a rich merchandising promotional machine - this is how a lot of American kids first got their hands on LEGO, Playmobil, Popoids, and countless other toys based on TV shows and such. Nowadays, the toy premiums aren't quite as fantastic but you do get some weird classics like this Monster Mystery, presumably, "game." It wants me to download an app and do some sort of "Guess Who?" kind of a game, but I don't feel like doing that. Instead I'm going to say that this is a nice 3 3/4-inch Wax Phantom figure.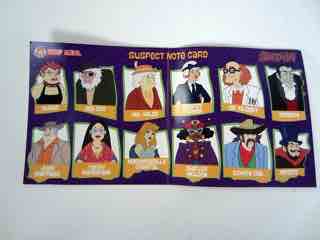 This series came out in an era where the food promotions don't make a lot of sense - there was a New 52 DC Comics line earlier in the year, and around the same time Burger King had Tom & Jerry, plus G.I. Joe - to put that in context, as far as I know, nothing is going on with the latter two properties right now in any meaningful way. The fact that it exists probably has to do with some weird deal forcing someone to do something with these licenses as payback for another property, but I don't know for sure - what I do know is Wendy's is doing pretty well with a number of lesser Warner Bros. properties and I'd have probably shelled out the money for this figure at a store. The fact that it came with a series of edibles that could loosely be defined as food was icing on the proverbial cake.
Our monster figure has all of the features of a cheap 1980s cake decoration. The back of the figure is flat, with a post to hold a card in place. It's hollow, but if you look at it from the front or the side it's pretty decent. The blobby sculpting is pretty good, matching the kind of creature design you saw and liked on the older Scooby-Doo shows. (Sadly, not Mystery Inc.) The monster designs on the original Scooby-Doo Where Are You? are pretty fantastic - even a one-color, unpainted design like this just works. The glow in the dark plastic helps, of course, but the endless parade of zombies and phantoms and clowns remain impressive to this day. It's a shame there's no collector line focusing on all of them.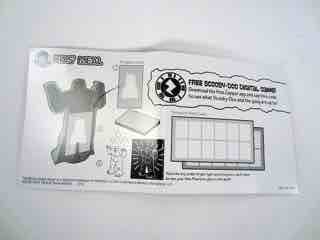 I didn't go out of my way to collect this line, I just happened upon them during lunch. (Yes, I eat kid meals, they're cheap.) Generally speaking the toys go onto the "donate" pile, but this one was a keeper - it's going on my glow-in-the-dark toy shelf. As big simple slug figures go it's a doozy, and easily worth the (I assume) dollar or so it'll cost you when you find one at a flea market or garage sale. The figure itself is a pale bluish green, devoid of any copyright markings, but reads "1744HV" in the hollowed-out backside. Obviously we're no longer in an era where you can get a tiny bag of LEGO bricks or a legit action figure as a freebie, but this is pretty swell as a thing to keep around.
--Adam Pawlus
Additional Images


See more Wendy's figures in Figure of the Day:
Day 1,091: Wendy's Scooby-Doo Monster Mystery Figure
Day 1,146: Wendy's Night at the Museum 3 Jedediah in the Wild West
Day 1,419: Wendy's Playskool Definitely Dinosaurs Triceratops
Day 1,434: Wendy's Playskool Definitely Dinosaurs Anatosaurus
Day 1,446: Wendy's Playskool Definitely Dinosaurs Apatosaurus

See more Scooby-Doo figures in Figure of the Day:
Day 1,091: Wendy's Scooby-Doo Monster Mystery Figure
Day 1,488: Sonic Be Cool Scooby-Doo! Bobble Head
Day 2,219: Playmobil Scooby-Doo! 70287 Scooby and Shaggy with Ghost Figures
Day 2,243: Playmobil Scooby-Doo! 70361 Adventure in the Mystery Mansion Playset
Day 2,332: Playmobil Scooby-Doo! 70286 Mystery Machine with Figures