Triceratops
One of Many - Store Versions Exist, Too

Definitely Dinosaurs Vinyl Figure
Item No.: No. n/a
Manufacturer: Playskool
Includes: A full dadgum meal, if you can believe it
Action Feature: n/a
Retail: $2.99
Availability: 1987
Other: Green and more green

PREVIOUS
RSS
NEXT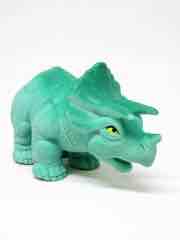 I remember seeing this series of Definitely Dinosaurs toys on TV - Playskool had a full line at stores and Wendy's sold simpler "miniature" figures like this Triceratops as a part of their fast food premium kiddie campaign. The same molds were later used for full-retail toys at Kmart and what have you - this is a quality figure. It's tough to really convey just how good some fast food premium toys were in the 1980s and 1990s, when McDonald's gave away bags of 20-40 LEGO bricks with a meal for two dollars. Or a Bionicle mini set. Or a 3 3/4-inch Batman figure. Or a 4-inch Universal Monsters figure at Burger King. In 2016, this little Triceratops is infuriatingly fabulous. Sofubi collecting is hot stuff and very few big toy companies make cute, cheap hollow vinyl figures these days. Sure, Hasbro did a few a couple of years back and BanDai does some here and there, but they're uncommon - and in the 1980s you could get them in various forms if you were in the right place at the right time. There's not much to this little guy, but when you compare it to yesterday's nifty and creative designer Stegoforest toy, it just makes you angry.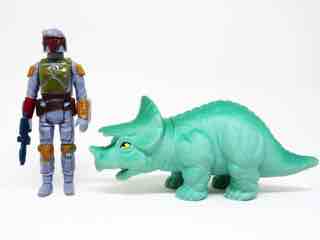 At over 5-inches long, this dinosaur is no slouch. He was big by some of the best standards of a fast food toy. Sure, we've had some big Iron Man figures at Burger King, but there was just one big guy in an otherwise decent line-up. It wasn't like the whole line was amazing, which this pretty much was. A pale green dinosaur had been sprayed with a dark green coat on top, with fully-painted yellow eyes with black markings to bring out some life in them. Only the neck is articulated, and the figure has a little Apatosaurus stamp on his belly - not unlike the "JP" logo which would become ubiquitous from Kenner just a few years later.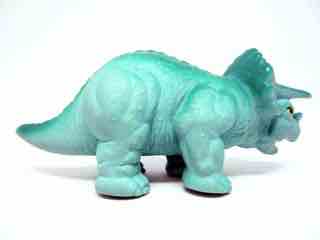 If you've looked at recent designer vinyl toys, this Triceratops compares favorably. He's got tough-looking skin, horns, a little green tongue, and a tiny tail. He's probably a baby - but dagnabbit, he's cute and awesome. The neck can turn, and that's really all this figure does. Despite being "cute," it's not cute in the same way the current Imaginext or Playskool Jurassic World dinosaur toys are - this is a vaguely realistic take on the long-dead creatures. It's not trying to be cuddly or stylized, it's just a decent-looking toy and the same can be said of many of the Definitely Dinosaurs toys - even the retail ones. I remember really digging these, despite the less-than-wonderful cavemen companions... but if you're a growing boy the Playskool brand name can be a damning thing. When you're pushing 10, that's baby stuff - and I remember it being a stretch to still even be vocal about being interested in toys after 8.
If you put out this toy today and stuck it in a $50 box in some gallery toy store, it'd probably sell fairly well as a high-end sofubi thing. In 1988, this was just some dumb toy you threw at kids to shut them up in the drive-through of a burger franchise joint. While we've come a long way in most of our toy circles what with our Hot Toys and our various Marvel Legends, the very compelling cheap vinyl toy seems to have become a real lost art. Supposedly these aren't too tough to do cheaply, and BanDai still trots out new Godzilla monsters for $10-$15 every couple of years, but this isn't a big part of the mainstream toy landscape. This is unfortunate. I'd love to buy more dinosaurs just like this, or the creature from Cloverfield, or a Reek, or Kraid or Ridley or dang near any of a variety of great creatures. Toys like this show us just how much tastes have changed, both in preschool-driven toys getting even more cutesy and how fast food toys simply aren't as awesome as much of what we got 30 years ago. I don't doubt we'll some day see something surprising again - after all, Burger King had Xbox games not too long ago - but how often do you see toys sold via Wendy's end up at Kmart later? It's unusual, and may never happen again.
--Adam Pawlus
Additional Images

See more Playskool toys in Figure of the Day:
Day 273: Playskool Transformers Rescue Bots Optimus Prime Action Figure
Day 1,405: Playskool Transformers Rescue Bots Roar and Rescue Heatwave
Day 1,419: Wendy's Playskool Definitely Dinosaurs Triceratops
Day 1,434: Wendy's Playskool Definitely Dinosaurs Anatosaurus
Day 1,446: Wendy's Playskool Definitely Dinosaurs Apatosaurus
Day 1,473: Playskool Transformers Rescue Bots Deep Water Rescue High Tide
Day 1,473: Playskool Transformers Rescue Bots T-Rex Optimus Prime
Day 1,513: Playskool Transformers Rescue Bots Quickshadow
Day 1,523: Playskool Transformers Rescue Bots Salvage
Day 2,109: Hasbro Playskool Heroes Series 2 Marvel Super Hero Adventures Clear Spider-Man

See more Wendy's figures in Figure of the Day:
Day 1,091: Wendy's Scooby-Doo Monster Mystery Figure
Day 1,146: Wendy's Night at the Museum 3 Jedediah in the Wild West
Day 1,419: Wendy's Playskool Definitely Dinosaurs Triceratops
Day 1,434: Wendy's Playskool Definitely Dinosaurs Anatosaurus
Day 1,446: Wendy's Playskool Definitely Dinosaurs Apatosaurus

See more Dinosaurs figures in Figure of the Day:
Day 990: Louis Marx Toys Dinosaurs Trachodon Figure
Day 1,019: Louis Marx Toys Dinosaurs Brontosaurus Figure
Day 1,023: Schleich Dinosaurs Kragensaurier (Triceratops) Figure
Day 1,034: Schleich Dinosaurs Mammut (Mammoth) Figure
Day 1,062: Tim Mee Toys Green and Yellow Prehistoric Dinosaurs Figure Set
Day 1,073: Louis Marx Toys Dinosaurs Stegosaurus Figure
Day 1,126: Schleich Dinosaurs Ursaurier (Dinosaur) Figure
Day 1,418: Jesse Narens Stegoforest Brown Stegoforest with Acorn Warrior
Day 1,419: Wendy's Playskool Definitely Dinosaurs Triceratops
Day 1,420: Tootsietoy Dinosaurs Stegosaurus Action Figure
Day 1,421: Imperial Dinosaurs Styracosaurus
Day 1,434: Wendy's Playskool Definitely Dinosaurs Anatosaurus
Day 1,446: Wendy's Playskool Definitely Dinosaurs Apatosaurus
Day 1,726: Unknown Wind-Up Brown Tyrannosaurus Rex
Day 1,990: Playmobil 2013 Toy Fair Dinos Explorer Figure
Day 2,023: Boley Nature World Edaphosaurus, Allosaurus, Styracosaurus Action Figures
Day 2,026: Unknown Diplodocus Figure
Day 2,051: Hasbro Dinosaurs Baby Sinclair Action Figure
Day 2,057: Half Toys Dino Series T-Rex
Day 2,065: Lanard Primal Clash Mammoth with Shrapnel Action Figure
Day 2,120: Creative Beast Beast of the Mesozoic Dromaeosaurus Action Figure
Day 2,126: Boley Nature World Mosasaurus Action Figure
Day 2,167: Boley Nature World Apatosaurus Action Figure
Day 2,305: Creative Beast Beast of the Mesozoic Glow-in-the-dark Dinosaurs Zuniceratops Action Figure
Day 2,394: Glow-in-the-dark Dinosaurs Dimetrodon Action Figure
Day 2,398: Playmobil 2013 Toy Fair Dinosaur Explorer Figure
Day 2,550: Blip Toys Animal Planet Electronic Battling Dinos Set