Antalor and Nychirix
Toys R Us Exclusive

Battle Beasts Minimates Toys R Us Exclusive Two-Pack
Item No.: Ast. ??? No. BBMMTRU1
Manufacturer: Diamond Select
Includes: 2 figures, knife, axe, horn, blade weapon, knife in sheath
Action Feature: n/a
Retail: $7.99
Availability: February 2013
Other: Order comics, get figure

PREVIOUS
RSS
NEXT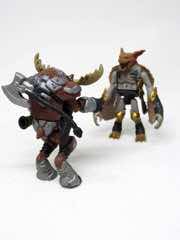 I bought Battle Beasts Antalor and Nychirix on sight in 2013 - or so I remember - and I didn't open them until earlier this year. When a line loses momentum, it's easy to put it aside and grumble. In a short time we saw Beast Saga also flame out, and the lovely Onell Design Armorvor provided few animal heads. A lot of unmade beast figures were teased, and this moose and bat set made for a nice combo platter. The sculpting is excellent and the use of Minimates parts is clever - they're just not fun as actual toys.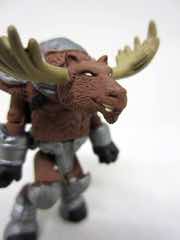 The moose Antalor looks great, with a goofy smile, pale eyes, and huge antlers. I was excited to see a new one because I wanted (and did not have) Major Moose as a child, so this new one looked like fun - and it does look fun. I love the armor, the detailed runes on the axe, and the abundant accessories. What I don't like are the stiff fingers that make it difficult to hold the accessories, and the hands pop off easily - a feature or bug of the format. It's a beautiful display piece with the axe slung over his back, but I found the hands to be too frustrating to mess with out of fear of breakage. It's a strange reaction to have to a figure, but here we are.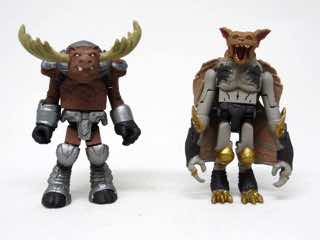 Similar but different, Nychirix the bat has a dynamite sculpt with tiny fur patterns and ferocious fangs, plus leathery wings to boot. He has hands big enough to grip his weapons, and those hands pop out easily. I like how the bat parts mesh with the brick figure but there's more evidence of said block origins when compared to his pack mate. The weapon is a lot cooler, and can easily plug in to a peg on the warrior figure's belt. The mouth has painted fangs and a red mouth, and the jaw is not articulated as it may appear at first glance. The armor is good - but Antalor's looks cooler.
The Battle Beasts line of Minimates had a long runway before take-off and ultimately kind of just sputtered. It came, we saw, it went. They're nifty collectibles and strong designs, but if you're looking for gripping fingers, Diamond traded those away for top-notch sculpting. Apparently you can't have both when sub-3-inch animal warriors are concerned. I don't see many of this set for sale so I can't even guess the current going rate, but your desire to want it are going to be directly proportional to your obsessive collecting disorders. (Yes I bought them all.)
--Adam Pawlus
Additional Images

See more Diamond Select Toys figures in Figure of the Day:
Day 76: Diamond Select Toys Black and White Wolfman
Day 82: Diamond Select Battle Beasts Minimates SDCC Gold Alligator Action Figure
Day 373: Diamond Select Battle Beasts Minimates Case Red Alligator Action Figure
Day 390: Diamond Select Battle Beasts Minimates C2E2 2012 Red Vorin
Day 395: Diamond Select Battle Beasts Minimates C2E2 2012 Grey Vorin
Day 450: Diamond Select Battle Beasts Minimates SDCC 2012 Vorin & Zik
Day 460: Diamond Select Battle Beasts Minimates SDCC 2012 Gold Vorin
Day 463: Diamond Select Battle Beasts Minimates C2E2 Exclusive Black Alligator
Day 610: Diamond Select Battle Beasts Minimates Gruntos the Walrus & Tate Reynolds
Day 720: Diamond Select Battle Beasts Minimates Shadow Merk
Day 1,324: Diamond Select Toys Aliens vs. Colonial Marines Figure Set
Day 1,756: Diamond Select Independent Comic Book Minimates Battle Beasts Ruminant and Spyrnus
Day 1,815: Diamond Select Battle Beasts Minimates Stealth Vorin
Day 1,905: Diamond Select Battle Beasts Minimates Antalor and Nychirix

See more Battle Beasts figures in Figure of the Day:
Day 82: Diamond Select Battle Beasts Minimates SDCC Gold Alligator Action Figure
Day 373: Diamond Select Battle Beasts Minimates Case Red Alligator Action Figure
Day 374: Hasbro Battle Beasts Sawtooth Shark Action Figure
Day 375: Hasbro Battle Beasts Wolfgang Walrus Action Figure
Day 376: Hasbro Battle Beasts Diving Duckbill Action Figure
Day 377: Hasbro Battle Beasts Spark Shark Action Figure
Day 390: Diamond Select Battle Beasts Minimates C2E2 2012 Red Vorin
Day 391: Hasbro Battle Beasts Anarchy
Day 395: Diamond Select Battle Beasts Minimates C2E2 2012 Grey Vorin
Day 417: Hasbro Battle Beasts Run Amuck Duck
Day 436: Hasbro Battle Beasts Horny Toad
Day 450: Diamond Select Battle Beasts Minimates SDCC 2012 Vorin & Zik
Day 451: Hasbro Battle Beasts Sledgehammer Elephant
Day 460: Diamond Select Battle Beasts Minimates SDCC 2012 Gold Vorin
Day 463: Diamond Select Battle Beasts Minimates C2E2 Exclusive Black Alligator
Day 451: Hasbro Battle Beasts Pillaging Polar Bear
Day 577: Hasbro Battle Beasts Slasher Seahorse
Day 610: Diamond Select Battle Beasts Minimates Gruntos the Walrus & Tate Reynolds
Day 639: Hasbro Battle Beasts Triple Threat Snake
Day 674: Hasbro Battle Beasts Hare Razing Rabbit
Day 720: Diamond Select Battle Beasts Minimates Shadow Merk
Day 723: Hasbro Battle Beasts Pillager Pig
Day 914: Hasbro Battle Beasts Rainbow Sam
Day 972: Hasbro Battle Beasts Pixilated Pointer
Day 1,084: Hasbro Battle Beasts Sir Sire Horse
Day 1,278: Hasbro Battle Beasts Hardtop Tortoise
Day 1,291: Hasbro Battle Beasts Tanglin Pangolin
Day 1,306: Hasbro Battle Beasts Eager Beaver
Day 1,313: Hasbro Battle Beasts Bodacious Bovine
Day 1,756: Diamond Select Independent Comic Book Minimates Battle Beasts Ruminant and Spyrnus
Day 1,815: Diamond Select Battle Beasts Minimates Stealth Vorin
Day 1,827: Hasbro Battle Beasts Sabre Sword Tiger
Day 1,890: Hasbro Battle Beasts Battling Deer Stalker Chariot
Day 1,905: Diamond Select Battle Beasts Minimates Antalor and Nychirix
Day 1,906: Hasbro Battle Beasts Killer Carp
Day 2,024: Fisher-Price Imaginext Series 11 Collectible Figures Triple Threat Snake
Day 2,074: Hasbro Battle Beasts Octillion Octopus

Want to buy this figure? Check Minimates availability at our sponsors:
Entertainment Earth