Mattel Jurassic World Extreme Chompin' Tyrannosaurus Rex Action Figure
Mattel, 2018

Day #1,963: May 14, 2018
Extreme Chompin' Tyrannosaurus Rex
Roughly in scale with figures, maybe a trifle smaller

Jurassic World Legacy Target Exclusive
Item No.: No. FLN96
Manufacturer: Mattel
Includes: Spit accessory
Action Feature: Jaw opens for Mega Mouth Candy attack
Retail: $19.99
Availability: April 2018
Other: Walmart has a bloody redeco with a second figure for $10 more

PREVIOUS
RSS
NEXT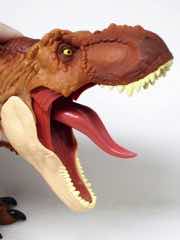 This one is about the right scale, and marketed as a "Legacy" item in a line mostly made up of toys from the first couple of movies. The Extreme Chompin' Tyrannosaurus Rex mold is clean here, and Walmart has a bloodied version with a (currently) exclusive food mold - which I found out about 3 hours after opening this toy. Oops. It's a fine toy, though. Mattel's big giant Rex is still king, but this one is about perfect for a collection scaled to the action figures. Not too big, not too small - and she has 8 points of articulation. That's pretty great - Hasbro's toys had some balance issues, and this figure's rotating ankles and moving hips can make up for any such problems with no real fuss.
At about 19-inches long, it's a good size. It's about an inch bigger than Hasbro's Jurassic World Tyrannosaurus Rex Action Figure [FOTD #1,180] and it's $5 cheaper. It has more paint and seems better proportioned, and it has more articulation. It's almost bafflingly better - given inflation and everything, I would almost assume someone at Mattel said "Just make it better" and the team took it to heart.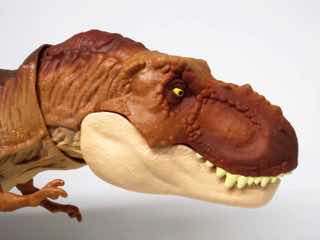 She has ball jointed arms. Why? She has rotating ankles, and hips that move out as well as front and back. Again - why? She has two joints in her neck, plus a button to open her jaws and stick out her tongue like Jar Jar Binks Mega Mouth Candy. The toy doesn't need all of this - nor does it need the one-time-assembly articulated tail - but we get it all, and it's wonderful.
I love the teeth, the tones of brown, the eyes, the sculpting, just about everything. The neck is a little weird - there's a sleeve/collar that joins the skull to the body, and it looks sort of like one of those whiplash collars you see on TV court case sitcoms. Paint it white, and it would probably be a lawsuit dinosaur waiting to happen. This gives her a good range of movement, so she can look up or down - an uncommon thing on these bigger dinosaurs. Just a couple of joints really add to her range of movement, letting her bend down to chase little dinosaurs or menace human heroes. Those extra leg joints do a load of good in making this a more lively toy, and it's better than anything Kenner or Hasbro ever did. (Sorry Kenner or Hasbro.) I got the ReSaurus T-Rex in college, and while it has more articulation it can't stand as well without assistance from the display stand.
Mattel is one of the world's biggest toymakers, but they're really all over the map with boy's action toys. Either they completely decimate their competition, or give up and give us something boring - their DC Comics lines are either stunning or boring, with little in the middle. Clearly they want mindshare in what's left of action figure collectors, and since dinosaurs sell to more than adult men they decided to make a one-size-fits-most line packed with fun things that do stuff. I'd recommend probably getting Walmart's version of this toy, but Target's is excellent too - the mold is a lot of fun and I'm discovering new poses or fun things as I wrote this review. I bought the giant one because of the novelty, but this is the one I'll probably play with at my desk. I like it, if you need another T-Rex get this one or one based on this mold.
--Adam Pawlus
Additional Images

Click here to see more Mattel figures in Figure of the Day.

See more Jurassic Park and Jurassic World figures in Figure of the Day:
Day 11: Hasbro Jurassic Park III Dr. Alan Grant
Day 138: Kenner Jurassic Park Chaos Effect Compstegnathus Action Figure
Day 172: Kenner Jurassic Park The Lost World Chasmosaurus Action Figure
Day 346: Kenner Jurassic Park Ian Malcolm Action Figure
Day 366: Kenner Jurassic Park Ellie Sattler Action Figure
Day 372: Hasbro Jurassic Park G.I. Joe Heavy Gunner Action Figure
Day 533: Kenner Jurassic Park Chaos Effect Amargospinus
Day 620: Hasbro Jurassic Park Pachyrhinosaurus Clash Action Figure Set
Day 651: Hasbro Jurassic Park Allosaurus Assault Action Figure Set
Day 851: Hasbro Jurassic Park Paul Kirby Action Figure
Day 1,180: Hasbro Jurassic World Tyrannosaurus Rex Action Figure
Day 1,180: Kenner Jurassic Park Alan Grant Action Figure
Day 1,196: Hasbro Jurassic World 3 Dinos Action Figure
Day 1,198: Kenner Jurassic Park Tim Murphy Action Figure
Day 1,202: Hasbro Jurassic World Spinosaurus Action Figure
Day 1,212: Kenner Jurassic Park Chaos Effect Ian Malcolm Action Figure
Day 1,216: Hasbro Jurassic World Ankylosaurus Action Figure
Day 1,219: Hasbro Jurassic World Stegoceratops Action Figure
Day 1,228: Hasbro Jurassic World Tyrannosaurus Rex Action Figure
Day 1,425: Hasbro Jurassic World Hybrid Velociraptor Action Figure
Day 1,455: Hasbro Jurassic World Bashers & Biters Indominus Rex Action Figure
Day 1,462: Hasbro Jurassic World Hybrid Tyrannosaurus Rex Action Figure
Day 1,472: Hasbro Jurassic World Pachycephalosaurus Action Figure
Day 1,509: Hasbro Jurassic World Hybrid Armor Indominus Rex Action Figure
Day 1,526: Hasbro Jurassic World Owen "Alpha" and Velociraptor "Blue" Action Figure
Day 1,528: Hasbro Jurassic World Hybrid Armor Ankylosaurus Action Figure
Day 1,540: Hasbro Jurassic World Hybrid Dilophosaurus Rex Action Figure
Day 1,550: Hasbro Jurassic World Hybrid Carnoraptor Action Figure
Day 1,560: Hasbro Jurassic World Hybrid Rampage Indominus Rex Action Figure
Day 1,567: Hasbro Jurassic World Hybrid Stegoceratops Action Figure
Day 1,573: Hasbro Jurassic World Hybrid Pteramimus Action Figure
Day 1,712: Hasbro Jurassic World Hybrid Spinosaurus Action Figure
Day 1,721: Hasbro Jurassic World Hybrid Dilophosaurus Action Figure
Day 1,918: Mattel Jurassic World Mini Action Dino Ankylosaurus Action Figure
Day 1,938: Funko Pop! Movies Jurassic Park Dr. Ian Malcolm (Wounded) Pop! Vinyl Figure
Day 1,943: Mattel Jurassic World Velociraptor "Blue" Action Figure
Day 1,950: Mattel Jurassic World Super Colossal Tyrannosaurus Rex Action Figure
Day 1,954: Mattel Jurassic World Dilophosaurus Action Figure
Day 1,959: Mattel Jurassic World Battle Damage Triceratops Action Figure
Day 1,963: Mattel Jurassic World Extreme Chompin' Tyrannosaurus Rex Action Figures
Day 1,965: Mattel Jurassic World Battle Damage Velociraptor "Blue" Action Figure
Day 1,967: Mattel Jurassic World Robert Muldoon Action Figure
Day 1,972: Mattel Jurassic World Gallimimus Action Figure
Day 1,981: Mattel Jurassic World Metriacanthosaurus Action Figure
Day 1,984: Funko Pop! Movies Jurassic Park Dr. Ian Malcolm Pop! Vinyl Figure
Day 1,989: Mattel Jurassic World Tyrannosaurus Rex, Stygimoloch "Stiggy," and Triceratops Action Figures
Day 1,994: Mattel Jurassic World Battle Damage Pachycephalosaurus Action Figure
Day 1,999: Mattel Jurassic World Owen & Baby "Blue" Action Figure
Day 2,003: Mattel Jurassic World Gift Set 6-Pack Action Figures
Day 2,053: Mattel Jurassic World Legacy Dr. Ian Malcolm Action Figure