ZW-06 Gabrigator
Golly Gosh Good Gator

Zoids Wild Medium Wind-Up Toy Kit
Item No.: ???
Manufacturer: Takara-Tomy
Includes: Stickers, pilot
Action Feature: Fights, bites, walks, wags
Retail: $28 (3,000 yen)
Availability: June 2018
Other: Blue armor, red eyes

PREVIOUS
RSS
NEXT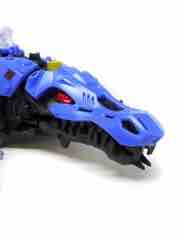 If you've heard me go on a riff about toys, Zoids comes up as one of those lines from when I was a kid where I was happy that it kept coming back, despite the fact American kids didn't want them. The first line came and went before I was old enough for them, Robo-Strux hit on my sixth birthday - and I was hooked. I'd get a couple then, my dad picked me a few up in Japan, a local hobby store imported some, Kenner brought them back right before college, and then there was a revival during my studies. And now I'm old and I can get a brand new ZW-06 Gabrigator. It It reminds me a tiny bit of one of my all-time favorite toys, Neptune [FOTD #486] which also had an enlarged figure riding on its back. It is divine. This new one is pretty good, too.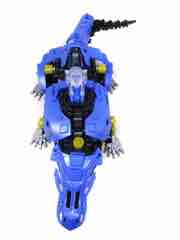 The 11-inch long kit looks like a platypus mated with an alligator, with some tank DNA mixed in for good effort. The blue with a splash of purple look has metalized red eyes in its skull, plus removable colored armor on a black frame. You can customize it with stickers, and I opted to match the box - there's a whole sheet of numbers and faction logos so you can make it yours. It takes under 30 minutes to assemble, and as with the other kits the parts are pre-trimmed from sprues. I find myself missing the step of liberating parts from the thin, brittle plastic frames we saw in the 20th century kits. This is clearly simplified, but the resulting kit isn't any worse off. It costs more, but it seems smoother and I don't have to trim the little sharp plastic bits from when you twist off the parts from the trees.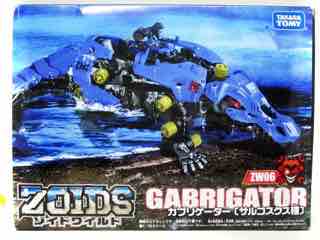 I like the overall design a lot, and it seems this was designed with crazy customization and expansion possibilities in mind. 3mm pegs and holes dot the surface of this reptilian robot, providing places to mount weapons if and when they release expansion kits (or if you steal them from old kits.) The feet are silver, and the bulk of the toy is fairly evenly colored. One feature I especially love are that the creature's blade-like teeth are so long, they jut through the top of the snout - that's a heck of a dental problem.
Orthodontics are the order of the day when you switch the toy to its walk, "brute" mode. Normally you flick a switch behind the tail - which is particularly finicky - and the little guy sweeps his tail back and forth while his head looks around and he waddles forward. The multi-segment tail looks particularly great, and I love the personality of the head as it looks around. It's charming, and largely harmless - there aren't many guns or weapons on most of these toys. It just looks cute. When you slide the head forward a bit, things change - the head extends open in a ridiculous biting attack, chomping down as it stumbles forward in a threat to anyone who dares cross its path. It's glorious and goofy, an amazing battery-powered motorized feature that you get to bring to life yourself.
The brightly-colored stickers match the kit nicely, with "Caviar" as the driver's name and "Death Metal" as a rather goofy named faction. It might click with export markets, but it's kind of silly. What next, a robot named "Jazz?"
There's very little else like it, and so far this is my favorite of these new kits. Even though the switch is a bit of a nuisance, I love how it looks, how it moves, and how it "attacks." If it ever shows up at a store near you, you should buy it - if I have a shot at a cheap one, I'd be tempted to do some customizing on it and see what I get. It's a delight, and it's a lot of fun to put together and futz with. The core "play" value of Zoids tends to be assembly, as you can't do a lot with it once it's built other than treat it carefully and send it marching across a flat surface. Thankfully it's neat enough that the walking is worth my while, likely spoiling me for future kits. As I write this last August, I can't imagine and of the other new kits will be as fun, as perfect, as wonderfully designed.
--Adam Pawlus
Additional Images


See more Takara-Tomy figures in Figure of the Day:
Day 180: Takara-Tomy Transformers Animated Ironhide (Bulkhead) Key Chain
Day 435: Takara-Tomy Transformers Prime Gacha Arms Micron Optimus Prime Blaster
Day 476: Takara-Tomy Transformers Prime Bumblebee Sword Action Figure
Day 495: Takara-Tomy Beast Saga Raioga Action Figure
Day 529: Takara-Tomy Beast Saga Kingdom of Sea Death Action Figure Set
Day 534: Takara-Tomy Beast Saga Dolphin Burst Action Figure
Day 540: Takara-Tomy Beast Saga Kingdom of Gloria Action Figure Set
Day 544: Takara-Tomy Beast Saga Aldyle Action Figure
Day 549: Takara-Tomy Beast Saga Dorfan Action Figure
Day 551: Takara-Tomy Beast Saga Eledram Elephant Action Figure
Day 564: Takara-Tomy Beast Saga DX Starter Set Action Figure Set
Day 568: Takara-Tomy Beast Saga Tarlock Action Figure
Day 573: Takara-Tomy Beast Saga Long Giraf Action Figure
Day 579: Takara-Tomy Beast Saga Garrison G Action Figure
Day 580: Takara-Tomy Beast Saga GachaBooster General Hawk Knight Action Figure
Day 585: Takara-Tomy Beast Saga Beast Machines Sky Darling Vehicle
Day 586: Takara-Tomy Beast Saga Killer Shark Burst Action Figure
Day 593: Takara-Tomy Beast Saga Rynas Action Figure
Day 595: Takara-Tomy Beast Saga Seylas Action Figure
Day 597: Takara-Tomy Transformers Prime Zad Action Figure
Day 601: Takara-Tomy Beast Saga Bamet Burst Action Figure
Day 616: Takara-Tomy Beast Saga Long Giraf Burst Action Figure
Day 622: Takara-Tomy Beast Saga Bamet Action Figure
Day 626: Takara-Tomy Beast Saga Killer Shark Action Figure
Day 637: Takara-Tomy Beast Saga Liorga Action Figure
Day 642: Takara-Tomy Beast Saga Aldyle Burst Action Figure
Day 663: Takara-Tomy Beast Saga Janjan Action Figure
Day 669: Takara-Tomy Beast Saga Ogre Burst Action Figure
Day 678: Takara-Tomy Beast Saga Swordbill Action Figure
Day 693: Takara-Tomy Beast Saga Guarl Burst Action Figure
Day 715: Takara-Tomy Beast Saga Guarl Action Figure
Day 824: Takara-Tomy Beast Saga Mantaray Action Figure
Day 828: Takara-Tomy Beast Saga Aljaylo Action Figure
Day 839: Takara-Tomy Beast Saga Ogre Action Figure
Day 846: Takara-Tomy Beast Saga Dakker Action Figure
Day 856: Takara-Tomy Beast Saga Moreek Action Figure
Day 873: Takara-Tomy Beast Saga Wonderriver Action Figure
Day 905: Takara-Tomy Transformers Masterpiece Edition Lambor G-2 Ver.
Day 937: Takara-Tomy Beast Saga Rynas Burst Action Figure
Day 974: Takara-Tomy Beast Saga Super Win Deck Impact Set Action Figure Set
Day 993: Takara-Tomy Beast Saga Kannigal Burst Action Figure
Day 1,127: Takara-Tomy Transformers Sega Genesis Megatron Action Figure
Day 1,207: Takara-Tomy Transformers United Rumble & Frenzy
Day 1,224: Takara-Tomy Transformers Adventure Roadblock
Day 1,242: Takara-Tomy Transformers Go! Go
Day 1,247: Takara-Tomy Transformers Go! Sen
Day 1,259: Takara-Tomy Transformers Go! Geki
Day 1,262: Takara-Tomy Transformers Masterpiece Bumble G-2 Ver.
Day 1,273: Takara-Tomy Transformers Go! Ex
Day 1,284: Takara-Tomy Transformers Go! Shou
Day 1,310: Takara-Tomy Transformers Legends Slipstream
Day 1,327: Takara-Tomy Transformers Unite Warriors Grand Scourge
Day 1,328: Takara-Tomy Transformers Unite Warriors Nightbird Shadow
Day 1,326: Takara-Tomy Beast Saga Buffam Action Figure
Day 1,328: Takara-Tomy Transformers Adventure Override
Day 1,332: Takara-Tomy Beast Saga Bunikis Action Figure
Day 1,339: Takara-Tomy Beast Saga Aljaylo Burst Action Figure
Day 1,357: Takara-Tomy Transformers United Stepper
Day 1,381: Takara-Tomy Beast Saga Eledram Burst Action Figure
Day 1,429: Takara-Tomy Transformers Legends Armada Starscream Super Mode
Day 1,468: Takara-Tomy Transformers Unite Warriors Grand Galvatron
Day 1,471: Takara-Tomy Zoids Masterpiece Shield Liger
Day 1,496: Takara-Tomy Beast Saga Dacker Burst Action Figure
Day 1,627: Takara-Tomy Transformers Legends Convobat
Day 1,670: Takara-Tomy Transformers Legends Leo Prime
Day 1,814: Takara-Tomy Beast Saga Mantaray Burst Action Figure
Day 1,842: Takara-Tomy Transformers Legends Blackarachnia
Day 1,911: Takara-Tomy Beast Saga Wolfen Burst Action Figure
Day 1,964: Takara-Tomy Beast Saga Buffam Burst Action Figure
Day 2,000: Takara-Tomy Zoids Wild ZW-05 Gannontoise Figure Kit
Day 2,006: Takara-Tomy Beast Saga Raioga Burst Action Figure
Day 2,008: Takara-Tomy Zoids Wild ZW-01 Wild Liger Figure Kit
Day 2,013: Takara-Tomy Zoids Wild ZW-03 Kabtor Figure Kit
Day 2,017: Takara-Tomy Zoids Wild ZW-04 Scorpear Figure Kit
Day 2,039: Takara-Tomy Zoids Wild ZW-06 Gabrigator Figure Kit
Day 2,075: Takara-Tomy Zoids Wild ZW-07 Kuwaga Figure Kit
Day 2,191: Takara-Tomy Transformers Generations Selects Deluxe Gulf (Skalor) Action Figure
Day 2,200: Takara-Tomy Transformers Generations Selects Deluxe Turtler (Snaptrap) Action Figure
Day 2,213: Takara-Tomy Beast Saga Kannigal Action Figure
Day 2,273: Takara-Tomy Transformers Generations Selects Voyager Super Megatron Action Figure
Day 2,463: Takara-Tomy Beast Saga Moreek Burst Action Figure

See more Zoids, Robostrux, and Techno-Zoids in Figure of the Day:
Day 170: Tomy Zoids Wardick
Day 263: Tomy Zoids Gorgodos Action Figure
Day 364: Tomy Robostrux Brutox Figure Kit
Day 382: Tomy Robostrux Slithor Figure Kit
Day 406: Tomy Zoids Twinhorn Action Figure
Day 484: Tomy Robostrux Brox Figure Kit
Day 486: Tomy Zoids 24 Scale Neptune Figure Kit
Day 1,352: Tomy Robostrux Batlar Figure Kit
Day 1,422: Tomy Zoids Gator Figure Kit
Day 1,471: Takara-Tomy Zoids Masterpiece Shield Liger
Day 2,000: Takara-Tomy Zoids Wild ZW-05 Gannontoise Figure Kit
Day 2,008: Takara-Tomy Zoids Wild ZW-01 Wild Liger Figure Kit
Day 2,013: Takara-Tomy Zoids Wild ZW-03 Kabtor Figure Kit
Day 2,017: Takara-Tomy Zoids Wild ZW-04 Scorpear Figure Kit
Day 2,039: Takara-Tomy Zoids Wild ZW-06 Gabrigator Figure Kit
Day 2,075: Takara-Tomy Zoids Wild ZW-07 Kuwaga Figure Kit