Armada Universe Starscream
20th Anniversary Remake

Transformers Legacy Voyager
Item No.: Asst. F2991 No. F3056
Manufacturer: Hasbro
Includes: 1 Star Saber, 1 Wing Sword
Action Feature: Transforms from robot to plane
Retail: $33.99
Availability: November 2022
Other: Even the Mini-Cons have abandoned him

PREVIOUS
RSS
NEXT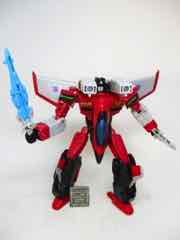 While I don't like Armada Universe Starscream areas much as the original toy, I think fans of the cartoon might prefer him - they clearly took inspiration from the cartoon colors. There's less yellow! And he has red toes! Sadly, they left off things like like Mini-Con ports.
The "wing sword" is now just a sword, and Hasbro dropped the red paint. But we did get a blue painted Star Saber which looks goofy, but at least you can see the jets that made up the original design. It's clever - and a little small, so you'll want to give it to Hot Shot later.
Click here to check availability at Entertainment Earth.
Articulation is good for a Voyager - probably too good. The arms have far too many moving parts with four joints per shoulder. It's overkill, and almost makes the limbs a bit floppy - but those looking to pose him will appreciate the double-elbows, rocker ankles, and a range of movement above and beyond what you got back in 2002 for the first Armada Starscream. Sculpted detail is surprisingly similar, with lots of vents and panels. They dropped the Decepticon symbols on the forearms, and there are no Mini-Con ports - but you at least do get that cool blue sculpted cockpit.
The toy has no spring-loaded or electronic gimmicks anymore, but you can flip out his shoulder cannons or wear them like a backpack. The wings move, and he has no problems holding either sword. The teams did a good job making sure this was an appealing collector figure, thanks to an abundance of articulation from the transformation.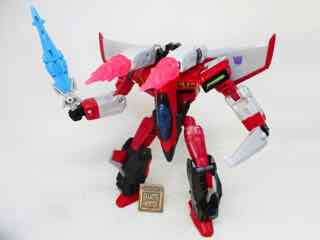 There transformation is pretty easy to figure out without instructions, which at my advancing age is ideal. I'm not as likely to keep instructions handy because it's a pain, so being able to fumble around and get a jet without a fight is nice. The head takes some work to get in place thanks to various flaps, but it works, it's good.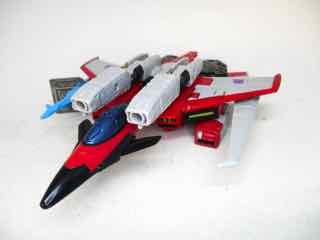 The vehicle mode has no electronics and no Mini-Con ports, and also drops the rocket launchers from the original. And it costs more, and is smaller than the 2002 Armada Starscream. It looks very similar, but lacks the "oomph" and really does show just how many toy features have been weeded out during these lines' transition from "mostly for kids with nods to fans and collectors" to "nakedly appealing to 30-40-somethings." It's a sturdy jet, but you have to bring your own blast effects for the manually deploying cannons and there's no landing gear. It's by no means bad but it left me pining for the days we got less articulation but bigger, more feature-laden toys.
I wish the accessories were bigger, but it's still a nice looking robot with decent colors and articulation. If you have the original, you may not need to upgrade - but you might want to steal this Star Saber for Hot Shot. I am hesitant to recommend it over Jhiaxus, Blaster, or some of the other recent Voyager-class toys, but it's by no means a bad robot for older fans. It just didn't knock my socks off.
What's most interesting about figures like this is that he came out in time for - well, just after - the 20th anniversary of the original. When Transformers was 20 in 2004, you might have found some nostalgia reissues but certainly no all-new sculpted transforming toys. It's nice to see a remake like this for the kids of that era, but I assume that these may be going to the same adult collectors who have been fans of Robots in Disguise for decades - with the occasional new kid. I'd love to hear if the 4-11 year olds of 2002 came back to Transformers for figures like this in their late 20s and 30s.
--Adam Pawlus
Additional Images

Click here to see more Hasbro figures in Figure of the Day.
Click here to see more Transformers figures in Figure of the Day.

Want to buy this figure? Check Transformers availability at our sponsors:
Entertainment Earth