Voyager G2 Universe Cloudcover
When I was a boy I used to live in corduroy, OP shirts, and slip-on Vans

Transformers Legacy Evolution Voyager Walmart Exclusive
Item No.: No. F7516
Manufacturer: Hasbro
Includes: 2 cannons
Action Feature: Transforms from jet to robot
Retail: $34.99
Availability: July 2023
Other: Based on an unreleased mid-1990s Generation 2 concept

PREVIOUS
RSS
NEXT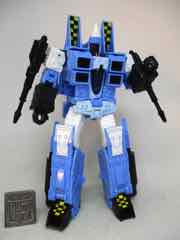 We saw hand-painted prototypes of the toy that would become G2 Universe Cloudcover years ago - and now we can own a production piece, using a different mold, with more articulation! On one hand it's irritating to pay $35 for a mold I've purchased in several colors already. On the other, it's $35 - and if BotCon were still doing exclusives, it might be closer to $100 or in a $400+ boxed set. As such, I'm going to be happy this concept made it out as a Walmart exclusive I was actually able to pre-order and, shockingly, arrived exactly on time last month.
Click here to check availability at Walmart.
Click here to check availability at eBay.
The screaming head of Dirge [FOTD #2,234] was mounted on the body of Ramjet [FOTD #2,234] with new colors to bring you who is effectively a new guy. Hasbro is allergic to making a Sunstorm, but we sure as heck now have a Cloudcover. To my knowledge this character has never appeared in anything, but was proposed as a ca. 1996 addition to Generation 2 - but it's hard to know if this would've been his name, or if he would just be another G2 Ramjet much like we got multiple flavors of G2 Dinobots. This time around he's molded in a mix of blue, black, and white. The cannons are white (painted black), so be careful as rough play may render them prone to scuffing. Most othe things are molded in their main color, with some nice highlights like white kneecaps ad checkered shoulder pylons. And what I can only assume are robot slip-on Vans of a closet budding third-wave ska fanatic. He's yelling out something, so maybe he's about to do the Skank. It's hard to know. Ska was so weird back then.
As any toy line goes on, it's hard to find a reason to make it fresh - especially for repaints. Hasbro rereleased Starscream as Starscream a few times, so digging into the vaults and finding distinctive new ways to keep selling their existing tooling is good for them and potentially good for fans too. This guy could show up in a comic some day - but until then, he's a slightly stiff but decent action figure. As time goes on, these joints are not exactly the best for a wide range of movement. However, he stands well and is sturdy with big feet and arm joints that don't seem to sag. They did a good job here, and the colors are good. Sadly, they are not very black light reactive.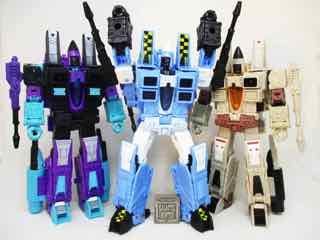 Transforming the figure is a breeze. The wrists are a little complicated but otherwise it's similar to the Classics Seekers, and more importantly, exactly like the Earthrise ones. You've probably transformed multiple extrusions of this mold enough times to do it in your sleep - but if not, the robot shins open and engulf the robot thighs. The chest opens to cram in the robot head, and arms after you open the forearms to shove them down. And then you get a nice jet and you don't throw a fit. Or get upset.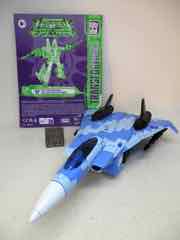 Hasbro has struggled to make a toy out of the Starscream-style jet in most toy lines. Sometimes you get weird geared rotating blasters - those were fun in Generations War for Cybertron jets, for example. Generally speaking it's just a jet with holes in it - this one has no landing gear or rocket launchers, or any "toy" element. There are holes you can stuff with accessories if you want, and you can make "whooshing" sounds. The paint job is great - big black engines, a G2 purple Decepticon logo, and the light sky blue camo looks superb. I'd say they hit the nail on the head minus one thing - that era of toys sometimes had the character's name or the word "AUTOBOT" or "DECEPTICON" on it sometimes. That would have made it even better, but for whatever reason they haven't gone hard into that detail.
I should note there were no real changes to the jet more. It's just as good as previous versions, and I know I keep saying this but I don't know if I can be on board for another new iteration of the "seeker" body mold. I'll buy more repaints of this one though.
It is worth noting the packaging stuns with its awesome artwork that I hope gets added to some licensing style guide so you can make shirts of it. I'd buy one. It also got smashed a bit in the box with Toxitron and Jazz, who turned out pretty well. But I'm opening these, so I guess I don't care that much - it's a nice weird toy that is a great addition to the "lost toys" and "faux G2" sub-collections I enjoy so much. At retail price, this is a worthwhile purchase just because it is so dang weird to finally see it as a product.
--Adam Pawlus
Additional Images

Click here to see more Hasbro figures in Figure of the Day.
Click here to see more Transformers figures in Figure of the Day.

Want to buy this figure? Check Transformers availability at our sponsors:
Entertainment Earth