Dinobot Slug
Volcanicus Combiner 2 of 6

Transformers Legacy Evolution Core
Item No.: Asst. F2988 No. F7178
Manufacturer: Hasbro
Includes: Tail blaster with hidden Volcanicus head up his butt
Action Feature: Transforms from robot to triceratops
Retail: $11.99
Availability: December 2022
Other: Better than Sludge

PREVIOUS
RSS
NEXT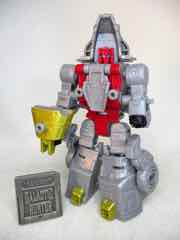 When I got the little Sludge I was thinking "maybe I don't need to finish this set." But Dinobot Slug is pretty good, or at least, is pretty good for the money. The very nice Power of the Primes toy came out about five years ago and was $5 more, but was a Deluxe toy with a blaster. And a hand piece. It was great! For those who have that and got it for retail price, this new little guy will undoubtedly be disappointing - but for a small combiner chest, I like it. The robot mode is fine. The triceratops mode isn't too compromised. The upper torso is fine. At $10 I'd tell you to get it and don't complain, but at $12 we're creeping into an arena where you and I and everybody else will be going "So when can you guys start designing the best toys for those classic price points again?"
Click here to check availability at Entertainment Earth.
The robot is a little stiff, but it looks like cartoon Slag - or Canadian Slag - in that he has a red face. One detail I absolutely love about the figure is the articulated neck - the entire triceratops head swivels with the red robot face inside, which is a big improvement over the expectations of a neck that would be frozen solid. The elbows swivel and can go out, which is nice, and the legs have both hip and knee joints. Sadly there are no elbows, and the "weapon" is kind of dumpy, but you get a nice-looking robot that certainly delivers on what most older fans see as the dinobot formerly known as Slag.
If you're a 3 3/4-inch fan - and if you read this site, I assume you are - this guy will fit in with your space knights and spandex underpants warriors. The very top of his helmet measures up to their skulls, so he can pal around with some of your other toys, if you're into that.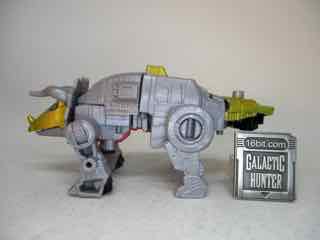 Transformation is a snap - but the results are weird. Looking at the robot in the box, the giant dinosaur limbs make it look as if he was mistransformed. He wasn't. Conversion is very similar to some of the other Slugs, but you have to connect the neck and head when you open the box. After that, it's pretty smooth sailing.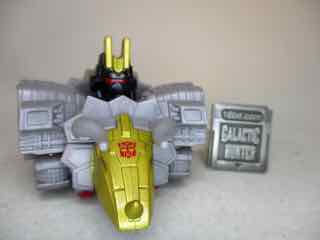 Dino mode is fine. I have my original G1 toy from when I was a kid and it's about as articulated. The horns don't move, but you can open his mouth and his legs can be posed. It's not a lot, but it's e nough. Also the tail, while stumpy, and barely a tail, is what we in the game call "adequate." It's not going to win any awards, and it's not as good as the bigger toys, but I don't hate it. He's cute.
As the head of Volcanicus, he's pretty good. The triceratops head looks nice as a chest, and Volcanicus' head looks like the last one - which is to say, Grimlock with a couple of crown horns. It's silly, but thematically fine. You'll probably dig it when he has arms and legs at some point later this year. If you are planning to collect all six, I'd say go buy this one. It's a stretch to say it's half as good as most $25 deluxe toys, but it's cute and the colors are more or less what you might expect. I question the value of a $72 Combiner that will be, at best, the size of a Voyager but I also bought the then-pricey Micromasters Combiners that Kay-Bee sold for $4 per figure for 6 figures, and at the time those seemed expensive relative to the $7 Mini-Con three-packs. All things considered it's a pretty interesting toy, and comparable to a retro 3 3/4-inch Hasbro figure in that it does more for about the same price.
--Adam Pawlus
Additional Images

Click here to see more Hasbro figures in Figure of the Day.
Click here to see more Transformers figures in Figure of the Day.

Want to buy this figure? Check Transformers availability at our sponsors:
Entertainment Earth