Samus
A New Sculpt of Samus Aran

Metroid Action Figure
Item No.: No. 41386
Manufacturer: Jakks Pacific
Includes: Morph ball mode
Action Feature: n/a
Retail: $9.97
Availability: ca. January 2023
Other: Came out along a Mario, Zelda, Link, and Mario movie stuff

PREVIOUS
RSS
NEXT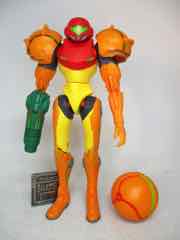 At first I thought that this Samus Aran figure was just a repaint. It was not! Despite having a slightly smaller, perfectly good figure they went ahead and sculpted a new one for 2023. She's taller standing about 5-inches high with brighter colors, a little less gloss, but more articulation. She's also pretty cheap in the context of the modern action figure market. Hasbro's 4-inch figures have 5-9 points of articulation for $10-$12, and this Jakks figure has 22 points of articulation and it's under $10. Also, you can easily find it. I'm sure Jakks may be pumping out a ton of this figure and that helps keep the price down, but you can't help but wonder how a licensed figure is priced pretty competitively in the marketplace today. Even if you have a Samus Aran toy and a full shelf of Metroid debris, it's new. It's different. I had to have it.
The figure comes complete with a "Morph Ball" mode figure/accessory, completing what looks to me like a Metroid Prime suit in Super Metroid colors. Maybe some day we'll get another figure specific to the retro versions of the suit, but probably not given the adherence to style guides in our increasingly conformist era of toy production. Although I guess that contradicts what this is, given the traditionally metallic and mostly gold figure has been released in incredibly bright yellow, red, and orange colors.
Click here to check availability at Walmart.
Click here to check availability at eBay.
Most toys made for the American "fan" market are rarely amazing. They're good - or good for the price, and this figure is absolutely good for the price. Sure, you can get a Figma import for over $100, but this is potentially at a Walmart, near you, right now. (Walmart.com's tracker doesn't seem to work right now.) Samus has double-jointed knees and elbows, plus extra articulation at the shoulder to hinge her arms forward a bit. I had no problems getting her to stand, and the hip joints have a decent range of motion. She can sit if you like. She doesn't have thigh swivels, but this figure is priced comparably to some of the best the 1990s had to offer. She may not have as much stuff as an old Star Trek figure from Playmates, but she can move in a lot more places.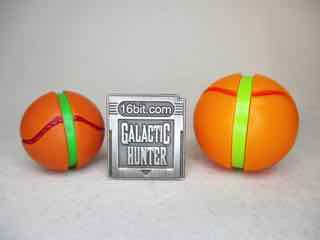 Deco is largely good for a cartoon-style Prime suit. You can see dark gray and green panel lines, plus some energy gradients in her blaster arm and even one on the visor. It would probably look better with metallic paint, but it's a good-looking workaround that seems decent in lower light situations. The yellow-to-red on the blaster arm makes it seem like this figure is powered-on, and the visor goes from green to white to green again. I guess it's nothing too special, but I don't see a lot of this kind of thing on run-of-the-mill toy figures. Everything else is painted pretty competently, although the yellow on her thighs seems like it could scrape off with moderate play. Be careful.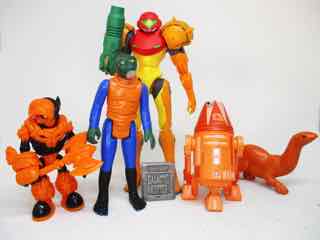 The morph ball mode has a green equator and some red panel lines. Other Jakks (and Figma) morph ball mode figures had more colors and generally looked better, but eh, whatever. Honestly they could have left this out and I would not have missed it - I'd much rather have a Zoomer or Skree or some other mini-figure creature to play with.
I've got more expensive Samus figures, but I'd recommend this one to anyone reading this. Sometimes getting a good figure for the price is better than getting the best figure (and money is no object.) As a collector, the amount of time we actually spend appreciating a figure can be short. For some reason, this one has hung out on my desk and couch for months before I got around to writing this review, and I pick her up and still have fun futzing with it. I'd love to see a 5-jointed Kenner-style Samus some day, or perhaps a Hasbro-style one just to have as a basis of comparison. I have no doubt either would be cool, but Jakks Pacific did an excellent job delivering a good figure within the budget and not catering to the higher-end collector demands. The figure seems to sell through, restock, and repeat, so I guess they must be doing something right. If you don't have a Samus toy, I can't imagine you will see a better one for the money for years to come.
--Adam Pawlus
Additional Images

See more Jakks Pacific figures in Figure of the Day:
Day 471: Jakks Pacific S.L.U.G. Zombies Macho Mangler, Flesh-Eatin' Phil, Buck Wilde Minifigures 3-Pack
Day 503: Jakks Pacific S.L.U.G. Zombies Extra Crispy, Zero Hero, Riled-Up Riley Minifigures
Day 545: Jakks Pacific S.L.U.G. Zombies Hungry Humbug, Nutty Nate, Captain Payback Minifigures
Day 818: Jakks Pacific S.L.U.G. Zombies Ralph Reindead, Surprise Demise, Blazin' Basel Minifigures 3-Pack
Day 1,032: Jakks Pacific World of Nintendo Skyward Sword Link Action Figure
Day 1,125: Jakks Pacific World of Nintendo Metroid Action Figure
Day 1,162: Jakks Pacific World of Nintendo Metroid Samus Action Figure
Day 1,182: Jakks Pacific World of Nintendo Mario Action Figure
Day 1,186: Jakks Pacific World of Nintendo Luigi Action Figure
Day 1,320: Jakks Pacific World of Nintendo 8-Bit Link Action Figure
Day 1,336: Jakks Pacific World of Nintendo 8-Bit Luigi Action Figure
Day 1,341: Jakks Pacific World of Nintendo 8-Bit Donkey Kong Action Figure
Day 1,347: Jakks Pacific World of Nintendo ComicConBox.com Metallic Metroid Samus Action Figure
Day 1,349: Jakks Pacific World of Nintendo 8-Bit Mario Action Figure
Day 1,363: Jakks Pacific World of Nintendo Shy Guy Action Figure
Day 1,367: Jakks Pacific World of Nintendo Convention Exclusive Jakks Giants Link Action Figure
Day 1,369: Jakks Pacific World of Nintendo Jakks Giants Mario Action Figure
Day 1,380: Jakks Pacific World of Nintendo Tanooki Mario Action Figure
Day 1,398: Jakks Pacific World of Nintendo Boo Action Figure
Day 1,438: Jakks Pacific World of Nintendo Metroid Gravity Suit Samus Action Figure
Day 1,444: Jakks Pacific World of Nintendo 8-Bit Red Link Action Figure
Day 1,447: Jakks Pacific World of Nintendo 8-Bit Star Power Mario Action Figure
Day 1,454: Jakks Pacific World of Nintendo 8-Bit White Link Action Figure
Day 1,475: Jakks Pacific World of Nintendo Samus Mini Action Figure
Day 1,490: Jakks Pacific World of Nintendo 8-Bit Classic Mario Action Figure
Day 1,512: Jakks Pacific Batman v. Superman: Dawn of Justice Jokers Wild Batman
Day 1,537: Jakks Pacific World of Nintendo Metroid Action Figure
Day 1,624: Jakks Pacific World of Nintendo Blooper Action Figure
Day 1,647: Jakks Pacific World of Nintendo Metroid Phazon Suit Samus Action Figure
Day 1,652: Jakks Pacific World of Nintendo Goomba Action Figure
Day 1,668: Jakks Pacific World of Nintendo 8-Bit Toad Action Figure
Day 1,672: Jakks Pacific World of Nintendo Boo Glow Action Figure
Day 1,677: Jakks Pacific World of Nintendo 8-Bit Star Luigi Action Figure
Day 1,751: Jakks Pacific World of Nintendo 8-Bit Toad Variant Action Figure
Day 1,824: Jakks Pacific S.L.U.G. Zombies Gangrene Gene, Ferpcious Frankie, Johnson Minifigures 3-Pack
Day 1,863: Jakks Pacific S.L.U.G. Zombies Santa Claws, Eli the Expired Elf, Gator Jones Minifigures 3-Pack
Day 1,991: Jakks Pacific World of Nintendo 8-Bit Princess Peach Action Figure
Day 2,490: Jakks Pacific S.L.U.G. Zombies Frozen Fright, Johnny Hammer-stix, Buck Wilde Minifigures 3-Pack
Day 2,614: Jakks Pacific Metroid Samus

See more Nintendo figures in Figure of the Day:
Day 134: Applause Super Mario Bros. Super Mario with Koopa Troopa Action Figure
Day 369: Applause Zelda II: The Adventure of Link Link PVC Figure
Day 833: K'Nex Super Mario Blind-Bagged Series #2 Boo Action Figure
Day 926: Hasbro Pokemon Ash & Pikachu
Day 1,032: Jakks Pacific World of Nintendo Skyward Sword Link Action Figure
Day 1,083: Nintendo Super Smash Bros. Amiibo Samus Aran
Day 1,107: Nintendo Super Smash Bros. Amiibo Link
Day 1,125: Jakks Pacific World of Nintendo Metroid Action Figure
Day 1,162: Jakks Pacific World of Nintendo Metroid Samus Action Figure
Day 1,182: Jakks Pacific World of Nintendo Mario Action Figure
Day 1,186: Jakks Pacific World of Nintendo Luigi Action Figure
Day 1,280: Nintendo Super Mario Maker Classic Color Mario
Day 1,296: Nintendo Super Smash Bros. Amiibo Mega Man
Day 1,299: Nintendo Super Smash Bros. Zero Suit Samus
Day 1,320: Jakks Pacific World of Nintendo 8-Bit Link Action Figure
Day 1,335: Mattel Hot Wheels Nintendo Cool-One (Super Mario)
Day 1,336: Jakks Pacific World of Nintendo 8-Bit Luigi Action Figure
Day 1,341: Jakks Pacific World of Nintendo 8-Bit Donkey Kong Action Figure
Day 1,345: Nintendo Super Smash Bros. R.O.B., Mr. Game & Watch, and Duck Hunt
Day 1,347: Jakks Pacific World of Nintendo ComicConBox.com Metallic Metroid Samus Action Figure
Day 1,349: Jakks Pacific World of Nintendo 8-Bit Mario Action Figure
Day 1,363: Jakks Pacific World of Nintendo Shy Guy Action Figure
Day 1,367: Jakks Pacific World of Nintendo Convention Exclusive Jakks Giants Link Action Figure
Day 1,369: Jakks Pacific World of Nintendo Jakks Giants Mario Action Figure
Day 1,380: Jakks Pacific World of Nintendo Tanooki Mario Action Figure
Day 1,392: Toy Biz Video Game Super Stars Mario Kart 64 Mario Action Figure
Day 1,398: Jakks Pacific World of Nintendo Boo Action Figure
Day 1,404: Medicom Nintendo Series Legend of Zelda Link Ultra Detail Figure
Day 1,430: Sonic Drive-In Mario & Luigi Paper Jam Mario Figure
Day 1,433: Nintendo Shovel Knight Amiibo
Day 1,438: Jakks Pacific World of Nintendo Metroid Gravity Suit Samus Action Figure
Day 1,444: Jakks Pacific World of Nintendo 8-Bit Red Link Action Figure
Day 1,447: Jakks Pacific World of Nintendo 8-Bit Star Power Mario Action Figure
Day 1,454: Jakks Pacific World of Nintendo 8-Bit White Link Action Figure
Day 1,475: Jakks Pacific World of Nintendo Samus Mini Action Figure
Day 1,490: Jakks Pacific World of Nintendo 8-Bit Classic Mario Action Figure
Day 1,537: Jakks Pacific World of Nintendo Metroid Action Figure
Day 1,568: Good Smile Company The Legend of Zelda: A Link Between Worlds Link Deluxe Action Figure
Day 1,599: Nintendo Toad Amiibo
Day 1,601: The Octavirate Forge Shapeways NES Inspired Zapper Gun 5mm Grip
Day 1,605: Nintendo The Legend of Zelda Link Amiibo
Day 1,624: Jakks Pacific World of Nintendo Blooper Action Figure
Day 1,647: Jakks Pacific World of Nintendo Metroid Phazon Suit Samus Action Figure
Day 1,649: Nintendo Super Smash Bros. Little Mac Amiibo
Day 1,652: Jakks Pacific World of Nintendo Goomba Action Figure
Day 1,668: Jakks Pacific World of Nintendo 8-Bit Toad Action Figure
Day 1,672: Jakks Pacific World of Nintendo Boo Glow Action Figure
Day 1,677: Jakks Pacific World of Nintendo 8-Bit Star Luigi Action Figure
Day 1,691: Nintendo Super Smash Bros. Zelda Amiibo
Day 1,733: Nintendo Super Smash Bros. Wii Fitness Trainer Amiibo
Day 1,751: Jakks Pacific World of Nintendo 8-Bit Toad Variant Action Figure
Day 1,795: Nintendo Super Mario Boo Amiibo
Day 1,811: Hasbro Nintendo Diddy Kong Monopoly Gamer Power Pack
Day 1,812: Nintendo Metroid Samus Aran and Metroid Amiibo
Day 1,823: Hasbro Nintendo Boo Monopoly Gamer Power Pack
Day 1,843: Hasbro Nintendo Luigi Monopoly Gamer Power Pack
Day 1,858: Hasbro Nintendo Wario Monopoly Gamer Power Pack
Day 1,896: Good Smile Company Metroid Prime 3: Corruption Samus Aran Action Figure
Day 1,897: Hasbro Nintendo Fire Mario Monopoly Gamer Power Pack
Day 1,991: Jakks Pacific World of Nintendo 8-Bit Princess Peach Action Figure
Day 2,068: Nintendo Super Smash Bros. Ridley Amiibo
Day 2,159: The Legend of Zelda: Link's Awakening Amiibo Link
Day 2,170: Nintendo Super Smash Bros. Simon Amiibo
Day 2,340: Mattel Hot Wheels HW Screen Time Standard Kart
Day 2,361: Nintendo Metroid Dread Samus Aran and E.M.M.I. Amiibo
Day 2,614: Jakks Pacific Metroid Samus