Black Panther
First Non-Exclusive Release of This Particular Figure

Marvel Legends 375 Action Figure
Item No.: Asst. F2648 No. F2659
Manufacturer: Hasbro
Includes: n/a
Action Feature: n/a
Retail: $9.99-$12.99
Availability: February 2021
Other: Once cheap, now fancy

PREVIOUS
RSS
NEXT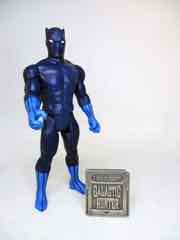 This Marvel Legends 375 Black Panther hit stores in February of 2021 - but a Pulse-exclusive packaging variant of it was sold in 2020, and a metallic version was also sold there. So by the time this figure hit stores, you might've had it in two flavors already, rolled your eyes, and skipped it in favor of Iceman or Elektra. But he sells - despite appearing in three of the first seven waves, he doesn't warm pegs in stores around here. Another retro-style kid line Hasbro Black Panther [FOTD #2,472] was available before any of these retro figures for a fraction of the price, but was somewhat difficult to find in the USA and you probably don't even know he exists. That one was a not-quite-movie tie-in, while this one is a comic-specific figure.
Click here to check availability at Entertainment Earth.
T'Challa has no accessories. He uses the bigger, wider body type shared by Captain America, Loki, and Magneto, which means he has a hole in his back that serves no real purpose. (Kenner would totally reuse body parts if they could, like Mattel did for Secret Wars.) The head is unique, and his outfit is colored a lot like his 1970s comic appearances - note the blue gloves and boots with black lines on them. Kenner would never do that, they'd sculpt a groove or a raised line and not paint it. In that respect, this figure has more in common with designer art figures than the toys Kenner kids enjoyed in their heyday, but the throwback packaging is pretty gorgeous and the figure itself certainly looks like it's evoking the 1970s and 1980s comic book world.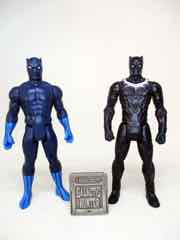 The 3 3/4-inch figure has seven points of articulation, including wrists, but he has no claw weapons or anything like that. Back in the 1970s and 1980s, characters in black costumes were frequently colored in with dark blue so you could show some definition rather than one big silhouette, and this figure seems to borrow a bit of that design philosophy. The build is good, the head sculpt is fine, and the plain white eyes is, again, the kind of thing Kenner or Mattel would have done in the 1980s.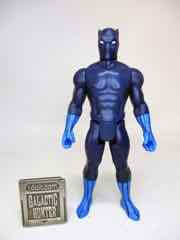 Despite all that, I still find myself preferring the cheap bagged Black Panther as a toy. It's sturdy, largely unpainted, and has a silver necklace like in the movies. It's not beefier, it doesn't look as realistic, but it does do a better job of looking like a cheap old toy than the retro Kenner one. In the context of the greater Marvel Legends 375 Collection, you're going to want the blue-booted carded guy - I still want mine! - but if I want to play around with a figure in vehicles or just want someone to punch a bad guy, I'll grab the one from the bags. Doing things on the cheap was absolutely Kenner's way, so I can't deny the charm in a figure many so eloquently referred to as looking like a bootleg. The metallic Black Panther arguably looks a bit better than the blue-gloved release, but get the colors that you like best. Or if you buy somebody's collection on eBay on the cheap, just get both.
--Adam Pawlus
Additional Images

Click here to see more Hasbro figures in Figure of the Day.
Click here to see more Marvel figures in Figure of the Day.