Wolverine
Brown Costume

Marvel Legends 375 Action Figure
Item No.: Asst. F2648 No. F3810
Manufacturer: Hasbro
Includes: n/a
Action Feature: n/a
Retail: $9.99-$12.99
Availability: ??? 2022
Other: Or $6.99 at the grocery store, apparently

PREVIOUS
RSS
NEXT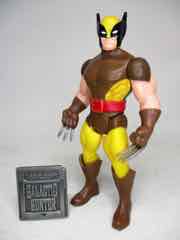 Back in the 1980s, Wolverine was still a pretty new character. Mattel made an action figure of him in this costume for Secret Wars and JusToys made a bendable Gumby-esque release in its Marvel, and later X-Men, lines. This figure copies the costume of that era, but Hasbro also had an exclusive 2-pack with Wolvie in his yellow and blue costume. This is the mass retail one, which I stumbled on at the grocery store out of the blue as part of new Marvel displays for $6.99 - that's real cheap. To my knowledge there are still no known plans for Shoeverine.
Click here to check availability at Entertainment Earth.
I totally dug the X-Men cartoon in the 1990s, and saw the movies, but never really read the comics - as such I don't have a big attachment to this particular costume. But weirdly, it looks absolutely amazing when you have a bunch of these guys together. By luck or design, a shelf of Bronze Age Marvel figures is a beautiful thing with bold color choices that look like a box of crayons exploded. Wolverine stands out because Hasbro gave him his own mold. Logan/James/whoever is a shorter, wider build with specific boots and clawed hands, all things that seemed a little less likely in the 1980s. Mattel's Wolverine had snap-on claws and painted boots - the "Kenner" one has rubbery brown boots that are separately molded pieces and flexible claws molded right in his fists. The hands can't hold accessories, but given that this line's direction seems to be a good carded presentation first and a toy later (if ever) that makes sense.
Unlike other figures, he seems to be made just to be Wolverine - there's a specific sculpted belt buckle, for example. The boots could probably be swapped out with other feet, as could the hands and head, plus his snarling face looks great. Or at least, it looks better than his historical peers. Even the bulky Toy Biz Wolverine looked nifty, but this idealized take on what Kenner could have done - but since the technology to do claws like this wasn't used at the time, couldn't possibly look this good - is certainly heartwarming.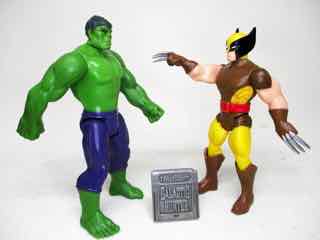 Given the 3 1/2-inch figure's unique stature, it's nice that his face gives you two distinctive looks if you look at him from the side too. It's a little more personality and the kind of thing we saw out of Playmates a lot for their legendary Teenage Mutant Ninja Turtles line of the 1980s and 1990s. Super hero figures were a big deal from 1990 onward, and this Wolverine seems to borrow a lot of ideas from the toys that meant so much just as kids switched over to video games.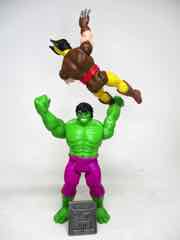 As of now Wolverine joins fellow mutants Magneto, Iceman, Cyclops, Storm, and Phoenix as parts of the X-Men in Hasbro's Marvel Legends 375 Collection. It's not a bad mix, although having a few more like Nightcrawler or Colossus would be pretty welcome too. The line is a little slow going so hopefully this hairless-armed, masked, and clawed hero will get a few more buddies between now and the time Hasbro deems Kenner nostalgia to be unprofitable. Which, I would guess, is just around the corner.
$10-$12 isn't cheap for a figure with 5 joints and no accessories, but it's cheaper than actual vintage product and also cheaper than the very good competition that is the (obviously not Marvel) ReAction Figures line from Super7. Hasbro's top-notch retro packaging and I assume, proclivity to charge more for collector stuff than kid stuff makes this a bit more expensive - it would not surprise me one bit to see a similarly sized figure down the road with more gear for less money, since we've seen Hasbro do that for Star Wars in the past. It's all about packaging and presentation these days - and this is a good presentation. Other than Star Wars I can't imagine seeing another Kenner-y brand out of Hasbro any time soon, so I'll probably keep picking these up as long as the line remains enjoyable. I wouldn't mind seeing a few more mutants, but the X-Men team already is pretty robust given it's been running slowly for two solid years. This is a fine figure for around $10, but if you also see him for $6.99 or less you owe it to yourself to pick him up immediately. I am very rarely disappointed with Kenner-style figures at or around that price.
--Adam Pawlus
Additional Images

Click here to see more Hasbro figures in Figure of the Day.
Click here to see more Marvel figures in Figure of the Day.