Armorvor Ryllcedia Gorellux
Gorilla Sequel

Glyos System Series
Item No.: No. n/a
Manufacturer: Onell Design
Includes: Blackpack, helmet head, gorilla head
Action Feature: Pops apart, customize it if you dare
Retail: $15.00
Availability: August 23, 2020
Other: In Gorilla Colors

PREVIOUS
RSS
NEXT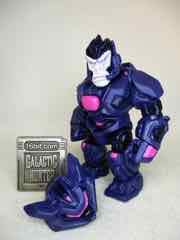 I've been cutting back a tiny bit on Armorvors because there are a lot of them - but back in 2020 I pounced on this Armorvor Ryllcedia Gorellux. For one, it was in a drop with Delphi so I had to get it - but also it was super awesome. I believe it was only the second release of the then-new head which hasn't been overexposed still, and I love the whole black/purple armor with pink highlights too. Even though I've got dozens of these armored animal army people, I had to get one more. It's a problem. But they're all pretty amazing.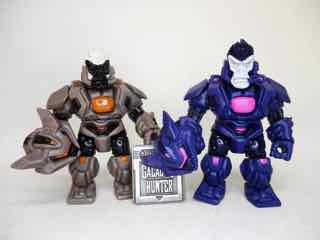 The figure is still bulky, wide, and 2 3/4-inches tall. You can still pop him apart at every joint, and swap parts with other Glyos figures. What makes this release interesting are the head and colors. Not only does it match the Delphi figure, but the ape-like colors on the head make a huge difference. I love the spiky black hair and gray skin, and the Takara-esque yellow eyes are no slouch. It's a shame things like indie budgets prevent us from getting even more animal heads, but such is life. This is probably my favorite gorilla head so far - there were also some neon crossover ones I missed out on and a white hair version that came out first. The level of detail in the face is impressive, with wrinkles around the lips and a really good "walkie talkie" headset sculpted in the figure's neck. It's functional, it looks good, and it tells a small story - or at least gives the guy a job.
The figure also has the now-retired armored wolf helmet, which can flip around to have a floppy-ear dog head. The vast majority of Armorvor figures include this head, and it looks great here with a pink visor. You can also swap it out with the backpack if you want, but that's just silly. It's a pretty good bag of parts, especially since the gorilla can hold the helmet head and you don't have to worry about finding a bag to store your extra pieces.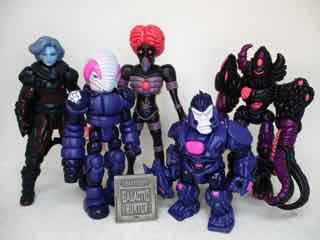 I don't see any on eBay, and I don't know when we'll see this head again - hopefully soon. The hair spikes on the head are surprisingly pointy for an action figure, I'd advise you to be careful around them as I bet they could poke through something if you aren't careful. This guy has an exceptional amount of personality in his head and I'm hoping we get him in Donkey Kong colors before the head mold gets retired. Make sure you get at least one of the gorilla heads! And wolf head, cyber wolf head, cougar head, dragon head, Neo-Granthan Dinosaur head, and fish head. Eat them up, yum.
--Adam Pawlus
Additional Images


Click here to see more Onell Design figures in Figure of the Day.
Click here to see more Glyos Compatible figures in Figure of the Day.