Buzzworthy Origin Autobot Jazz
39 Years Later...

Transformers Generations Legacy Evolution Deluxe Exclusive
Item No.: No. F7018
Manufacturer: Hasbro
Includes: Blaster, hook, hook mount
Action Feature: Transforms from vehicle to robot
Retail: $24.99
Availability: April 2023
Other: Amazingly cool

PREVIOUS
RSS
NEXT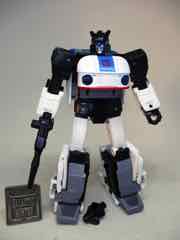 The last thing I needed was another Jazz figure since Hasbro kept making good ones - but then they had to make the one nobody had! Origin Autobot Jazz is based on his Cybertron form in the 1984 mini-series More Than Meets the Eye. The robot mode looks a lot like his Earth form, but the vehicle is a boxy sci-fi contraption rarely seen in American toy boxes outside of things like Nasta's Reactors line. (They're awesome.) With Bumblebee in 2021, fans were left asking for other figures in this style - and we got one! (When's Wheeljack?)
If you recognize what this is from, you're going to want to get it. If you don't get it, there's really no point explaining it - this is a dream toy for little kids that watched the old cartoon in 1984. It's a familiar character with a new-to-toys alternate mode, and that's enough reason for me to be excited to own it.
Click here to check availability at eBay.
Packaged in a robot mode, Autobot Jazz is pretty similar to Studio Series Jazz until you actually compare him to that toy. The fake car chest on this new version has darker headlights that tend to stand out a bit more, with no fake wheels or anything that would otherwise scream "I'm an Earth vehicle" at you. He doesn't have the cartoonier light blue on him, but it is impressive to see how the robot mode looks a lot like how you remember Jazz on the cartoon. Heck, he's even got the gray shins. I wish the Autobot symbol "popped" a little bit more, but it's still impressive to see how they pulled off the same basic robot, but different, with the completely different alt mode. It's worth noting he wears it all on his back. You can see the cracked shell of a Cybertronic car on his back, which is a lot like how Bumblebee transforms.
By throwing in a hook accessory, Jazz actually has some worthwhile and interesting gear. There's a two-part winch hand that can "EvoFusion" to his blaster, and the blaster is no slouch either. The blaster is a tight fit in the fist, but it looks cool, it makes sense. The robot looks a lot like Studio Series 86 Jazz [FOTD #2,299] from a couple of years ago. And he should! It's the same guy and the animation model is pretty much the same. You can see the spoiler around his ankles this time, and his chest headlights are clear - it looks nice. The chest kibble looks just fine, and the head is excellent. Articulation is more or less standard Deluxe toy fare, without any wrist rotation. You still have rocker ankles, swivel waist, all that stuff to make the figure look cool standing around. There's no actual "toy" here, it's just a cool figure you can pose.
The painted blue visor and silver face look great, as do the red stripe on the chest and gray shins. The feet look like they should, and they sport 5mm ports if you want to add boots from a dismembered toy (sold separately.) The feet fold back during transformation to reveal even more 5mm peg holes, so you can add in energy blasts if you want. Given we didn't get a War for Cybertron Trilogy Jazz, this might be a good stand-in for some fans. Or not. It's not gritty, but I like a colorful Jazz with a silly space car mode a lot. I hope we get more alt modes like these, mostly because normal Earth cars are kind of a bore.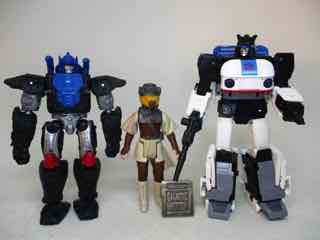 Transformation is easy, but specific, and panels need to be exploded and folded down just-so to get the car mode. It's pretty simple, if you liked Origin Bumblebee, he's on the same level.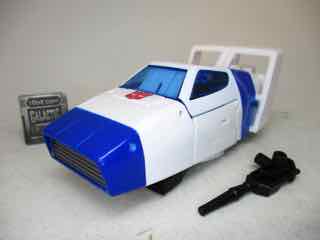 The vehicle looks cool and mostly hides the kibble. I don't think they need to do clear windows on these guys - really, I don't need to see an interior here - but I'm sure some fans will love it. The red Autobot logo pops nicely, and I love the blue stripes It doesn't do much, but you'll want to pick it up and swoosh it around. There are no wheels and no moving parts, and yeah, you can see some kibble hanging from the bottom. But the vehicle mostly covers the robot parts, and the shape absolutely looks like something from an old cartoon. You can plug the blaster on top too, and the hook hand stores underneath. It's clever! The sculpting has a few panel lines and vents, so it looks less flat than the cartoon.
As of early April he's still rolling out (and online pre-orders weren't filled - I canceled mine to pluck it off the shelf.) $25 is kind of expensive for a deluxe toy, but there are a lot of parts here and Hasbro came up with a good exclusive that's appealing to old, jaded collectors who probably cringe every time a new figure from the 1984 era comes back. This gives you a reason to actually want to buy another Jazz toy, and that's enough for me. And I mean it - with this one, I may never buy another Jazz toy. They nailed it, it's time to move on to whatever is next. (Wheeljack, I hope.)
--Adam Pawlus
Additional Images

Click here to see more Hasbro figures in Figure of the Day.
Click here to see more Transformers figures in Figure of the Day.

Want to buy this figure? Check Transformers availability at our sponsors:
Entertainment Earth