Armorvor Arthrodak Dark Nebula
Wave 83 - Fish Heads Eat Them Up Yum

Glyos System Series
Item No.: No. n/a
Manufacturer: Onell Design (with Jason Frailey)
Includes: Backpack, fish head, armor wolf head
Action Feature: Pops apart
Retail: $15.00
Availability: September 22, 2019
Other: A good head on his shoulders

PREVIOUS
RSS
NEXT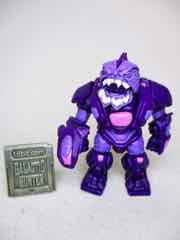 I sometimes take too long to get to good figures, like the long-sold-out Armorvor Arthrodak Dark Nebula figure from 2019. The sheer amount of pre-pandemic stuff I got to get through before I drop dead is shameful, because there's so much good stuff out there and somehow nobody is writing about any of it.
Click here to check availability at eBay.
In 2019, Matt Doughty at Onell Design did a refresh that really made a splash - multiple new heads for his Armorvor figure. Starting off as a wolf, and then a dinosaur creature, this batch threw in a cyborg cougar, a dragon, and this armored piranha fish creature with an articulated jaw. That's a tough trick to pull off, but of course they nailed it. With low-run figures like these, anything short of excellence means a big tooling investment with a limited audience could be a real hazard. So I'm grateful it's good.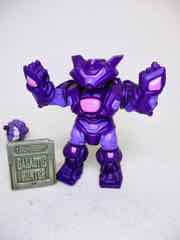 The 2 3/4-inch figure is pretty much the same body we've always had in new colors, this time a nice purple with light lavender and pink highlights. Each joint can be popped apart and swapped with other figures, allowing you to customize them or build out something big. It's like the Battle Beasts figures, but bigger, and with fewer creature flavors. It's chunky and satisfying, which is good because these things aren't as cheap as they used to be. Thanks for that, Rise of the Middle Class. The construction lets you configure this fellow in a few intriguing ways, allowing you to use a head as a backpack or using the backpack as a blaster if you like. There are some other configurations for the body as well, but I like this one.
After dozens of Armorvor figures, it's still an impressive design that didn't cut corners. If you pop off the arm, you can see sculpted detail on what you would assume to be a plain flat surface. The soles of the feet also have a bunch of detail for creative people to build something fantastic.
But you can only sell the same figure for so long. By the time this came out, the Wolf Armorvor figures and Neo Granthans were done multiple times over, in many colors, to the point where I was more than ready for something new. The armored fish was an exciting addition covered in scars, with fins on the back of the head and opening jaws. If you open those fangs, you'll see a fairly detailed interior to his mouth. The level of detail on these heads tend to be high, but this one feels like they said "it's done, but let's keep going anyway." I love the robotic eyes, the furrowed brow, and the bags under the eyes.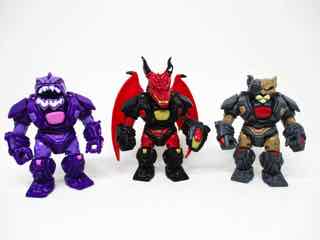 For whatever reason, these heads weren't produced in quite as many colors as those that came before. Many of them were in accessory packs, and I think it has been a couple of years since we got one of them. As such, you're not too likely to see these on eBay. But if you do, get them - these creature heads are wonderful and this one's jaw is particularly jawesome. It opens and closes easily, and it doesn't fall off easily either. I hope they crank out a few more of them, as we haven't gotten the obligatory glow or clear colorless releases yet. I am not saying you need an army of these guys anymore - I certainly feel like I may have overdone it with the Armorvor armies - but each of the animal heads is really excellent. If you get a shot at buying one at a reasonable price, you should spring for it.
--Adam Pawlus
Additional Images


Click here to see more Onell Design figures in Figure of the Day.
Click here to see more Glyos Compatible figures in Figure of the Day.