Gendrone Legion Phaseon
Metallic Blue

Glyos Action Figures
Item No.: n/a
Manufacturer: Onell Design
Includes: Hidden "mean" head
Action Feature: n/a
Retail: $6.00
Availability: December 12, 2012
Other: Metallic Blue Phaseon

PREVIOUS
RSS
NEXT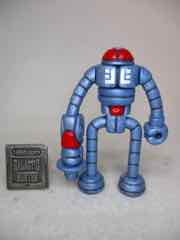 Another great figure that has been on my display for over a decade, the cool swirly blue Gendrone Legion Phaseon has aged well. That's something you don't know when you write reviews of new toys. The mold started life as Beanbots, then they got retooled a bit and became another great robot toy. I think this was also the last painted Phaseon figure to be sold for $6 - subsequent releases were usually plussed up with Gobon Blasters, new heads, a cape, or other bonus parts.
Click here to check availability at eBay.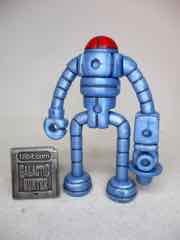 It's a great figure, and feels really good for its age. Some Glyos figures got a little oily with time and need to be cleaned or wiped down. This swirly plastic figure doesn't feel sticky or weird, and it doesn't feel stiffer or brittle either. Brittle swirly plastic is sadly common on aging Transformers toys, and as far as I know this Gold Plastic Syndrome has yet to impact anything from Glyos. But that's the kind of thing that you don't know until they start breaking.
The 3-inch robot has a very simple head with red paint and a line on it. There are no traditional eyes - but maybe it's a figure with two really big eyes? It features Gendrone markings on its chest, and also sported some swell black panel lines. It's not terribly complicated, but there's a lot more paint here than there were on some later Phaseon figures. I should also note that it was the final Phaseon figure to have panel lines, unless I'm forgetting one.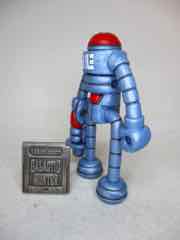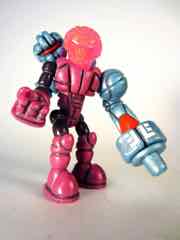 As it was one of the earlier toys with Glyos elements, it's compatible with everything - but it has tiny feet. Balance is important when posing this figure because the circular feet don't give it a lot of added support - it can wobble. I suggest displaying yours with the arms at the side, if you dare to get them. Heck, is anyone even reading this? I have to assume reviews for metallic swirly figures from an indie action figure line from a decade ago that were made in the low hundreds of units is going to be me and like three other guys. If you made it here and got this far, you're one of the special people.
This Phaseon doesn't come up for sale much - I saw one in a big lot for about $100 - and Phaseons on the whole don't either. They're not impossible to find on eBay and I think the last new one was sold around 2020. If you can get an old Phaseon for a fair price - say, around $15-$20 - you should do it. Maybe we'll see another one for sale again some day soon if the tooling is still good. I like the blaster arm, the cartoony robot fists, and the segmented limbs enough to recommend him to hang out with Noboto and Gobon. You can even plop a head on top of his head for added weirdness - it's a fun toy if you've got a Glyos collection.
--Adam Pawlus
Additional Images

Click here to see more Onell Design figures in Figure of the Day.
Click here to see more Glyos Compatible figures in Figure of the Day.