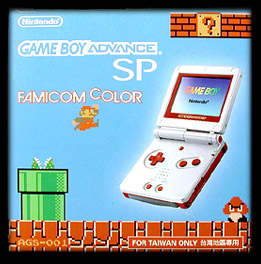 GameBoy Advance SP Famicom Color Review Capsule
If you have a GameBoy Advance SP, this is the same thing, but in a better box and with arguably better colors. If you don't have one, then you're missing out on the pinnicle of portable game design. The classic color scheme combined with the box makes this a neat, if overpriced, portable gaming treat from the land of the rising sun. Our sample was about $150.
Introduction
Commemorative GameBoys are nothing new, and Nintendo's pumped out theme units with everything from Hello Kitty to Pikachu stamped on a unit. This is the first unit done to celebrate the Famicom (or NES in the USA), and it's pretty slick looking in its Famicom colors.
Previouisly, another more ornate Famicom unit was made as a 1,000 piece production run for a promotion in Japan. This unit is, of course, less ornate and more widely available. This unit was intended for sale in Taiwan, and as such the box is slightly different from the Japanese version. The unit itself, and everything else, seems to be the same.
In addition to the system, 10 Famicom Mini titles were released for roughly $20 Japanese each. We purchased The Legend of Zelda and will review it at a later date.
Console
It's a GameBoy Advance SP, so basically these things are the same the world over except for packaging and in some cases voltage. The American and most of the Asian units don't require a step-down converter to charge the batteries, so if you buy this unit and live in the USA you can just plug it into the wall and you're good to go. Also, all GameBoy games from all over the world will work in any other nation's console, so there's no worries about getting American games on a Japanese unit, or vice-versa.
For those not in the know, the GameBoy Advance SP is a slight upgrade on the GameBoy Advance. This version features a fold-down screen like a laptop or some cell phones, an optional backlight, and full compatibility with pretty much every GameBoy game ever created worldwide. The shoulder R and L buttons seem fragile, but if you treat it with care, the SP should serve you nicely.
It feels like Nintendo put years of research into this, as it can collapse to be small enough to easily fit in your pocket without scratching the screen. It also unfolds to feel big enough in your hands to be fairly comfortable.
This unit is uniquely colored in a two-tone fashion much different than the American unit recently released in both silver and black. As you can see from the pictures showing it from the side, the entire bottom part is not red, just the very bottom piece. As such, it looks as if it were one single color when unfolded, and the joint in the middle matches instead of looking like someone ripped apart two GameBoys to make one that's two colors. The red buttons really shine, and as far as aesthetics go I daresay this is the finest special edition SP produced to date. Seeing as there will probably be dozens more down the road, though, you can probably find a better one later.
Accessories
Also included was a power cord to charge the internal battery. It is fully compatible with American SPs and American voltage.
Packaging
It's tiny, and it's gorgeous. It's roughly the same size as a ten-pack of 3.5 inch floppy discs, as can be seen at the top of the page. The graphics are quite gorgeous, though, and as such this is a box worth hanging on to.
If there's a prettier box for a game console, I've never seen it. Kudos, Nintendo. Now release something this great in the USA.
Fin
It was released on February 14, 2004, and is most likely gone at most game vendors. It has no special functionality other than being super-sweet looking and one of those "envy of all your friends" things. This probably makes up for the added cost. If you have used an American SP, you can use this-- no differences in operating the system have surfaced to my knowledge, and as such, you should import at will.
If you have an SP, you don't need this... but if you're a game collector, or like special hardware, you need this. It just looks incredible in person, plus there's that super-spiffy box.
Reviewed and photographed by Adam Pawlus
Sample obtained from NCS in March, 2004
Reviewed on March 25, 2004.