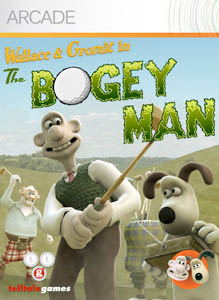 Developer
Year
Players
Price

Telltale Games
2009
1
$10 (800 MS points)

This review looks at an additional episode in an ongoing series. Please read The Fright of the Bumblebees for a look at control, graphics, and elements common to the entire series.
Story
A terrible misunderstanding has the town abuzz over a marriage proposal for Miss Flitt, with Wallace being the startled suitor! Major Crum drops by the house, seeking the assistance of the Golden Retrieval Detective Agency. Since Wallace is busy, it is up to Gromit to figure out a way to get out of the wedding. Next door, Aunt Prudence visits Felicity to offer her blessing - on one condition. It is now up to Gromit to make his master seem completely disgraceful to the ladies. After some careful manipulation from his pal, Wallace is offered membership into the very select Prickly Thicket country club. Wallace does his best to find something that is lost within the walls, all while playing a little bit of golf. His problems only seem to get worse upon its discovery, however. The game is afoot! Can he save the club from being shut down, save his house from demolition, and take back his hand in marriage?
Achievements and Puzzles
ARGH! A hardy argh on both accounts. The achievements seem to be a little harder to earn in this one, with the reviewer only unlocking half. The vast majority of puzzles elicit a groan or two. If you're not willing to search high and low for any object to keep in your inventory, you will suffer in the end, even if it doesn't make immediate sense why you'd need to carry it around. Perhaps most maddening was Wallace's attempt to decipher some riddles. Here's a tip that will save an hour of agony - if the wrench doesn't seem to work, just put it down and figure out another way. You'll thank me later. The final action sequence found in all episodes is particularly aggravating in this one, not only because it's difficult to figure out puzzles while in motion, but because Wallace is constantly wailing at you with the same token phrases. The mute button is your friend.
Characters
The whole crew is here, along with the aforementioned Aunt Prudence. She can be called many things, but in polite company "pompous" will suffice. She is a perfect fit as an older relative of Felicity, who is self-important and shrill herself.
Is it worth buying?
Perhaps. The story is engaging, maybe even more so than in earlier episodes. It's the difficulty of the puzzles that leave a bitter taste in the mouth. Playing through all the Wallace and Gromit Grand Adventures feel like time well spent. It just would have been nice for it to end on a higher note. Maybe there will be more games in the series?
--Erin Pawlus
December 17, 2009
Other Links