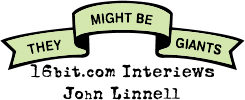 Editor's Note: This interview took place on September 23, 2001 and due to reasons beyond (and in) our control, it was not posted until late January, 2002. We regret the untimliness of its publication, and we also regret that the majority of the interview was lost due to a bad tape recorder used during the interview. Here's what's left, as best we could present it.
Linnel in the They Might Be Giants tour bus. September 23, 2001.

It's the late afternoon on a Sunday in September. There's a line of kids, teenagers, twentysomethings, and thirtysomethings lined up in front of the Cajun House in Scottsdale, Arizona. They're here for a show that won't start for at least another three hours, perhaps four. There's a couple of teens off to the side of the building with cameras, staring in awe at a behemoth of a bus with roadies exiting with various musical instruments and other equipment. There's a glockenspiel. It can only the return of They Might Be Giants to Arizona, two years to the day of their last visit to the Valentine State.

The self-appointed "Brooklyn's Ambassadors of Love" John Linnell and John Flansburgh have come a long way from being two guys with a drum machine. Now they're two guys with a drum machine, a drummer, a bassist, additional guitarists, and an army of guest musicians on their latest album, Mink Car. Essentially a mishmash of new and Internet-only recordings, the album represents their first release of new material to music stores since 1996.
EVERYONE'S YOUR FRIEND
Having grown up and being current residents of New York, the Johns (as they are affectionately known) celebrated the release of their new CD with a huge bash at the Bowery Ballroom on September 10. "We actually learned to play all of our songs," Flansburgh said with a grin at their September 23 concert.

The band, who was set to start their latest tour the next day, were shaken by the attack on their beloved New York the next morning.

"The roads were closed, the airports closed, and we were supposed to be in Boise," Linnell said. "We had various plans to fly-- the gear was already here, mostly, some of our stuff was still here, some wasn't. We sent the rest of the gear on ahead and on Thursday night we just got in the car and drove all the way across the country to meet up with the bus.

"It was a pretty intense week."
DRIVING A MINK CAR
After years of Internet-only and live material, the band released their first physical release of new studio material on September 12. Mink Car follows a series of Internet-only MP3 recordings distributed through eMusic's ongoing run of TMBG Unlimited, a service which provides a dish of Internet-only recordings to subscribers every month.

Never afraid to try anything new, the band eschewed their accordions and guitars for their song "Man, It's So Loud In Here," a send-up of the nightclub scene and, according to their fans on the Internet, of some of Cher's recent efforts.

"I love it," said Steve Johnston, long time TMBG fan. "It's really great to finally have something new from them."

Since something new tends to go well with something old, the band also covered "Yeh Yeh." The song was originally made famous by British pop star Georgie Fame thousands of years ago back in 1965, and is now finding new fame as part of a car commercial.

"We were told the song is being used in a Chrysler ad, and we just saw it," Linnell said. "You can barely hear it."
NEW PROJECTS
After writing a song for the Austin Powers sequel, the theme to Malcolm in the Middle and The Oblongs, and scoring music for several television programs, the band has decided it's time to try something new.

After two seasons, the Giants are taking leave of their job for scoring episodes of FOX-TV's Malcolm in the Middle.

"We just feel like we want to take time to do other projects," Linnell said. "We want to do more as They Might Be Giants."

Another highly anticipated project has been finished for years, although its release has never been mentioned. While on Elektra Records, the band released numerous EPs and singles with several tracks not available elsewhere, many of which were printed in relatively short supply driving prices for them fairly high online with auction houses like eBay.

"Elektra still has the rights to release those," added Linnell, "and we are still looking for a way to put them out on a compilation. There's a lot of stuff here." Over 25 rare songs and remixes appear on these recordings, and collecting the discs with four to seven tracks each for fairly high prices can add up quickly.

One of the projects with new material is No!, a children's album due for release at some point in the future. After traveling from one record label to another and having been rumored to have been dropped by Sony Wonder, it turns out that it is, in fact, still on the way.

"They're committed to [releasing] it," he says. Several of the tracks appeared each month on this year's big They Might Be Giants Internet project, TMBG Unlimited.

"Our deal with that runs through the year, and we're not sure what direction we'll be taking with them next year."

One of the projects from 1993 through 1996 was Flansburgh's Hello Recording Club in which a CD EP was mailed to members about ten times a year. Nearly 40 CDs were released from artists like Soul Coughing, Mono Puff, Frank Black, and of course They Might Be Giants. "It really looks great on my shelf," Linnell said. "Just looking all the CDs lined up... this would really make a great boxed set some day."

Of course, they have another studio album on tap as well... they don't know when that will be, but it is supposedly in the early stages of planning.
SILVER SCREEN DREAMS
Earlier this year, the band solicited for home movies of their shows for a documentary on the band entitled Gigantic (A Tale of Two Johns.) Mostly filmed by AJ Schnack, creator of several short films, the new material was shot over a period of several months in 2001. Culminating with the taping of their recent record release party, it's almost ready to go and its first exhibition is just over the horizon.

"[AJ's] waiting to find out if it's gonna be admitted to Sundance. They extended the deadlines because of the recent happenings."
TIME
15 years and nine LPs later, They Might Be Giants are starting to show a little bit of age. "When we started, one of us got sick and we just kept going. Now," Linnell turns with a smirk, "we have to worry if it's gonna end up as something worse."

Thankfully for their fans, so far so good. To paraphrase the Johns, "they're not done... and they won't be 'till their heads fall off."