Jumping Megaman
Imported in the USA by Toynami

BanDai Megaman Trading Figures Blind-Packaged Figure
Item No.: n/a
Manufacturer: BanDai
Includes: Stand, pole for plugging into stand
Action Feature: n/a
Retail: $5ish
Availability: 2010
Other: A chase piece exists with a different cannon arm and a different Hardhat base

PREVIOUS
RSS
NEXT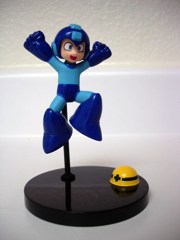 Trading figures, like trading cards, are a dangerous habit. Much like I've never learned if it's "Mega Man" or "Megaman," I've never learned to not go overboard on these things-- so I'm glad my pal Dat got me a Jumping Megaman and a few others as a gift, courtesy the damaged packaging. (Presented here for reference purposes. Yes, I realize it sucks and is ripped or smashed.)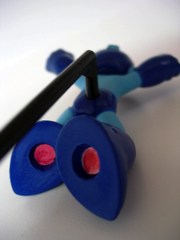 The figure is sculpted to look sort of "classic," which is to say, cute. He's got a big happy expression on his face, his suit is lacking in most detail, and the hands are quite simple in their design. His helmet has the basic classic Rockman (or Mega Man, or whatever) elements with the light blue crest and earmuffs, with an added surprise-- there are red "rockets" under each of his feet. Nice touch!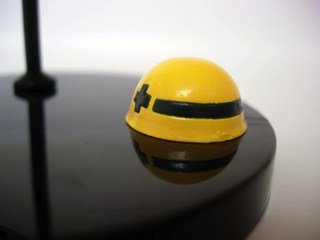 There is no real articulation to speak of, the head appears to be a separate piece and it may swivel but the plastic's feel makes me think I might accidentally twist it off, and I'd rather not make that mistake again. (Granted, every time I made the mistake, it was with an actual jointed figure that just broke. But that's what happens.) This figure is essentially a great mini-statue for your desk, not much of a toy but certainly a nice addition for any PVC collector or anyone that needs something to bring to work that isn't too rare, too expensive, or too fun. I like the look of this nifty import, but I can't play with it... but there are other figures for those purposes. Heck, Toy Biz did a decent one for Marvel vs. Capcom, and there are several different figures from any of a number of Japanese manufacturers. And Jazwares.
At about 4-inches tall from the bottom of the stand to the top of the helmet, it's a decent figure for the money. The paint applications aren't perfect, but for the price I don't expect the world. It's a nifty video game collectible and I dig the NES-style here. Well, relatively NES-style. It's old school without being 8-bit, and I appreciate that-- I'd love to see other games done in a similar style, particularly Konami games or Blaster Master. Good stuff if you can get it, but if you have a Mega Man toy you're happy with you probably don't need this one too. However if this line were to continue and they did all the various Robot Masters from the NES series, I'd say it was the greatest series ever and you totally need them all. Funny how that works, isn't it?
--Adam Pawlus
Additional Images

See more BanDai figures in Figure of the Day:
Day 22: Tamagoras Get Back To Job Lion
Day 150: BanDai Final Fantasy VII Extra Knights Red XIII Action Figure
Day 167: BanDai Final Fantasy VII Extra Knights Barett Wallace Action Figure
Day 185: BanDai Final Fantasy VII Extra Knights Tifa Lockheart Action Figure
Day 216: BanDai Tick Bounding Tick Action Figure
Day 236: BanDai Final Fantasy VII Extra Knights Sephiroth Action Figure
Day 268: BanDai Megaman Trading Figures Jumping Megaman Action Figure
Day 310: BanDai ThunderCats 4-Inch Lion-O Action Figure
Day 1,360: BanDai Godzilla Tokyo Vinyl Mechagodzilla Action Figure
Day 1,370: BanDai Godzilla Fusion Series 1968 Godzilla Action Figure
Day 1,377: BanDai Godzilla Fusion Series Gigan Action Figure
Day 1,386: BanDai Godzilla Anguirus 2004 Action Figure
Day 1,393: BanDai Godzilla SpaceGodzilla Action Figure
Day 1,408: BanDai Godzilla Rodan 2004 Action Figure
Day 1,458: BanDai Gamera Heisei Gamera Action Figure
Day 1,625: BanDai Shin Godzilla Third Form Vinyl Figure
Day 1,773: BanDai Xyber 9 New Dawn Ikira's Speeder
Day 1,980: BanDai Saban's BeetleBorgs Metallix Mega Spectra Titanium Silver Sector Cycle Vehicle with Action Figure
Day 2,021: BanDai Mystic Knights of Tir Na Nog The Drageen Action Figure
Day 2,135: BanDai Shin Godzilla Second Form Vinyl Figure

See more Mega Man figures in Figure of the Day:
Day 268: BanDai Megaman Trading Figures Jumping Megaman Action Figure
Day 1,881: Super7 Mega Man M.U.S.C.L.E. Series 1 Set B
Day 1,894: Super7 Mega Man M.U.S.C.L.E. Series 1 Set D
Day 1,904: Super7 Mega Man M.U.S.C.L.E. Series 1 Set A
Day 1,914: Super7 Mega Man M.U.S.C.L.E. Series 1 Set C
Day 2,037: Hasbro Gamerverse Marvel vs. Capcom Infinite Iron Man vs. Mega Man X Action Figures

Want to buy this figure? Check Mega Man availability at our sponsors:
Entertainment Earth