Mega Spectra Titanium Silver Sector Cycle
Long Name, Kay-Bee Clearance Find!

BanDai Saban's BeetleBorgs Metallix Cycles
Item No.: Asst. 5445 No. 5447
Manufacturer: BanDai
Includes: Figure, bike, weapons galore
Action Feature: Big bike combines with weapons, figure, cape
Retail: approx. $5.99
Availability: ca. 1997
Other: 5-inch action figure with vehicle arguably better than most toys these days

PREVIOUS
RSS
NEXT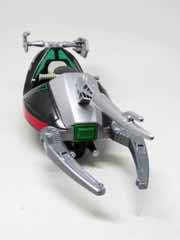 I picked up the Mega Spectra Titanium Silver Sector Cycle with the Titanium Silver Beetleborg on a lark. I had a lot of time in the late 1990s and early 2000s to myself - on a good day I'd take my bike out. On a bad day, I'd take my bike out. I'd probably wind up at one or more toy stores, Kay-Bee was a frequent target thanks to the weirdness of the town I was in. I'd find Techno-Zoids, cheapo LEGO sets too big to carry home (and I'd try), and giant toys jutting out of my backpack during surprise rain storms. Call it a coping mechanism, call it an addiction, call it working hard in my field of study - I got a lot of toys and it got me through a lot of down time. This set was a couple of bucks, and a couple of bucks is where I liked to be. Kay-Bee was really good at putting cheap old junk next to new stuff, and a lot of times that old stuff would be a good, cheap thrill. I missed out on the whole Sentai craze due to my age, but I can't deny that some of the toys are shockingly nice by modern standards.
Price tags seem to indicate this toy was originally about six bucks - I assume that may be in error, because it's a 5 1/2-inch figure with 11 points of articulation, a 9-inch long bike, and 9 removable accessories. Articulation isn't amazing, and the figure feels a little light and cheap with some silver stickers, but it held up well. Nothing was reglued here - I put this together at some point before 2002 and it just held up in storage with no real problems. The figure has freely-moving hips with a swivel neck, swivel shoulders, swivel biceps, and bending knees and elbows. Each hand has a peg to grip the weapon accessories, and there's a hole in the back to peg a cape. There's even a hole on the holster to mount the gun. It just plain works.
Or Borg bud is molded in black with some silver highlights including foil stickers, and a pretty nice helmet with a mushi helmet. It's thematically cute, and from the era of Power Rangers, Superhuman Samurai Syber Squad, VR Troopers, and other oddities from the Saban hall of fame/shame. Super-sentai-teen shows were all the rage, much like how we saw weird animal teams in the wake of Ninja Turtles. It was probably the last truly great big new trend in character toys, most of what we got since are revivals of old franchises and superheroes. These guys are almost retro, as those kinds of shows were on Japan a long time ago and still are to this day. I don't know it well enough to say it was very of-its-time or not, because to me it looks a little less forward than a Kamen Rider or an Ultraman. It's kind of boxy and bulky, almost crude and simple with lots of screws that make me think this was a very cheap figure to make. But it can stand, and sit, and hold its accessories - compared to a modern action figure this thing is incredible for the asking price.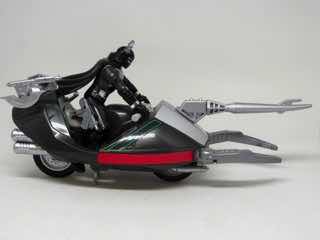 As accessories go, you're spoiled for choice. A horn lance and articulated mandibles are on the front of the bike, and a mount with beetle claws and an axe sits on the back. There's a big handlebar staff and a blaster accessory, plus the removable cape. Much like Xevoz, Stikfas, and a lot of Playmates 1990s figures you've got more than you might know what to do with - thankfully most of it mounts to the bike. It's a treasure trove of a toy with so many easy-to-lose pieces, all of which fit firmly in the figure's hands thanks to the aforementioned peg/fist/weapon system.
The Titanium Silver Beetleborg bike is pretty amazing - it too is hollow, but bulky. A retractable kickstand keeps it upright, but you can put that up and zoom it around on the big wheels. The figure fits inside easily, but I'd like you to note the bright, colorful stickers making up the control panels and rear lights. They did a bang-up job making something to pretty it up here, and the result is a fairly impressive slab of plastic. It has a few moving and removable parts - those mandibles are probably the most interesting bit - but it's fun to zoom around. I generally dislike "bike" toys because they're usually small and simple, but this one adds a lot of meat to the offering to give you something that feels like a big fun toy.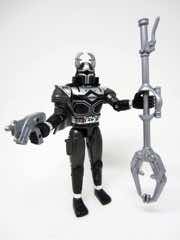 I pulled this out of my storage boxes to get rid of it, and I'm not sure I want to get rid of it now. It's certainly not going to Goodwill - I'll probably hang on to it because it's charming. At least for now. Maybe that's not a ringing endorsement, but it's a really good toy. It's almost upsetting to compare this to today's crop - you're never going to see a figure with a vehicle and all these accessories, let alone at this price. Even for that era, it's pretty dang good for what you got - and the eBay prices aren't exactly high these days. If you think you might want this because you're a fan of the franchise, I'm sure there might be better toys but I was impressed and charmed enough to spare it from a purge of my impulse toy purchases.
--Adam Pawlus
Additional Images

See more BanDai figures in Figure of the Day:
Day 22: Tamagoras Get Back To Job Lion
Day 150: BanDai Final Fantasy VII Extra Knights Red XIII Action Figure
Day 167: BanDai Final Fantasy VII Extra Knights Barett Wallace Action Figure
Day 185: BanDai Final Fantasy VII Extra Knights Tifa Lockheart Action Figure
Day 216: BanDai Tick Bounding Tick Action Figure
Day 236: BanDai Final Fantasy VII Extra Knights Sephiroth Action Figure
Day 268: BanDai Megaman Trading Figures Jumping Megaman Action Figure
Day 310: BanDai ThunderCats 4-Inch Lion-O Action Figure
Day 1,360: BanDai Godzilla Tokyo Vinyl Mechagodzilla Action Figure
Day 1,370: BanDai Godzilla Fusion Series 1968 Godzilla Action Figure
Day 1,377: BanDai Godzilla Fusion Series Gigan Action Figure
Day 1,386: BanDai Godzilla Anguirus 2004 Action Figure
Day 1,393: BanDai Godzilla SpaceGodzilla Action Figure
Day 1,408: BanDai Godzilla Rodan 2004 Action Figure
Day 1,458: BanDai Gamera Heisei Gamera Action Figure
Day 1,625: BanDai Shin Godzilla Third Form Vinyl Figure
Day 1,773: BanDai Xyber 9 New Dawn Ikira's Speeder
Day 1,980: BanDai Saban's BeetleBorgs Metallix Mega Spectra Titanium Silver Sector Cycle Vehicle with Action Figure
Day 2,021: BanDai Mystic Knights of Tir Na Nog The Drageen Action Figure
Day 2,135: BanDai Shin Godzilla Second Form Vinyl Figure

See more otherwise uncategorized figures in Figure of the Day:
Day 22: Tamagoras Get Back To Job Lion
Day 35: Mattel Xtractaurs Comic Series Battlespike Styracosaurus
Day 133: Kenner Q*Bert Wind-Up Q*Bert Action Figure
Day 200: Hasbro Cloverfield Electronic Action Figure
Day 216: BanDai Tick Bounding Tick Action Figure
Day 286: Mugo Kung Fu Panda 2 Po Designer MP3 Player
Day 325: Spy Monkey Creations Doppelganger Armory Series 1 Accessory Pack
Day 352: Mezco The Goon Action Figure
Day 357: McFarlane Toys The Maxx Action Figure
Day 384: Beeline Creative Parks and Recreation Ron Swanson Bobble Head
Day 392: Blizzard Starcraft Zerg Hydralisk Action Figure
Day 399: Tyco Looney Tunes Marvin the Martian
Day 483: Pineapple Ltd. Glow Ghosts Baggs Collectible Figure
Day 485: Remco Mel Appel Extraterrestrials Captain Evets Collectible Figure
Day 494: October Toys Zillions of Mutated Bodies Infecting Everyone (ZOMBIE) Series 1 Neon Orange Minifigures
Day 524: NiStuff Terrestrial and Outer Anomalies Metallic PVC Figures
Day 526: Jazwares Mortal Kombat 20th Anniversary Shao Kahn Action Figure
Day 541: NECA Terminator Kyle Reese Action Figure Day 615: Deep Fried Figures Mechawhales Action Figure
Day 645: Tim Mee Toys Battle Mountain Playset
Day 700: Elly Font Art Elephant Magnets Overview
Day 748: Funko Land of the Lost SDCC Exclusive Glow in the Dark Sleestak
Day 751: October Toys Zillions of Mutated Bodies Infecting Everyone (ZOMBIE) Series 1 Blue Glow in the Dark Minifigures
Day 785: Topps MiniKins 4-Pack Mini-Figures
Day 874: Yujin Shooting Game Historica Metarion Capsule Toy
Day 1,049: Tim Mee Toys Galaxy Laser Team Blue and Green Figure Set
Day 1,065: Tim Mee Toys Green Galaxy Laser Team Star Patrol Jumbo Figure Set
Day 1,087: Tim Mee Toys Green and Grey Legendary Battle Figure Set
Day 1,092: Tim Mee Toys Brown Backwoods Battle Frontiersmen Figure Set
Day 1,146: Wendy's Night at the Museum 3 Jedediah in the Wild West
Day 1,189: Remco Mel Appel Extraterrestrials Trebor
Day 1,215: Tim Mee Toys People at Play Atomic Family Putty and Green Figure Set
Day 1,232: Tim Mee Toys Green vs. Green Soldiers Figure Set
Day 1,237: Tim Mee Toys Tank Command Desert Command Vehicle Set
Day 1,241: Funko Hikari Vinyl Gigantor Power Vision Gigantor
Day 1,276: Tim Mee Toys Combat Patrol Army Vehicles and Artillery Vehicle Set
Day 1,330: Tim Mee Toys Shadow Ops Black Helicopter Strikeforce Figure and Vehicle Set
Day 1,372: Tim Mee Toys Tan vs. Green Soldiers Bucket Figure Set
Day 1,396: Funko Pop! Television Last Week Tonight with John Oliver Vinyl Figure
Day 1,406: McDonald's Changeables Egg McMuffin Robot
Day 1,418: Jesse Narens Stegoforest Brown Stegoforest with Acorn Warrior
Day 1,423: McDonald's Changeables French Fries Robot
Day 1,458: BanDai Gamera Heisei Gamera Action Figure
Day 1,474: Remco Mel Appel Extraterrestrials Egroeg
Day 1,539: Pineapple Ltd. Glow Ghosts Catcherpillar Collectible Figure
Day 1,563: A&A Global Industries Dogs in Disguise Nanner Action Figure
Day 1,620: Funko Son of Zorn Zorn Action Figure
Day 1,637: Funko E.T. The Extra-Terrestrial Elliot, E.T., and Gertie ReAction Figures
Day 1,746: Hasbro Littlest Pet Shop Pets in the City Puttin' on the Glitz #24 Pony
Day 1,773: BanDai Xyber 9 New Dawn Ikira's Speeder
Day 1,777: Funko Pop! Television Ash vs. Evil Dead Entertainment Earth Exclusive Bloody Ash Pop! Vinyl Figure
Day 1,841: Funko Pop! Animation Glow in the Dark Reptar Pop! Vinyl Figure
Day 1,852: Funko Son of Zorn Office Zorn
Day 1,891: Parker Bros. Q*Bert Flying Disc Action Figure
Day 1,957: Funko VYNL The Life Aquatic Steve and Ned Vinyl Figures
Day 1,976: Burger King Smurfs: The Lost Village Brainy Smurf Action Figure
Day 1,980: BanDai Saban's BeetleBorgs Metallix Mega Spectra Titanium Silver Sector Cycle Vehicle with Action Figure
Day 1,982: Titan Merchandise Cartoon Network Collection Samurai Jack
Day 2,021: BanDai Mystic Knights of Tir Na Nog The Drageen Action Figure
Day 2,026: Unknown Diplodocus Figure
Day 2,045: Funko GLOW Debbie Eagan vs. Ruth Wilder Action Figures
Day 2,054: Max Toy Co. Designer Con 2018 Exclusive Glow in the Dark Otta Otter Sofubi Vinyl Figure
Day 2,061: Just Toys Intl. Fallout Mega Merge Nuka T-51 Power Armor
Day 2,070: Mechazone Mechanauts Epsilon Buggy NP-03 Action Vehicle
Day 2,077: ThreeZero PopFuzz Glow in the Dark The Robot Vinyl Figure
Day 2,132: Pineapple Ltd. Glow Ghosts Boohoo Collectible Figure
Day 2,203: Sonic Kidrobot Dunny Strawberry, Lime, and Red Button Action Figure
Day 2,211: Super7 Toxic Crusaders Glow in the Dark Toxie Action Figure
Day 2,235: Super7 Ultimates Voltron Action Figure
Day 2,244: Funko Pop! Television Schitt's Creek David Rose Action Figure
Day 2,315: Funko Soda Devo Satisfaction Vinyl Figure
Day 2,344: Orbitdyne Gee Two HEAP Vinyl Figure
Day 2,358: Super7 Killer Bootlegs Rhamnusia's Revenge Action Playset with Draco Knuckleduster and Phantom Starkiller Action Figures
Day 2,526: Super7 Vincent Price Master of Mayhem ReAction Figure
Day 2,574: Garden State Kaiju Space Beasts Mudbelly "Wild Type" Soft Vinyl Figure
Day 2,582: Orbitdyne HEAP Glow Head Vinyl Figure
Day 2,594: Super7 Mars Attacks Destroying A Dog ReAction Figure