Deep Sea Creature Encounter Set
Deep Sea Nightmare

Animal Planet Toys R Us Exclusive
Item No.: #5F62023
Manufacturer: Chap Mei Toys
Includes: Viperfish, Anglerfish, Octofish, SCUBAfish, sprue of weapons and tools
Action Feature: Jaw opens, glows in the dark
Retail: $24.99
Availability: 2015
Other: Massively Fishy

PREVIOUS
RSS
NEXT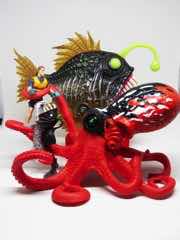 Bang for the buck, thy name is Deep Sea Creature Encounter Set. I frequently eyeball these Animal Planet sets at Toys R Us but buy few - they're a decent 3 3/4-inch compatible line of monsters and vehicles with playsets. My wife got me this for my birthday, and I was so delighted by it that I popped upstairs when I heard her stirring when she should be sleeping to say how awesome it was. I then went in to visit the guinea pigs to show them how impressive one of the creatures was. Artemis kept coming up to check out the anglerfish and running away. Dee was intrigued. Cricket dug it. I don't talk baby talk to the guinea pigs so I basically explained to them why it was neat, which is how you can tell that I'm either very level-headed or probably 20 minutes away from having a break from reality. They seemed to be more entertained than usual when I visit them.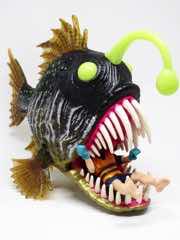 The star of the set is a massive anglerfish, and it's so good you can ignore the rest of the set. It really is just that impressive - the fish itself has a jaw which opens when you push its dorsal fin. The eyes and lure are glowing green - so they glow in the dark, as they should. The giant, ridiculous fangs act as a gate around a pink mouth with a two-toned interior. If that weren't enough, the bottom of the jaw is a metallic gold color, with fluorescent green dots up and down the body. And shading. And a silver brush across it. And clear plastic fins, more or less the color of frozen cola. The fish has zero problems standing unassisted thanks to its jaws and fins, and it's a hoot and a half to play with too. I'd say the deco is better than most of what I'm seeing on creatures out of any of the major toy companies, it's just so lively and ghoulishly wonderful. The guinea pigs enjoyed watching it flap its jaws and kept examining the various bits and pieces as it went by their cage, more curious than their usual reaction of "OH SWEET JESUS DON'T KILL ME" when I engage in such frightening activities as offering them some kale. In all fairness, I have a similar reaction to kale.
The fish has been sold before in other sets and configurations, so make it a point to check it out when you're in a store that sells it. Toys R Us usually puts these in the baby/game/Playmobil area, so be sure to take a few minutes to pick up the box and really give it a solid once-over. I'm not saying that you're going to need to buy it, but it feels sturdy and like a real, honest-to-goodness toy. The Chap Mei figures and some vehicles are a little weak, but this creature feels like something Kenner might have sold in the 1980s. It ticks all the boxes, and the guinea pigs liked it too. That's rare.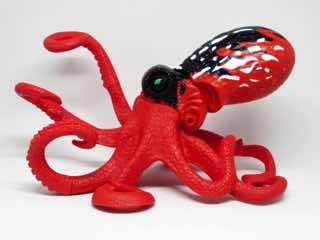 Also available is an octopus, which is big and cool and I think I've also seen it in pirate sets on the off-brand figure aisle. Cast in red, it has eight tentacles posed menacingly and articulated in three places. It doesn't squirt or bend - the tentacles just swivel ot g.shtml your other action figures. Black and white markings do a good job giving it some color, with green eyes adding a little of that 1980s animal toy feel. The body is mostly hard plastic, while the limbs are slightly more flexible PVC. I had zero problem getting it to g.shtml the included diver, and I'm sure a kid would delight in playing with this in a tub or pool. The detail and texture are good, but you can't beat that angler. You just can't.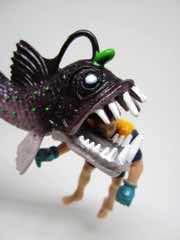 On the smaller end of things are a viperfish and a diver, arguably both filler in an already killer set. The non-articulated viperfish looks like an enemy you'd fight in the old 8- or 16-bit Final Fantasy games with big white teeth, silver eyes, geren dots, and some decent coloring. The deep almost-purple fades to a nondescript grey, giving the figure some life as it's little more than a PVC collectible statue. It stands nicely, which is something I don't usually see in fish toys. Despite not actually being able to do anything, I was surprised to see the jaws sculpted far enough apart to g.shtml the human's head and hold on. Kudos.
The human figure is about 3 3/4-inches tall and has 7 points of articulation - ankles, shoulders, hips, and neck. It's not bad - the ankles are a bonus so he can wear swim fins and pretend to try to escape the mighty eat-beasts within the set. Deco is passable, molded in his skin color and painted with a molded-in-orange vest and blue painted pants. And gloves, for some reason. He comes with a cleverly designed sprue of weapons which was engineered to fit in the box without extra twist ties or tape - the tabs fit right in the backer. Great idea! The gear includes swim fins, a mask, a SCUBA tank, a knife, a camera, a flashlight, and the ol' standby - a harpoon gun. You've played The Goonies II on the old Nintendo, so you know these are some of the most important things to bring when fighting sharks. The gear is a mixed bag - Cinderella here won't be going to the ball given the swim fin form fit, but the mask is fiendishly clever in that it clamps on to his head with arms not unlike those of the glasses you may wear. This isn't a perfect pack of gear, but it's certainly good enough that I won't discount its inclusion. The overall feel on the human figure is probably good enough - it would've been acceptable in the early 2000s as part of Jurassic Park III, although it's not going to win any awards.
It's weird to review a birthday present, but it's been a weird few months. I'm thoroughly impressed with the overall quality of each piece, although the pieces could fit with one another just a tiny bit better. The sea creatures are so good you might steal them from your kids. The human figure serves as a grim reminder of just how much we all miss G.I. Joe and his Adventure Team era. If you've got to buy a gift for a kid for the holidays and you can find this one, get it. Insist the kid open it so you can play with it for a few minutes - I think you'll be proud of yourself for picking out something that offers a fairly impressive deco on such a wonderfully creepy creation.
--Adam Pawlus
Additional Images

See more Chap Mei Toys figures in Figure of the Day:
Day 630: Chap Mei Toys Animal Planet Liopleurodon Deep Sea Adventure Set
Day 646: Chap Mei Toys Animal Planet Giant Squid Deep Sea Adventure Set
Day 1,580: Chap Mei Toys Animal Planet Deep Sea Creature Encounter Set

See more Animal Planet figures in Figure of the Day:
Day 630: Chap Mei Toys Animal Planet Liopleurodon Deep Sea Adventure Set
Day 646: Chap Mei Toys Animal Planet Giant Squid Deep Sea Adventure Set
Day 1,580: Chap Mei Toys Animal Planet Deep Sea Creature Encounter Set
Day 2,550: Blip Toys Animal Planet Electronic Battling Dinos Set