Liopleurodon Deep Sea Adventure Set
Deep Sea Dinosaurs

Animal Planet Toys R Us Exclusive
Item No.: n/a
Manufacturer: Chap Mei Toys
Includes: Dinosaur, raft thing, SCUBA gear, SCUBA figure, camera, fanny pack
Action Feature: Jaw opens
Retail: $14.99
Availability: Early 2013
Other: Cheapness

PREVIOUS
RSS
NEXT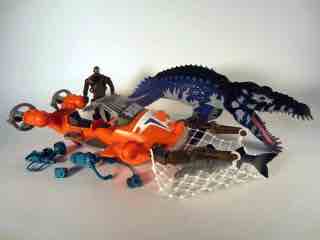 I'm a big fan of dinosaur toys, particularly since they seem to be underserved in the marketplace as a whole outside Fisher Price's Imaginext toys and the occasional Grimlock from Hasbro. A company called Chap Mei Toys has been cranking out various action toys (some of which may well be Jurassic Park III knock-offs) for sale at Big Lots and elsewhere plus Toys R Us' exclusive Animal Planet range for nearly a decade now, under names like "Dino Quest" and "Dino Valley." The main beast from the Liopleurodon Deep Sea Adventure Set was a Dino Valley toy from roughly 2005-2006, which was released and rebranded a few years ago as a $9 Animal Planet set and now appears here for a few bucks more, with more gear. As of early 2013 the previous release went for as much as $60 on eBay, although now you know it was rereleased in early 2013 for $15. So don't overpay for it.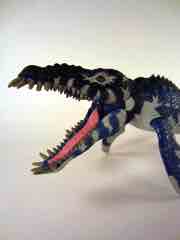 The set bridges an interesting gap between "interesting" and "crappy." Chap Mei makes numerous lines for Toys R Us, none of which would be mistaken for Hasbro or Mattel items. The action figure diver in this set, said to be scouring the sea floors for the legendary sea dinosaur in order to photograph it, is perfectly acceptable for a kid in the 1990s. Its exaggerated build and unique pose recalls Hasbro's Jurassic Park III humans as well as classic Fisher Price Adventure People, although a much cheaper version of either. His lack of paint applications makes him more creepy than intended, with black, unpainted, sunken eyes under a glassless pair of goggles. The figure has articulated ankles with flippers sculpted to the feet, as well as a couple of holsters for accessories which are not included. Kids also get multiple sets of breathing gear to plug into the figure, which seems unnecessary and kind of a waste of money. It's not like the figure needs two sets of SCUBA stuff. He has little problem holding on to his gear, and with 7 points of articulation he's arguably still better than most toys my peers grew up with, although with slightly lesser quality in the plastic department.
Oh - and I should note the figures get reused and repainted a bunch. This diver is also available in the Chap Mei "Soldier Force" line with different deco and gear.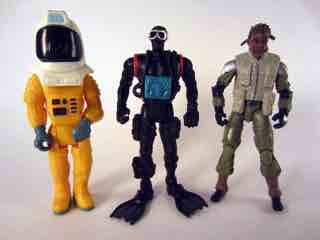 The boat vehicle is somewhat impressive in the box but is a dud once you open it. The figure can sort of hold on to it, it has spinning propellers, and there's a button which sort of moves a couple of claws holding a white plastic net. Oh, and it has wheels under it. You can use the net to catch the included barracuda figure, which is actually quite neat and just the right size for the dinosaur to grab onto and bite it. So it's not a total loss.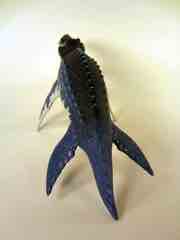 Of course, I didn't buy this for the human or his gear - I wanted the Liopleurodon, because as a kid I was bonkers for paintings I saw in books of the Mosasaurus and this is pretty darned close to it. The finned sea lizard has no articulation whatsoever, and his garish blue and black paint job recalls Jurassic Park: Chaos Effect, or as I like to call it "the most insane dinosaur toy line ever attempted by mortals." The figure isn't a total brick, as his lower jaw can move when you press the button. By default, it's open and this gives him a much more fearsome appearance. The paint job looks good, the coloring is pretty clean on most of the samples I examined (with one exception, it was pretty sloppy), and the inner mouth has a pink tongue. For a company many fans have never heard of, Chap Mei paints a nice dinosaur. The teeth are a little ridiculous with the fangs protruding outward, but it basically gets the job done - all Chap Mei creatures tend to be a little goofy in the mouth region. (For example, go check out the manta ray and the various sharks. I'll wait.)
These toys seem to exist mostly for gift-givers, and maybe kids. The box itself is big and bright, with a cheery sea background behind a rather hefty amount of plastic for $15. Seeing these against Hasbro's $30 Jurassic Park toys leaves little wonder why Toys R Us keeps the two very far apart - there's little comparison as to which one looks better for the money. Based on my few Animal Planet purchases, I'd say that these do feel much cheaper than the Hasbro items, but they may be sufficient. Do I need articulated fins on my sea dinosaur? Probably not, but I do need a chomping giant mouth. I would not suggest any collector buy the set for the sum of its parts, but if you like the dinosaur the set is tough to beat for the price. I'd rather they skip the human and his gear entirely in favor of another sea creature or dinosaur. It's a fine example of how a company can make a cheaper toy than the competition, which is something we keep being told is impossible. You can have cheaper toys, people, if you're willing to accept reduced articulation and slightly lesser quality.
--Adam Pawlus
Additional Images

See more Chap Mei Toys figures in Figure of the Day:
Day 630: Chap Mei Toys Animal Planet Liopleurodon Deep Sea Adventure Set
Day 646: Chap Mei Toys Animal Planet Giant Squid Deep Sea Adventure Set
Day 1,580: Chap Mei Toys Animal Planet Deep Sea Creature Encounter Set

See more Animal Planet figures in Figure of the Day:
Day 630: Chap Mei Toys Animal Planet Liopleurodon Deep Sea Adventure Set
Day 646: Chap Mei Toys Animal Planet Giant Squid Deep Sea Adventure Set
Day 1,580: Chap Mei Toys Animal Planet Deep Sea Creature Encounter Set
Day 2,550: Blip Toys Animal Planet Electronic Battling Dinos Set