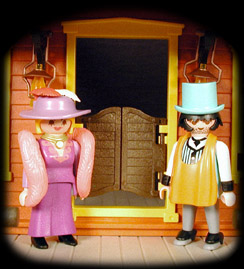 Golden Nugget Saloon
Playmobil Set 3787 Review Capsule
At nearly 10 years old, this set shows that some of the older toys really are the best. The Golden Nugget Saloon is a nicely sized building in which your Playmo People can drink, gamble, and do whatever they do. Our sample was a gift, although we estimate the original price in 1994 at around $50 in US funds.
Introduction
The Golden Nugget Saloon is, to say the least, the best of the worst of the old west. In it, you can find a dozen bottles of liquor, some cups, a bar, a table for gambling (if you have cards from another set, and we do) and two employees. We presume. We don't know what the woman with the feather boa does there, but we can guess.
We were unable to find exactly when this set was discontinued, but we estimate it to be at/around 2000. Boxed sets are hard to come by these days, and this wasn't available as part of the tail end of the Western theme, which was recently discontinued.
Figures
While Playmobil figures have become increasinly ornate, fact is, they were pretty great ten years ago. The paint operations weren't nearly as ornate, but there were a lot of added plastic pieces to give a figure more texture and a slightly more expensive appearance. This set included two figures that are arguably just as good as their modern counterparts, a Bartender and Molly Brown, a singer. Or as I like to call her, "singer." First, we look at the bartender.
The Bartender comes with the apron around his neck, which does not appear to be removable without first removing his head, which is possible. The figure has pinstripes on the front of his shirt, which are mostly blocked by the apron. The snap-on cuffs to his shirt, along with the snap-on tops of his shoes, add a lot to the look of the figure with a minimum of new parts needing to be created. The hat, of course, is just there for style. The coloring may or may not be authentic to the old west-- we honestly don't know if anybody wore powder blue top hats in a bar-- but hey, it still looks neat and you can easily figure out what this is supposed to be.
The mutton chops are a piece like any beard or set of glasses or goggles. The piece fits snuggly where the "ears" should go, and the cap of hair keeps them from jostling around too much. The end result is a nice, grizzled bartender.
One thing Playmobil's designers are experts on are dressing up a basic sculpt with a few new parts to result in an entirely new plastic experience, and Molly definitely turned out well. While her makeup is a little goofy in places, she stands out from the various other figures that they've cranked out over the years. The necklace, which is not removable without removing the head, adds a lot more to the look of the figure than just a painted on piece of jewelry as well. The removable feather boa is just over the top enough to turn out great, and she even grips it with her right hand to help keep it in place. The downside is that this keeps her arms from moving around, although the improved look of the toy makes it a worthy exchange.
Her hat and boa are removable, and the hat has two removable feathers. There isn't much else to her aside from the fairly amazing decoration job which includes something unusual for Playmobil, and that's a purple metallic flake plastic being used for her dress. As such, she appears glittery in some shots and in person.
This is also one of the few characters to be given a name on the playset. The sign with her name and picture can be seen outside the building below.
Accessories & Furniture
While probably not the set with the most accessories ever, this set certainly has a lot. Included are four chairs, a table, a bar counter, a bar, a basket, a couple of liquor bottles, twelve smaller liquor bottles, a spittoon, five drinking glasses, a bucket, a dishrag, a couple of lanterns, and all the parts that make up the building and the figures. There really isn't anything quite like it on the market today.
The parts to make up the figures are simple and snap right on, making them hard to lose. This is a big plus given how many small pieces there are to lose here. As these were described above, let's move right along to our next subject.
Here, there's a table and chairs. The table has a nifty green top, and all four chairs fit right under it. It seems that with the green top, some playing cards should have been included but sadly, none were. A pirate prison tower set does include playing cards, but it is woefully no longer available. The table and chairs are great for filling out the interior of this set, as you can see in the "building" section.
The spittoon is pretty much just a cool thing to have around an old western tavern, as all it can really do is sit there. You can also put it on top of the bar and pretend it's the remains of the previous owner, but odds are that intent was not what was in mind when developing this toy for children. So it's just for spitting out chewing tobacco in a public place.
The bucket is fairly nondescript as far as buckets go, not having the kind of decoration that some of the wooden buckets often sport. The handle moves, and of course, can be carried by your favorite Playmobil people. The washcloth or whatever it is should be used to wipe down the bar or drinking glasses, or perhaps to annoy a bull. All in all, it's a neat piece if sculpted in a manner not conducive to wiping things down.
Because you need to drink, the toymakers included a healthy quantity of glassware. One of the large pink jugs is included, along with six each of the green and reddish orange glass bottles, as well as five clear cups. More cups would have been nice, but since figures can hold the bottles they aren't necessary. What you see is what you get, really, and there's little to the sculpt to speak of as being particularly notable beyond the fact that they exist.
Next, there's this jug and basket. The jug may be placed in the basket. Why these were included, or what in particular they are meant to represent, I'm not entirely sure. But hey, it means more accessories than I'm used to, so it's all good.
Of course, the bar itself is one of the real centerpieces of this set. Included, you get the large unit with a bunch of shelves and a mirrored back which, I must say, distorts the image slightly. The front piece to the bar matches it well, and while there isn't much to say about it, it looks good. And like wood. When you want a small fake wooden bar, that's pretty much all you can hope for.
There's nothing quite like a fully stocked bar, and in the modern era of toys, there quite literally is nothing else like it. It seems the fairly realistic scenarios brought by these older sets are a thing of the past, but man, aren't they something? This is one heck of a nice set-up, and it's a real shame Playmobil isn't still selling these with modern figures.
Building
While not huge, the building is pretty big given that it's an older set and this was from before the world at large decided that playsets were more of a liability in a toy line. The same basic frame was used for a few different buildings, including the Sheriff's Office
Basically, it's roughly 12 inches in every direction. It's a big set, but still feels a little cramped when stocked with furniture and figures. The giant window on the side is great for letting more light in, and of course getting a good look at the interior of this set. The front door has swinging doors, and on either side are hanging lanterns and opening windows.
These add a lot to the front of the building, as do the railings and the posts. Of course, the posts in and of themselves are just fine, but what really makes them special are two added signs.
One advertises gambling, which is notable as no pieces are included in this set to allow for such activities. As mentioned above, playing cards and coins exist in other sets, so you can find some if you're so inclined. The second sign advertises "singer" Molly Brown, which we find amusing as she's obviously a woman of ill repute. Sure, maybe she sings on the side, but you know that's not why she's here. The art on both signs is quite exquisite, with great line art. As I'm a big fan of line art of toys for some unknown reason not at all related to coloring books, I find this to be a great added feature.
Deck it out with figures, and you've got a nice set here, one worthy of lots of cash. Well, maybe not lots of cash... but it's worth the time and money to track down.
Packaging
Set 3787 comes in a nice big box with a removable lid. Inside, there's all the pieces needed to build a set, the manual, a poster, and a small catalog with McLaren's Goldmine on the cover, which we want to get next.
If you look at the sides of the box, there's some great action photos of the toys in the box. On the back, there's an image displaying the contents of the box, which may be the single best thing Playmobil ever did with these toys as far as packaging goes.
The double-sided poster is nothing short of huge-- the dimensions are the same as the box. On one side, you see Fort Glory and a native tribe hashing it out at a campfire with covered wagons, cactus, and bison in the distance. On the other side, there's a western town with this set and numerous others.
Bonus Wallpaper
Because we love you, and took some extra shots, here are some wallpapers for your enjoyment.
Use them to your heart's content, just don't post them elsewhere as your own. Please note, these include toys that do not come with this set, such as the Sheriff, Hobo, Bison, and Criminal.
Fin
They don't make them like this any more. While Playmobil grocery stores with tons of little parts are made, those are $100 or more and lack the charm of a set such as this. The sheer number of pieces combined with the high novelty ranking a toy such as this can bring to your home is priceless.
It isn't exactly wildly politically incorrect, or anything like that, but it is quite cool. The Western theme was home to a lot of genuinely great ideas, including buzzards, goldmines, old rusted signs, and stereotypical Mexican bandits. Some really neat ideas were conceptualized but never produced, like Chinese railway workers and a gravedigger, which are probably too much for preschoolers. Still, a lot of great items came out which will probably hold more appeal to the older collector, much like these.
If you're only going to collect one Playmobil theme, it seems Western is the way to go. I myself am not a huge fan of cowboys and indians, but there's a lot to like here plus you can use the hobo with it. And this is what matters.
If you can find this at a fair price and feel like buying more figures to populate it, by all means, do so.
Reviewed and photographed by Adam Pawlus
Sample obtained March 29, 2004
Reviewed on April 8, 2004.