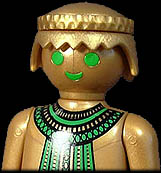 Mummy
Playmobil Set 4531 Review Capsule
Originally one of hundreds of "Specials," this Playmobil Mummy is a reissue of a once slightly pricier toy. No changes were made except for the packaging. Roughly $2-$5 at most Playmobil retailers.
Introduction
The Mummy is uses a wrapping that has been used a few times since its initial release nearly 10 years ago as a Special, but now it's here again in all its original splendor. Oh, and it's cheap too.

Originally sold in 1996, this figure is currently still available at Targets as we assume the Pals range is still exclusive to that store.
Figure
The figure is the classic style Playmobil body (with wrist articulation) with a special deco job and a small crown.
By taking an old design and making it gold, we're not exactly sure what this is meant to represent. Is this the body? A case for the body? Or something else entirely? Either way, it's neat because it has a green mouth and eyes, which really jump out through the metallic sheen of the figure's face and hair. The deco is simple and painted right on the figure, meaning there's less parts to lose-- but more paint to scrape. As such, be careful with this one.
Accessories
Without his accessories, the Mummy would just be confusing.
As you can see, the body snaps right into the mummy wrappings-- which is complete with eyeholes. The crown fits on the figure's head snuggly, and will not easily fall off in the course of play, display, or moving. Chewing, maybe-- we opted not to give it that test. This figure would pass for an Inca statue or any of several other possible roles without the wrapping case, and as such this two-piece white encasement is a necessary part of the set. The clothes really do make the plastic man, as it were.
Packaging
Set 4531 comes in a Pals box that uses box art similar to that of the Special from 1996. A blue border was added around the edges and the colors were updated to match the new template.
It's nothing overwhelming, but it is a nice box.
Fin
It's a mummy-- while mummies are still in varying degrees of production, the one you could easily find included a skeleton rather than a gold figure like this one and the price is about the same. We daresay we prefer this one. For $2, we couldn't say no-- and if you see it, it's worth snagging if you're a fan of things like this. Now, when can we expect good ol' Dracula to be reissued complete with his top hat?
Reviewed and photographed by Adam Pawlus
Sample found at Target in Phoenix, AZ on March 20, 2005 for $1.99
Reviewed on March 24, 2005.