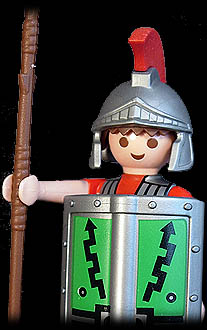 Roman Legionary
Playmobil Set 4632 Review Capsule
One of hundreds of "Specials," (and also "Pals"), this Playmobil Roman Legionary is a great little desk warrior with quite a few nifty parts. Roughly $2-$5 at Target and most Playmobil retailers.
Introduction
The Roman Legionary is a youthful soldier dedicated to protecting a long dead civilization. Poor lonely warrior. Jupiter weeps for you.

Originally sold in 2004, this figure is currently still available at most Playmobil retaillers. It was sold as both a "Pals" edition at Target stores and as one of the "Specials" sets elsewhere. This is the Pals version. The toys are identical except for packaging.
Figure
The basic fundamental design of a Playmobil figure lends itself to a variety of other designs with a little paint, a little imagination, and a few new parts. The Roman Legionary gets some new parts, but also uses old ones fairly well. How's the end result? Take a look.
The belt, while a separate component, is not easily removed from the figure. It's possible but it'll require you dismantle the figure. The deco for the armor is pretty spiffy and a lot of texture is conveyed by simple black and red paint on silver plastic. This is both good and bad-- it's good and cheap. It's bad because it means the paint can be scraped off, meaning it'll probably be hard to find mint/loose/complete samples down the road. (Of course, today there's an ample supply for two bucks a whack.)
The body itself has sculpted boots and "short sleeve" arms that were introduced in the past few years. These have obvious recessions where the fleshy part of the arm starts instead of at the wrists, and the articulated wrists blend seamlessly into the plastic arm. (Except for a small seam.) The head and hair are the same basic designs used since 1974. The end result? Pretty much the only representation of a classic era civilization you're liable to see in the preschool sector in the immediate future.
Accessories
A sword, a spear, and a shield-- on which, we should note the green parts are painted. Oh, and a nice big hat. Can you ask for more?
Thankfully, the figure can hold onto all his parts at once with his hands, sheath, and body parts. This should make it just a little more difficult to lose the small pieces from the set, all of which fit like gloves. While this may not sound exciting, keep in mind many American toys are not able to sit in vehicles or hold their own weapons-- so this sort of thing is quite refreshing.
Packaging
Set 4632 comes in a box typical for the "Specials" range. The back shows the box' contents, and we guess the front of the box shows that he's in front of what looks like to be part of the Parthenon? We have no idea
Fin
Like most Playmobil figures, the quality is here-- what will justify the purchase is your interest in the actual character concept. Want a toy Roman soldier? Well, here ya go buddy. You won't find a neater, more durable figure from this civilization until Playmobil Chariot Race sets come out, and we all hope they do. For two bucks, you can do a lot worse-- for three or four bucks, you can do a lot worse. Easily worth the money if you think it looks appealing.
Reviewed and photographed by Adam Pawlus
Sample found at Target in Phoenix, AZ in Summer of 2004 for about $1.99
Reviewed on March 8, 2005.