Skeleden Keldorac
Skeleden meets Skeletor

Glyos System Series
Item No.: No. n/a
Manufacturer: Onell Design
Includes: Axe, alternate head, removable armor, alternate limbs
Action Feature: Pops apart
Retail: $12.00
Availability: December 8, 2016
Other: Not bad at all

PREVIOUS
RSS
NEXT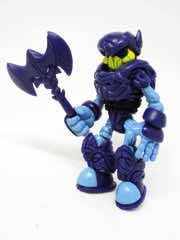 Sometimes when you see a figure you just sit waiting for a specific recolor. Skeleden Keldorac is that figure. At about 2 3/4-inches tall, the Onell Design crew took a standard Pheyden figure body and plussed it up with new upper arms, lower legs, a new head, and some armor for the chest and shins. The end result is a figure that's basically brand new, with an added axe and new paint job to keep things interesting.
There has definitely been an increase in the number of Glyos-compatible figures that are dead ringers for other action figures as of late, with this being one of the cooler ones. Sure, basic Skeletor didn't have an axe, but it looks awesome.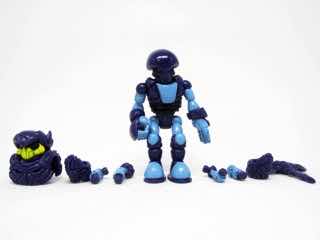 The Skeledor head is really what sings here - it's a yellow face with green panel lines, plus one black-and-red eye. The other eye is entirely black, which helps give this an extra ominous (and Eternian) appearance. The blues match Mattel's classic villain quite nicely, and you get over 20 pieces of plastic that pop apart and can be reconfigured into a basic blue Pheyden if you like. I prefer the Keldorac armored-up version, myself, just because it's covered in creepy little faces and skulls and ghoulish grooves. The twisted faces and spikes found throughout the newly-sculpted (as of Skeleden's debut) bits blend in to the background a little bit thanks to the dark plastic, but they're always there. Watching. Judging. And if you don't like them, they can all be removed and replaced with alternate pieces.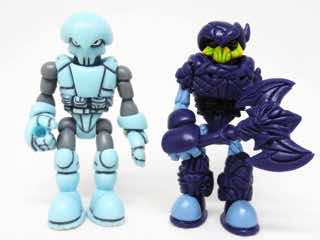 Keldorac Skeleden has about 12 points of articulation, although you may not get much benefit from knee and ankle swivels. It's lovely that they're here, though, just in case. The paint is consistent throughout, and the axe is noteworthy in that it has one side that looks smooth and heroic, and a flip side that looks twisted and evil. Without all the armor and axe, this Skeleden just looks like a nifty space traveller in vaguely familiar colors - it really does benefit from the Skeleden head to sell the homage.
Onell Design sold out of this one somewhat quickly, so eBay and forum trading are pretty much your only avenues for obtaining one at this point. I like it, so I'd say it's worth it - all the Skeleden figures are functionally similar with varying wonderful paint jobs. This is my new favorite of them, but I'm a huge sucker for Skeletor. It won't change the world, but it's fun enough to futz with while you're watching TV or on a phone call at work.
--Adam Pawlus
Additional Images


Click here to see more Onell Design figures in Figure of the Day.
Click here to see more Glyos Compatible figures in Figure of the Day.