3D Puzzle Lord Lucas
UK Import

Gormiti 3D Puzzle Lord
Item No.: Asst. ???? No. 03442
Manufacturer: Blue Box
Includes: Box, pieces
Action Feature: Puzzle figure - assembly required
Retail: $5-$10?
Availability: ca. 2010
Other: Some assembly required

PREVIOUS
RSS
NEXT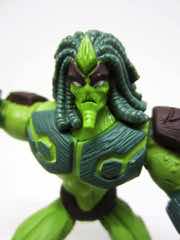 I bought a bunch of Gormiti on clearance a few years ago, and my pal Seth sent me a 3D Puzzle Lord Lucas in the mail - it's pretty neat! The line evaporated quickly in the USA, but these characters and miniature trading figures do good business in (and for) Europe. The packaging is unusual - a two-piece unpainted hollow head is twist-tied to a cardboard backer, and taped shut. The figure inside is about 3 3/4-inches tall and comes to you in pieces - you have to assemble it in the right order to create an elemental warrior named Lucas. His pals are Nick, Toby, and Magmion - the latter of which I assume is the weird foreign kid? I don't know why one of these names is not like the other.
The original figures were tiny painted things with a game card and painted details. This one adds articulation, with ball joints at the neck, shoulders, and left elbow. The hips swivel too, but they don't really help posing in any way - it just makes it so he can't stand on a flat surface.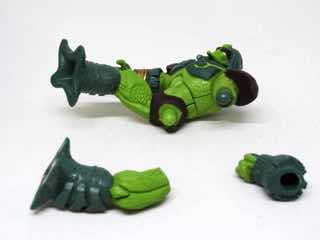 New characters in toys for boys are scarce, since American kids graduate to consumer electronics at a pretty young age. We don't get much new here, and it seems new generations for nostalgia may be in short supply here - but there are several different figures of the noseless, Groot-esque Lucas. He has long hair that looks vaguely like leaves or branches, armor that resembles bark, and hulking muscles. This green giant isn't so jolly, but with one fist and a giant outstretched paw he looks like he could crush some skulls. The blank white eyes and big eyebrows sit over a long green beard chin, giving an almost alien appearance to this muscular mutant man.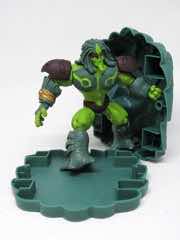 It doesn't appear they make new Gormiti toys anymore, but they were nifty while they lasted. It's a big weird guy and it's designed to come apart if you're so inclined. The level of detail is pretty good, but I haven't a clue what the original price was. I wouldn't necessarily recommend running out to buy this, but if you stumble on it cheaply it's worth a couple of bucks. We don't have enough plant-based heroes in our toy boxes.
--Adam Pawlus
Additional Images


See more Blue Box Toys figures in Figure of the Day:
Day 1,833: Blue Box Gormiti 3D Puzzle Lord Lucas

See more Gormiti in Figure of the Day:
Day 229: Playmates Gormiti Multiplep and Steelblade
Day 237: Playmates Gormiti Blind Fury and Ancient Jellyfish
Day 243: Playmates Gormiti Florus the Poisoner and Clear Ancient Jellyfish
Day 259: Playmates Gormiti Mantra the Implacable and Clear The Severe Guardian
Day 312: Playmates Gormiti Barbataus, Tormenter, Bullrock, and Dedalus
Day 335: Playmates Gormiti Spores, Cannon Trunk, Hypnofrog, and Carrapax
Day 342: Playmates Gormiti Alos the Hypnotiser and Clear Delos The Count of the Seas
Day 673: Playmates Gormiti Murena Den Playset with Hammer the Predator Figure
Day 1,316: Playmates Gormiti Insecticus and Branchtearer the Furious
Day 1,833: Blue Box Gormiti 3D Puzzle Lord Lucas