Bit Figs Mega Bit Spectre Pheyden
10th Anniversary Glyos Spectacular

Bit Figs Glyos-Compatible Action Figure Set
Item No.: No. n/a
Manufacturer: Bit Figs
Includes: n/a
Action Feature: Pops apart, glows in the dark
Retail: $10.00
Availability: August 2017
Other: Painted glow, unpainted exists too

PREVIOUS
RSS
NEXT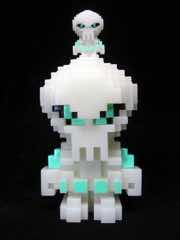 Ever since the line was introduced, I was looking forward to the Bit Figs Mega Bit Spectre Pheyden Set. I wasn't sure if it would be painted or not, so seeing them do both versions was a nice surprise. Naturally, I bought both - it's a big pixel figure with soft, glowing plastic. It's also a small figure with glowing plastic. It's two figures! The little one is the same size as the Bit Figs you'll find in vending machines (and should buy), while the bigger one is about the same size as a regular Pheyden figure - about 2 3/4-inches tall.
This line basically put together a bunch of things I like into a decent package - pixels, bad computer graphics, things that glow, things that are green, weird indie toys, and Glyos. A few were made, and they didn't sell out immediately - if you can get it, you might want to do so. In the glow colors, Pheyden looks a little more like Cthulhu than a skull-faced alien. I like it.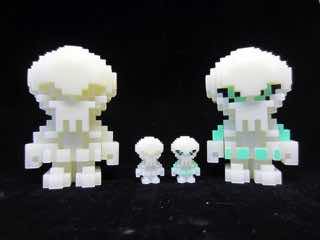 Both figures are basically what it would be like if Super NES Final Fantasy characters were rendered in three dimensions - blocky, with big heads and moving arms on the larger one. The arms can pop off of the larger figure and by swapped with other Mega Bit Pheyden figures or Glyos figures, which is fun. The bigger figure has treads sculpted on his boots, with unpainted feet but glossy green on the arms, belt, and eyes. A little black around the eyes help make the middles pop nicely.
The smaller one has a hole in his feet, allowing you to connect it to Glyos pegs. The tiny one is most impressive, with the little paint applications giving it a lot of personality at the size. Perhaps too much personality - but it looks great, and you really get your money's worth in the set. He has about as much personality as you expect from a 1990s video game character, which more or less is the core of what I want from life.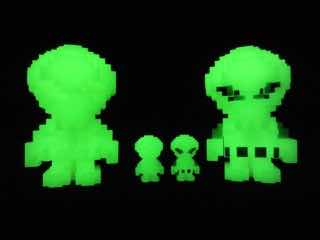 For ten bucks, this is a steal - it looks cool, it stands up, and it has an easily lost tiny friend. This is what you want in life! ...maybe. It's what I like, and my growing glowing figure collection is a weird area of pride. I've got a closet filled with glowing toys and it's just so nice to see those shelves light up when I turn out the lights to leave. Maybe it helps that I only have dozens, and not hundreds - or thousands - plus they do something cool and quite literally light up a room. The only bad thing is that this may be the swan song for me and Bit Figs Pheydens - I can't think of any other colors I might want, so I'll just wait and see what else is next for Culture Pirates.
--Adam Pawlus
Additional Images


See more Bit Figs figures in Figure of the Day:
Day 1,510: Bit Figs Ninja Series 1 Ku Mini Figure
Day 1,531: Bit Figs Mega Bit Pheyden Trophy Set
Day 1,551: Bit Figs Animal Series 1 Pup Mini Figure
Day 1,555: Bit Figs Mega Bit Pheyden Standard Set
Day 1,689: Bit Figs Mega Bit Pheyden Flesh Set
Day 1,779: Bit Figs Trophy Set
Day 1,800: Bit Figs Matryx Pheyden
Day 1,805: Bit Figs Mega Bit Spectre Pheyden

Click here to see more Glyos Compatible figures in Figure of the Day.