Ohpromatem
The Woman from Alpha Centauri

Outer Space Men Beta Phase New York Comic Con Exclusives
Item No.: n/a
Manufacturer: Four Horsemen
Includes: Bent arms, two ray guns
Action Feature: Swappable arms, rotating faces
Retail: $16.00 or $35.00 (sold as a set with Horroscope and Colossus Rex)
Availability: October 10, 2013 (NYCC) and October 16, 2013 (Online)
Other: White Star!

PREVIOUS
RSS
NEXT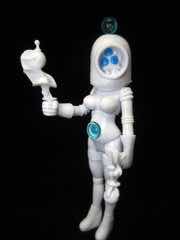 It's easy to forget, but from 2010 to 2013 each and every San Diego Comic-Con and New York Comic Con had at least three exclusive The Outer Space Men action figures. Now you might see some at a New York show here and there, but the sets you could set your watch to are long gone. One of the last sets to be sold at New York Comic Con included a White Star Ohpromatem, at least sixteen convention exclusives in 2013 - easily one of the most prolific years the line had ever had for this kind of thing. The figure shares tooling with Terra Firma and Horrorscope, plus a few of Metamorpho's parts for good measure. It's a nifty figure, combining the cartoon proportions of Playboy's comic panels with nightmares from outer space. It's also largely unpainted.
Ohpromatem's second is a bit tricky to keep standing thanks to her unique skinny build - the legs aren't necessarily conducive to standing without assistance. All points of articulation are secured by Glyos pegs, meaning you can pop her apart and swap pieces as you so choose. There aren't any ball joints or bending joints, each of the 12 or so meaningful points of articulation are swivel-only areas. For this reason, the manufacturer designed swappable arms - you have to change out the arms for bent elbows or straight ones, depending on your mood. A few figures have swappable hands, most have swappable arms, and a few like Gamma-X and Orbitron don't seem to have any special bonus parts.
What's interesting is this is the only non-custom version of the character to be completely opaque - the Infinity Edition is clear and painted over, and the Alpha Phase version was clear, smoke-grey plastic. To see some of the sculpted details on her tarantula, skull, and alien monster faces you're going to want this version. Each face has blue painted eyes - the only paint on the figure - and incredible detail. It's almost a shame we didn't get her in other colors, as I'm sure black plastic or red or whatever color they so decided upon would have looked pretty awesome. White's nice for the customizers, and for those looking to assemble a simple, uniform set of this line - outside of Astrodite, every character has been announced for release in this format. Some have been delayed slightly.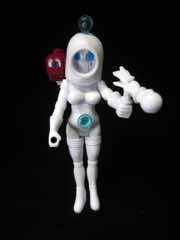 She has two accessories, along with her helmet and the dongle in said helmet which are more or less identical to Metamorpho's gear. Hey, they're from the same star system, it only makes sense that they shop at the same clothiers. I found that the normal ray-gun fits in her hand perfectly, while the more vertical one tends to be a loose fit and even falls out if gravity allows for such a thing. Both are designed with the same kind of ornamentation and flourish that you'd expect out of the mid to late 1960s, with fins and flowery round bits that wouldn't be completely out of place if "It's a Small World" ended with invasions from Mars. The blue gem from her belly is removable - and oddly loose for one of these figures - so you may swap it out with other parts like guns, limbs, or alternate heads. Creepy. Don't do that.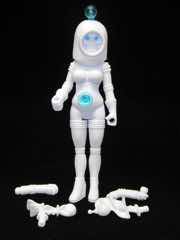 Ohpromatem was actually still available for slightly less than issue price direct from TheOuterSpaceMen.com earlier this year, making her pretty cheap if you still want one. I love this line and would recommend pretty much the whole thing provided you have the space and money, especially given that prices at issue ranged from $10-$35ish per figure before shipping - and there are nearly a hundred figures. I wouldn't necessarily advise you to buy the whole White Star set,
--Adam Pawlus
Additional Images

Click here to see more Four Horsemen figures in Figure of the Day.

Click here to see more Outer Space Men figures in Figure of the Day.

Click here to see more Glyos Compatible figures in Figure of the Day.