Sir Jack-O-Lanternus
U.K. Exclusive?

Hero Mashers Monsters Basic Figure
Item No.: Asst. B7124 No. B7210
Manufacturer: Hasbro
Includes: Blue flame sword, clear pink cape
Action Feature: Swaps parts with other figures
Retail: $10-$20
Availability: November 2016
Other: David S. Lanternus to his friends

PREVIOUS
RSS
NEXT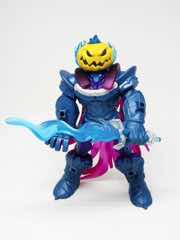 The Monsters segment of Hero Mashers 6-inch tall action figures is gonna be a brief, shining star. Sir Jack-O-Lanternus is another fantastic release, giving you a figure that looks sun damaged before it even saw the light of day. The blue armor is a little off and spooky, as is the clear pink cape and slightly faded orange pumpkin head. Ghoulish blue flames make up the sword and parts of the head, resulting in some of the most innovative light piping I've ever seen in an action figure - the flames out the back create a nice window for his eyes. It looks like Hasbro injected a shell of orange plastic around the clear blue fire, which is a heck of a smart idea for durability and, I hope, cost-cutting.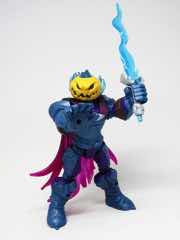 This one is pretty straightforward. Knight, pumpkin head, sword, cape. You can pop it apart to make 10 separate pieces which can swap wither other Hero Mashers figures. Which, I assume, you probably also didn't buy. They're a neat, stylized line of figures that today's kids might be inspired to revisit down the road - if toy collecting is still a thing, anyway. Without a specific cartoon I'm not too sure that might happen, but if they do they'll probably want to chase down this blue armored ghost.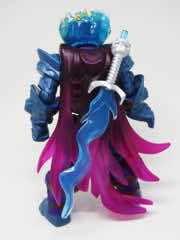 While not complicated, it's good - the cape has a sculpted neck chain, and fits in his back via two pegs. The right hand is in an action gesture, while the left hand can actually grip the sword. There's a little purple and silver on the sea of blue. The cape has exceptionally nice faux cloth texture. The flames are nicely ethereal, but not particularly realistic - nor is the very expressive and wonderfully angry pumpkin head. I love the clear blue shining from the back of the head through the eyes and mouth.
In addition to his two-tone purpley cape, the figure has a swell sword - the pommel has an awesome silver skull on it, plus a couple of pegs so you may connect it to his back or fist or other locations. He has no problems gripping it, and it's a tight fit. It looks great in his hand, and it's a little rounded - which makes sense, as it's a kid toy and it's 2017. You shouldn't be able to stab anyone with a new toy.
Given its familiar construction and lack of recognizable IP, odds are you ignored this completely - this is a figure line that probably wouldn't have succeeded in the USA, which is why you're not seeing it here. If you see it elsewhere, though, get one - it's really neat and the kind of thing you'd probably see in Xevoz had it ran over a year. It stands well, it holds its accessory, and it's a sizable 6-inches tall - so it's comparably sized (and I daresay sturdier) than Marvel Legends and Star Wars: The Black Series figures. I'd buy more if I saw them in stores.
--Adam Pawlus
Additional Images

Click here to see more Hasbro figures in Figure of the Day.
See more Universal Monsters, Horror, and Monsters figures in Figure of the Day:
Day 76: Diamond Select Toys Black and White Wolfman
Day 777: Playmates Toys Monster Force Creature from the Black Lagoon
Day 883: Burger King Universal Monsters Wolf Man Cellar Dweller Action Figure
Day 894: Burger King Universal Monsters Down for the Count Dracula
Day 924: Burger King Universal Monsters Bolts and Volts Frankenstein
Day 931: Burger King Universal Monsters Scary Squirter Featuring the Creature from the Black Lagoon
Day 1,000: Funko Hikari Vinyl Freddy Funko (Creature from the Black Lagoon)
Day 1,005: Funko Universal Monsters The Mummy ReAction Figure
Day 1,038: Funko Universal Monsters Creature from the Black Lagoon ReAction Figure
Day 1,039: Funko Universal Monsters The Invisible Man ReAction Figure
Day 1,040: Funko Universal Monsters The Phantom of the Opera ReAction Figure
Day 1,041: Funko Universal Monsters The Wolf Man ReAction Figure
Day 1,042: Funko Universal Monsters The Bride of Frankenstein ReAction Figure
Day 1,068: Funko Universal Monsters Frankenstein's Monster ReAction Figure
Day 1,094: Funko Universal Monsters Dracula ReAction Figure
Day 1,108: Funko Universal Monsters The Invisible Man Clear Entertainment Earth Exclusive
Day 1,163: Funko Universal Monsters Life Force Metaluna Mutant
Day 1,165: Funko Hikari Vinyl Universal Monsters Glitter Shock Frankenstein
Day 1,257: Funko Hikari Vinyl Antique Verdigris Metaluna Mutant
Day 1,612: Hasbro Hero Mashers Monsters Fish Hook
Day 1,617: Playmobil 6824 Playmo-Friends Werewolf
Day 1,619: Hasbro Hero Mashers Monsters Grim Flame
Day 1,626: Hasbro Hero Mashers Monsters Iron Vulf
Day 1,636: Hasbro Hero Mashers Monsters Sir Jack-O-Lanternus
Day 1,675: Hasbro Hero Mashers Monsters Bone Thrasher
Day 1,920: Super7 Halloween Series Nosferatu Glow in the Dark
Day 2,011: Jack in the Box Universal Monsters Bride of Frankenstein
Day 2,104: Fisher-Price Imaginext Egypt Mummy Guards Action Figures
Day 2,137: Sideshow Toy Universal Monsters Boris Karloff The Mummy Glow in the Dark Action Figure
Day 2,412: Jada Toys Universal Monsters Entertainment Earth Exclusive Creature from the Black Lagoon Action Figure
Day 2,454: Super7 Metropolis Silver Maria ReAction Figure
Day 2,562: Super7 Universal Monsters The Mummy ReAction Figure
Day 2,570: Super7 Universal Monsters The Metaluna Mutant ReAction Figure
Day 2,606: Super7 Universal Monsters Official World Famous Super7 Monsters! Creature from the Black Lagoon (Super She Creature) Glow-in-the-Dark
Day 2,630: Super7 Universal Monsters The Metaluna Mutant ReAction Figure
Day 2,638: Super7 Universal Monsters Dracula ReAction Figure
Day 2,649: Super7 Universal Monsters Bride of Frankenstein ReAction Figure
Day 2,652: Super7 Universal Monsters The Mummy (Costume Colors) ReAction Figure
Day 2,657: Super7 Universal Monsters The Wolf Man ReAction Figure
Day 2,661: Super7 Svengoolie Horror Host Icon ReAction Figure