Hardhead
Furos & Hardhead

Transformers Generations Titans Return Deluxe
Item No.: Asst. B7762 No. B7208
Manufacturer: Hasbro
Includes: Tiny head robot, big robot/vehicle, gun, bigger gun with seat
Action Feature: Transforms from head to robot
Retail: $14.99
Availability: July 2016
Other: Drunk Karaoke Master

PREVIOUS
RSS
NEXT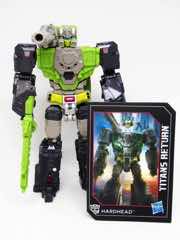 If you only know Transformers as an American 1980s cartoon, you're missing out - Japan got a few very long animated series that we never saw, and they featured a ton of toys we did get in the USA. In The Headmasters, returning favorites were replaced by a crew of five new stars including Hardhead. The mostly green not-quite-a-tank was a much larger toy in the 1980s, but now he is joined by the other Autobot Headmasters in Titans Return as similarly sized toys. It's a pretty fantastic update of the original toy, but lacks one of the two green guns that it had in 1987.
This 1.5-inch Furos (nee Duros) is dynamite - it can drive around in the orange vehicle mode canopy. It can sit in the shoulder cannon if you flip open the seat. It can stand, it can sit, and it even has a yellow painted face. He even has tiny painted blue eyes, notable as most Titan Masters lack any and all paint on their little heads. The small robot has 5 points of articulation and is basically modeled after the same buck as all the other figures of this size class. If you don't know what they're like, take five bucks and go buy one. It's worth it.
The head mode is a good update of the original toy - note the blue visor over his eyes and the big yellow faceplate. In the US and Japanese cartoons, he had a yellow face with a mouth. The Japanese release of this toy has a retooled faceplate with the face too, which I assume must mean we'll get the opposite face plate for Comic-Con this year. Maybe not. It looks cool and matches the original toy color quite nicely.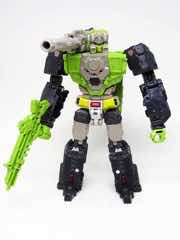 The tank-ish vehicle is similar, but different from, the original. The big shoulder cannon now sits next to the cockpit, and the smaller gun must piggyback on it. The vehicle has less deco than the original toy, and it's smaller, but it still looks well. It even has a little black dot where the rubsign used to go, which almost makes up for the fact that the wheels on the tank treads are unpainted. It looks like it fell out of the late 1980s, which is what you want here. The wheels don't do a lot of turning but at least you can take solace in the fact that you're going to play with it in robot mode anyway.
Transformation is a snap - it's not as innovative as some toys, but it's logical and that's pretty important. I mean, not everybody keeps all of their instructions and once you have hundreds of these things, an intuitive transformation really matters.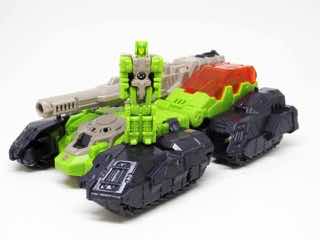 The robot mode is a fun one - it looks like something I would've loved thirty years ago. Well, better late than never. He's got about 17 meaningful points of articulation, most of which are in his arms. There's no waist joint, but that's perfectly fine. The figure has no problems standing or holding his weapons, and boy howdy does that shoulder cannon look huge. I love that you can flip open the back to put another robot pilot in there, is it really plays up the vehicle-and-figure play that has been lacking from oh so many toy lines as of late.
I was very happy with the Walmart-exclusive Universe Hardhead, which had some great deco and a big Decepticon "kill mark" of sorts. This one has great silver and red Autobot symbols, wonderful highlights on his crotchial region, and largely unpainted weapons. The end product is a good one, and for some reason it got pretty cheap over Christmas last year - and if you can still find it, Amazon prices have been low. You ought to get one if you can find it, especially if it's on sale. I like it! I'm glad I got one.
--Adam Pawlus
Additional Images

Click here to see more Hasbro figures in Figure of the Day.
Click here to see more Transformers figures in Figure of the Day.

Want to buy this figure? Check Transformers availability at our sponsors:
Entertainment Earth