Groot Evolution
Toys R Us Exclusive

Guardians of the Galaxy Marvel Legends Toys R Us Exclusive
Item No.: No. C1911
Manufacturer: Hasbro
Includes: Baby Groot, Toddler Groot
Action Feature: n/a
Retail: $19.99
Availability: March 2017
Other: Some Assembly Required

PREVIOUS
RSS
NEXT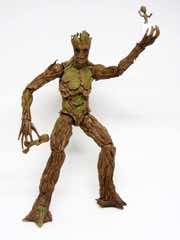 Now there's what fans want! The Groot Evolution pack showed up online in January, and hit hard in my neck of the woods early in March. For just $19.99 - $15.99 actually since it was on sale - you'd get the build-a-figure Groot from 2014 with a new, happy head. And a great paint job. And two new tiny sidekick figures - baby Groot from the first movie, and toddler Groot from the second. Considering the build-a-figure was commanding a decent premium for a while there, this is just a generally nice item for fans of the film - particularly since the only movie Groot right now seems to be mysterious resurfaced 2014 old stock showing up at Target stores.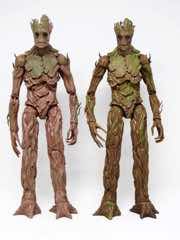 The big giant adult Groot is a big improvement over the last one - his eyes are more expressive, he has an open mouth, and is covered in more paint. The body seems to be from the same mold, right down to the 2014 copyright dates. He's still very tall, the figure is partially dismantled in the packaging. You'll need to pop the legs in at the knees once you open him. He has no problems standing, and sports 28 points of articulation. He's pretty fantastic - I love the happy, expressive face with improved eye and mouth deco. And the fact that he has more paint on his arms, legs and body. And the fact that he's a little less red this time. This is a figure that doesn't render the old one skippable, but I certainly could see going through life without it now that I have this slightly improved version.
At 9-inches tall, he's a great fit next to any other Marvel Legends figures you may have and at $20, this would probably be a good deal even without the bonus accessory figures. The sculpted detail of the twigs and vines that make up his body just looks fantastic, although it does appear a tiny smidgen softer than the previous release. I'm really happy to see Hasbro bring back a build-a-figure with enough changes to be interesting, and hopefully enough changes to make people happy to buy him again. Also, to let people who missed it the first time around get one.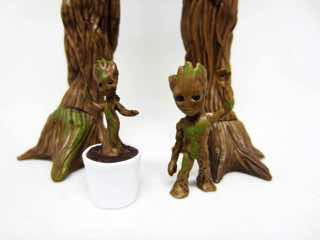 Two mini figures were also included, measuring up quite short. Each is about 1 1/2-inches tall, the same size as Transformers Titan Masters robots. Baby Groot gets much of his height from the white pot. Some soil surrounds the figure, which has some black and green detailing plus his shiny black eyes. Considering the size, the sculpted detail is pretty great with just enough paint to bring it to life. If you squint you could probably imagine something fancier, but given that it's one of the smallest Marvel Legends figures you can get I have little reason to complain. It would have been great to have had this figure come out around the same time as the movie, but licensing kept some manufacturers in the dark. Surprise, apparently, is worth a lot. We're still talking about him three years later, so they must have done something right.
Joining him is Toddler Groot, a slightly older and more murderous version of the adorable sapling. My sample can't stand unassisted, and has no articulation. The tiny waving tree person has more detail than the baby counterpart with similar deco - except the eyes. The eyes are more in line with the adult figure from this set, with a black eye showcasing a gold ring with a black dot in the middle. That's a lot more than I expected to see - he has some green and black deco on the body as well. It would be disingenuous to call either of these little guys a proper figure, but they're a lot like those slug accessory figures from Playmates in the 1990s - except painted. If you liked the second movie - erm, that is to say, assuming you've seen it - you'll probably want to get this one to fill out the team.
This is a can't-miss set for completists and Guardians fans. Everything is different enough to be of some value, as the improved big Groot and debut baby Groot are essential to your first movie's collection, while the toddler is - so far - the only scaled figure for the sequel. Perhaps a Ravagers outfit Groot is on the way? I have no idea - but I do know that this is basically worth the asking price. I'm very curious if I'll be seeing more of them around or if fans will scoop them all up immediately. I sure as heck didn't wait when I saw it a couple of weeks ago.
--Adam Pawlus
Additional Images


Click here to see more Hasbro figures in Figure of the Day.
Click here to see more Marvel figures in Figure of the Day.