Rocket Raccoon
Build-A-Figure Collection Groot Series

Guardians of the Galaxy Marvel Legends Infinite Series Action Figures
Item No.: Asst. A7903 No. A7906
Manufacturer: Hasbro
Includes: Groot head and torso, rifle, Drax blaster
Action Feature: n/a
Retail: $19.99-$23.99
Availability: June 2014
Other: #3 of 6

PREVIOUS
RSS
NEXT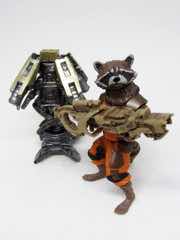 Oh, the backlog. It is back, it is logged. And strangely this Marvel Legends Rocket Raccoon is making what seems to be a nationwide comeback - United States Target stores are getting in cases of the first movie figures complete with 2014 production stamps embossed on them. Were they held by Target in the back rooms? Or Hasbro? (Probably Hasbro.) As far as I know nobody else is getting these in huge numbers, but I'm seeing them all over the greater Phoenix area and many friends are reporting the same in other states. Strange! It's a neat figure, although not exactly spectacular. A new Rocket is coming for the new movie (in theaters today, it's good go see it) so you may not necessarily want to jump on the first version. But maybe you do.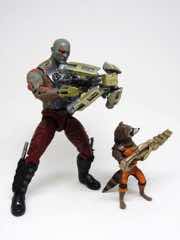 Generally speaking, Hasbro is mercurial when it comes to plussing up its smaller figures. Sometimes you'll get two small figures for the price of one. Sometimes you'll get half of a figure with less articulation. This is one of the latter. Groot's head and Drax' gun are important, but Rocket is basically the same as a 3 3/4-inch figure - something that's probably a $10 product at most. The figure has no articulation below the waist, but does sport great articulation at the shoulders and elbows. The wrists swivel, the neck turns, and you can even rotate the tail to ensure some level of stability without resorting to a display stand. (I actually really appreciate that.) Detail is good, with the orange suit from the film and a decent furry face for the felon from far-flung planets. I had no problem getting him to stand on Groot's shoulder - this is good - but the figure isn't very conducive to being posed in any action scenario. An alternate head would have been nice to make up for the lack of plastic, but such is life. Sometimes you don't get something great - just good.
Just over a dozen joints would generally be seen as a dud for Marvel Legends, as they've sported some of the best articulation since the line's inception as Spider-Man Classics almost two decades ago. Sure, there were some less impressive figures but generally a figure like Rocket would be a sidekick - a bonus, not the main attraction. Thanks to the correctly assumed popularity of the character, he sold well - he was actually hard to get. I rarely saw him sit around, particularly since he was a required part of the whole Groot thing. Thankfully he has enough articulation to keep standing and hold his oversized weapon, but there's not much else to it. The articulation doesn't get in the way of the fur or costume detailing, and hiding joints in fur is something of a special skill. Nicely done, Hasbro.
Rocket's rifle is pretty big and not exactly brimming in color - you can see some nice sculpted detail in a generally excessive weapon for such a small figure. Careful posing is necessary to avoid the perils of gravity. The giant belly blaster for Drax has a bit more detail going for it, and Drax' abundance of articulation makes it easier to keep standing. The bigger blaster has more paint and generally looks even more awesome - it's a pity Rocket can't use it, but I have to appreciate Hasbro tossing in an extra, large accessory that collectors of the line will enjoy. I'd actually love to see Hasbro do more of this - giving fans a reason to collect a whole line with bonus gear and special extras is a rewarding way to discourage cherry-picking.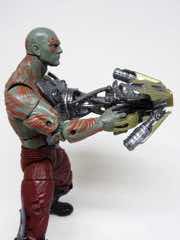 Back in 2014, Star-Lord and Rocket were the two faster sellers from the first Guardians line. The movie-heavy mix tended to do pretty well, although Iron Man and Nova would sometimes sit. And so would Drax, on occasion. The new movie has sets and assortments for it, but not a lot of movie characters are on the shelf today. A new Rocket with a blue suit and more articulation is coming, as is Mantis as a build-a-figure. Most of the movie people are in the second wave, so keep hunting. Good things are still coming. And if you can't wait, Targets may still have the first wave from the first movie. This Rocket is a figure you buy because you love the character - better toys are out there.
--Adam Pawlus
Additional Images


Click here to see more Hasbro figures in Figure of the Day.
Click here to see more Marvel figures in Figure of the Day.