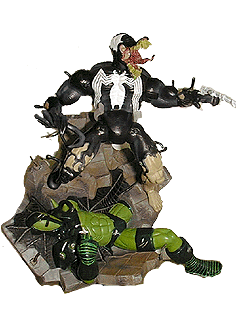 While vile, nasty, and almost liquid, Venom has his own special brand of beauty in his Spider-Man Classics incarnation.

This figure of Venom includes a base which can be mounted on the wall, a piece of webbing, and has 18 points of articulation. A deluxe articulation map will be added later.

The figure's pose and accessories all work together to form a sculpture of sorts, and create a sort of sculpture of Venom breaking out of the Vault. Or so it seems. It makes for an unusual toy, but it really does work as a decoration.

Additional pics available via the box below the image. Please allow for some loading time. Please take note that some images were altered slightly in order to show detail which that would be otherwise lost. Additional larger images of the packaging are available below.
Venom
7.25 inches
Toy Biz
2001