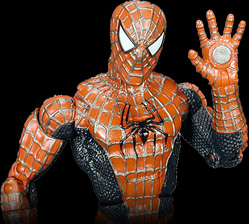 Magnetic Spider-Man Review Capsule
While not as posable as Super Posable Spider-Man, this Magnetic Spider-Man is plenty posable and can stick to the fridge and guard your Jolt stash. He may not have nearly 50 joints, but he does have more than the Super Posable Spidey from the first movie, and as such is a definite step up. He also has an enormous accessory that's over two feet tall, and as such, this is a good buy. Snag it if you see it and can stand to own one more webslinger.
Introduction
Spider-Man is definitely on the way, if he hasn't already made it, to outpacing Batman as America's favorite super-hero. Unlike Batman, the bulk of the various Spider-Man figures are based on the character's main design and colors, so there aren't any weird varieties. As such, the toys rely on accessories and gimmicks, and this one excels in both departments.
The toy includes a figure, a base, and a flag pole that comes in multiple pieces and, when assembled, is about 26 inches tall.
Figure
It's not like it's breaking a lot of ground, but it builds on the same basic design we were given with the first film. Namely, the blue parts seem made of some denim-like stretchy material while the raised webbing on the red pars of the suit looks a little more natural this time and a little less armored or painted on, even though, of course, the webbing is painted on.
When it comes to the basic design, there's really nowhere to go other than to add in more articulation or action features. Thankfully, this time around they stuck in some magnets in the hands and feet instead of just the hands or feet like in many of the previous magnetic Spider-Man toys. The articulation is a step above what we had before because Toy Biz has learned to better hide the joints than to stick a giant cut joint in the middle of his leg, cutting up the sculpt of his muscles. As such, this is a definite step in the right direction.
The head follows the same basic design as before, but this time, there's a few changes.
The silver/grey has been replaced with a much lighter metallic white color which is definitely an improvement in the look of the overall design. The colors on the figure as a whole are much sharper and much less muddy than the original movie toys, and odds are Toy Biz is hoping that will give these toys a little bit more of a push at the stores.
Gimmicks
Aside from higher-than-normal articulation, the figure is also outfitted with a quartet of magnets of fairly decent strenght. They aren't as strong as some small round magnets, but they are on the high end of magnetic toys in North America and are significantly better than most (but not all) of those seen in the Star Wars line.
The figure is loaded with magnets. Well, he's got four, which is more than I've seen on most action figures, equal to the the Magne Powers Microman you can see him holding upside-down in the above photos. His hands can stick to his feet, and his feet can stick to the metal screws of a Tech Deck skateboard or similar item.
Accessories
He has only one accessory, but it comes in nearly a half dozen pieces and the end result is quite large, as you can see. Fully assembled, it's roughly 26 inches tall, which is taller than the Star Wars Imperial Shuttle or Death Star Space Station toys, which believe you me are plenty big.
I mean, just look at it. It's huge. Unfortunately, it isn't all that stable even though there's a suction cup at the bottom. You'll probably have to hold the base or the top as Spidey spirals down the pole while holding on to the magnetic section of it.
The figure is a little too big, heavy, and posable for this to work properly. He tends to bend, flop, or become disconnected on his way down quite easily and this kind of accessory is really great in concept, but it's best suited to smaller, less posable designs. Still... it's a nice one for the money and a nice big pole might be just what the toy shelf needed. If not, junk drawer fodder.
Packaging
The colors stand out from most of what appears on the pegs today, but isn't nearly as complicated as the first film's packaging. Since this probably means more money goes into the toy, I can live with this.
It's fairly basic stuff, so it is what it is. This isn't exactly nice enough to win any awards, nor to justify leaving it in the package. It's functional and not hideous, and that's really all I ask for.
Availability
It's new and part of one of two Spider-Man 2 assortments that hit at the very end of December, 2003. The other assortment is much more common as of this review but, as you can see, both are shipping. It's about $6.99 at most toy discounters.
Fin
Don't have a Spider-Man action figure? You need either this toy, the super-posable one, or both. This one has many new joints and is probably the second most posable, and has the added bonus of the magnets. As he can latch on to screws in furniture, the fridge, or other things, the added perk of the magnets is enough to offset the loss of a few joints, most of which were in the hands anyway. It's a great looking figure that's a lot of fun to play with even if it's still fairly by-the-book.
If you could live without the magnets, get the other one. But let me tell you, the magnets are a blast.
Reviewed and photographed by Adam Pawlus
Sample purchased at a Target in Phoenix, AZ on January 1, 2004
Reviewed on January 6, 2004.