Silver Centurion
The Finest Armor 1985 Has To Offer

Iron Man 2 Comic Series Figure #34
Item No.: Asst. 93758 No. 19466
Manufacturer: Hasbro
Includes: Stand, cards, fireblast
Action Feature: n/a
Retail: $7.99
Availability: September 2010
Other: Articulated nicely

PREVIOUS
RSS
NEXT

While the movie armors all look alike, at least the comic versions are pretty diverse. Silver Centurion Iron Man brings this distinctive suit to life with about the same amount of flair as every other figure in this line. In the comic storyline, the armor wasn't just used for fighting creeps and hoods but also to bring down a business rival. Now that's a power suit.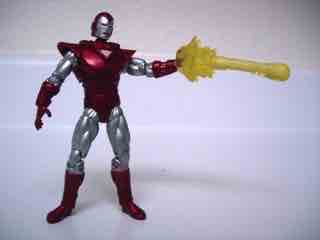 While I have read people gripe that the armor isn't very close to the comic art, it seems about right to me-- but granted, I am not the world's foremost authority on all things Marvel. The figure shares parts with another comic series figure, Iron Man #30, which does not explicitly identify the style on the package so I'm at a bit of a loss as to what it is-- surely you know, commenters. Still, they share a lot of parts and if you get one, you basically know what to expect from the other.
The red-and-silver look is here, but it's worth noting the level of paint detail isn't quite as awesome as some other figures. The repulsors in the hands and feet of earlier figures were often painted blue or some other color to set them apart from the gloves or boots, but on this release they're the same metallic red as the surrounding area. Also, keep an eye out for imperfections-- my sample had a red tinge to the silver on his left lower leg, which I didn't notice until after I opened it. The figure has roughly the same level of motion as any other Iron Man release out of Hasbro in this scale. There's a great range of movement, but once again things like sitting down were not given a priority. For combat and general posing, though, this figure should be just about right for most fans. I mean, were you planning on cramming this figure into an Iron Man Jet or some sort of Wolverine motorcycle? (OK, so maybe YOU weren't, but some kid might want to and he won't be able to pull this off.)
Since your options for Silver Centurion Iron Man toys are pretty limited, you may as well get this one-- for the price (generally closer to $5.00 for most of Q4 2010) it's a really stunning figure, even if you find something you don't like with it. $5.00 figures are something of a rarity, which may give you sufficient reason to pick him up to fight your pens on your desk at work.
--Adam Pawlus
Additional Images

Click here to see more Hasbro figures in Figure of the Day.
See more Iron Man figures in Figure of the Day:
Day 4: Hasbro Iron Man 2 Iron Man (Blast-Off Figure Stand) Action Figure
Day 34: Hasbro Iron Man 2 Iron Monger (Comic Series) Action Figure
Day 55: Hasbro Iron Man 2 Iron Man (Original) Action Figure
Day 60: Hasbro Iron Man 2 Iron Man Silver Centurion Action Figure
Day 70: Hasbro Iron Man 2 Deep Dive Armor Iron Man
Day 75: Hasbro Iron Man 2 Hulkbuster Armor Iron Man
Day 84: Hasbro Iron Man 2 Comic Series War Machine
Day 115: Hasbro Iron Man 2 Comic Series Guardsman
Day 124: Hasbro Iron Man 2 Movie Series Iron Man Mark V
Day 154: Hasbro Iron Man 2 Movie Series Iron Monger
Day 209: Hasbro Iron Man 2 Comic Series Iron Man #30 Action Figure
Day 249: Funko Marvel Universe Pop! Vinyl Iron Man Vinyl Figure Bobble Head
Day 652: Hasbro Iron Man 3 Assemblers Iron Patriot
Day 702: Hasbro Iron Man 3 Assemblers Striker Iron Man
Day 703: Hasbro Iron Man 3 Assemblers Ghost Armor Iron Man
Day 747: Hasbro Iron Man 3 Assemblers Crosscut Iron Man
Day 773: Hasbro Iron Man 3 Nano Shell Iron Man
Day 812: Hasbro Iron Man 3 Strike Eagle Iron Man
Day 872: Hasbro Iron Man 3 Marvel Legends Iron Man Mark 42
Day 878: Hasbro Iron Man 3 Marvel Legends Iron Monger
Day 1,011: Hasbro Guardians of the Galaxy Marvel Legends Infinite Series Iron Man
Day 1,021: Hasbro Iron Man 3 Marvel Legends Heroic Age Iron Man
Day 1,094: Hasbro Iron Man 3 Marvel Legends Lieutenant Colonel James Rhodes
Day 1,484: Hasbro Captain America Civil War Spider-Man, Captain America, and Iron Man Action Figures
Day 2,438: Hasbro Marvel Iron Man Action Figure

See more Marvel figures in Figure of the Day:
Day 4: Hasbro Iron Man 2 Iron Man (Blast-Off Figure Stand) Action Figure
Day 7: Hasbro Marvel Universe Ghost Rider Action Figure
Day 15: Hasbro Marvel Universe Iron Patriot Action Figure
Day 24: Hasbro Marvel Universe Dark Wolverine Action Figure
Day 31: Hasbro Marvel Universe Dark Spider-Man Venom Action Figure
Day 34: Hasbro Iron Man 2 Iron Monger (Comic Series) Action Figure
Day 39: Hasbro Spider-Man Super Poseable Spider-Man
Day 40: Hasbro Spider-Man Stealth Ninja Spider-Man
Day 50: Hasbro Spider-Man Toxic Blast Venom
Day 55: Hasbro Iron Man 2 Iron Man (Original) Action Figure
Day 60: Hasbro Iron Man 2 Iron Man Silver Centurion Action Figure
Day 65: Hasbro Spider-Man Dive Bomber Green Goblin
Day 70: Hasbro Iron Man 2 Deep Dive Armor Iron Man
Day 73: Hasbro Marvel Universe Iceman
Day 75: Hasbro Iron Man 2 Hulkbuster Armor Iron Man
Day 84: Hasbro Iron Man 2 Comic Series War Machine
Day 91: Hasbro Spider-Man (Kid Series) Monster Claw Carnage Action Figure
Day 103: Hasbro Marvel Universe Marvel's Firestar
Day 108: Hasbro Marvel Universe Spider-Man Action Figure
Day 115: Hasbro Iron Man 2 Comic Series Guardsman
Day 124: Hasbro Iron Man 2 Movie Series Iron Man Mark V
Day 131: Funko Thor Pop! Vinyl Thor Vinyl Figure Bobble Head
Day 137: Toy Biz Spider-Man Animated Super Articulated Spider-Man
Day 141: Funko Thor Pop! Vinyl Loki Vinyl Figure Bobble Head
Day 154: Hasbro Iron Man 2 Movie Series Iron Monger
Day 209: Hasbro Iron Man 2 Comic Series Iron Man #30 Action Figure
Day 249: Funko Marvel Universe Pop! Vinyl Iron Man Vinyl Figure Bobble Head
Day 290: Hasbro Spider-Man Mighty Muggs J. Jonah Jameson
Day 292: Hasbro Marvel Universe Compound Hulk
Day 300: Hasbro Spider-Man Mighty Muggs Venom
Day 306: Funko Marvel Universe Pop! Vinyl The Hulk Vinyl Figure Bobble Head
Day 311: Hasbro Spider-Man Mighty Muggs Spider-Man
Day 320: Hasbro Marvel Universe Handful of Heroes Mini Figure Pack
Day 336: Hasbro Spider-Man Mighty Muggs Demogoblin
Day 427: Funko Marvel Universe Pop! Vinyl SDCC Exlusive Spider-Man Vinyl Figure Bobble Head
Day 542: Hasbro Avengers Target Exclusive 8-Pack Figure Collection Captain America Action Figure
Day 578: Hasbro Avengers Target Exclusive 8-Pack Figure Collection Hulk Action Figure
Day 584: Hasbro Avengers Target Exclusive 8-Pack Figure Collection Thor Action Figure
Day 603: Hasbro Avengers Target Exclusive 8-Pack Figure Collection Iron Man Action Figure
Day 628: Hasbro Avengers Target Exclusive 8-Pack Figure Collection Nick Fury Action Figure
Day 757: Hasbro Avengers Assemble Captain America
Day 872: Hasbro Iron Man 3 Marvel Legends Iron Man Mark 42
Day 878: Hasbro Iron Man 3 Marvel Legends Iron Monger
Day 916: Hasbro The Amazing Spider-Man Movie Ultra-Poseable Spider-Man
Day 936: Hasbro The Amazing Spider-Man Night Mission Spider-Man
Day 1,007: Hasbro Guardians of the Galaxy Marvel Legends Infinite Series Drax
Day 1,011: Hasbro Guardians of the Galaxy Marvel Legends Infinite Series Iron Man
Day 1,021: Hasbro Iron Man 3 Marvel Legends Heroic Age Iron Man
Day 1,047: Hasbro Guardians of the Galaxy Marvel Legends Infinite Series Star-Lord
Day 1,150: Funko Guardians of the Galaxy Pop! Vinyl Entertainment Earth Exclusive Ravagers Dancing Groot
Day 1,155: Funko Hikari Vinyl Marvel Guardians of the Galaxy Planet X Groot
Day 1,158: Hasbro Guardians of the Galaxy Marvel Legends Infinite Series Gamora
Day 1,235: Hasbro Marvel Legends Infinite Series Guardians of the Galaxy Classic 5-Pack
Day 1,300: Funko Hikari Vinyl Marvel Metallic Hulk Vinyl Figure
Day 1,484: Hasbro Captain America Civil War Spider-Man, Captain America, and Iron Man Action Figures
Day 1,494: Hasbro Marvel Legends X-Men Iceman
Day 1,501: Hasbro Marvel Legends Series Spider-Man
Day 1,514: Hasbro Marvel Legends X-Men Marvel's Phoenix
Day 1,515: Hasbro Marvel Legends X-Men Marvel's Rogue
Day 1,527: Hasbro Marvel Legends X-Men Wolverine
Day 1,664: Hasbro Guardians of the Galaxy Marvel Legends Infinite Series Groot Evolution
Day 1,667: Hasbro Guardians of the Galaxy Marvel Legends Infinite Series Rocket Raccoon
Day 1,729: Hasbro Guardians of the Galaxy Marvel Legends Infinite Series Groot
Day 1,749: Hasbro Marvel Legends Series 12-Inch Deadpool
Day 1,792: Hasbro Marvel Legends X-Men 6-Inch Deadpool
Day 1,820: Hasbro Marvel Mighty Muggs Captain America
Day 1,916: Hasbro Marvel Legends Marvel Knights Man-Thing
Day 1,988: Hasbro Marvel Legends X-Men Cable
Day 2,007: Hasbro Marvel Legends Thor Ragnarok Thor and Marvel's Valkyrie
Day 2,016: Toy Biz X-Men Steel Mutants Wolverine vs. Sabretooth
Day 2,028: Hasbro Gamerverse Marvel vs. Capcom Infinite Black Widow vs. Ryu Action Figures
Day 2,031: Hasbro Marvel Rising Secret Identity Doreen Green Squirrel Girl Doll
Day 2,037: Hasbro Gamerverse Marvel vs. Capcom Infinite Iron Man vs. Mega Man X Action Figures
Day 2,040: Hasbro Marvel Legends Venom Venom Action Figure
Day 2,048: Hasbro Deadpool Chimichanga Surprise Unicorn Deadpool
Day 2,109: Hasbro Playskool Heroes Series 2 Marvel Super Hero Adventures Clear Spider-Man
Day 2,116: Hasbro Marvel Legends 80th Anniversary The Grandmaster and Korg Action Figures
Day 2,201: Hasbro Spider-Man Bend and Flex Spider-Man Action Figure
Day 2,229: Hasbro Spider-Man Marvel Legends Retro Spider-Man Action Figure
Day 2,303: Hasbro Marvel Legends Deadpool Deadpool in Boxers
Day 2,342: Hasbro Marvel Legends 375 Spider-Man Action Figure
Day 2,381: Hasbro Avengers Bend and Flex Captain America Action Figure
Day 2,438: Hasbro Marvel Iron Man Action Figure
Day 2,444: Hasbro Marvel Hulk Action Figure
Day 2,453: Hasbro Marvel Spider-Man Action Figure
Day 2,459: Hasbro Marvel Legends 375 Iceman Action Figure
Day 2,472: Hasbro Marvel Black Panther Action Figure
Day 2,473: Hasbro Marvel Legends 375 Hulk Action Figure
Day 2,476: Hasbro Marvel Legends 375 Firestar Action Figure
Day 2,479: Hasbro Marvel Legends 375 Sentinel Action Figure
Day 2,482: Hasbro Marvel Legends 375 Thor Action Figure
Day 2,485: Hasbro Marvel Legends 375 The Thing Action Figure
Day 2,488: Hasbro Marvel Legends 375 Human Torch Action Figure
Day 2,491: Hasbro Marvel Legends 375 Venom Action Figure
Day 2,494: Hasbro Marvel Legends 375 Loki Action Figure
Day 2,497: Hasbro Marvel Legends 375 Gray Hulk Action Figure
Day 2,500: Hasbro Marvel Legends 375 Storm Action Figure
Day 2,503: Hasbro Marvel Legends 375 Moon Knight Action Figure
Day 2,506: Hasbro Marvel Legends 375 Carol Danvers Action Figure
Day 2,509: Hasbro Marvel Legends 375 Black Panther Action Figure

Want to buy this figure? Check Iron Man availability at our sponsors:
Entertainment Earth