Iron Patriot
#03

Iron Man 3 Assemblers Interchangeable Armor System
Item No.: Asst. A1780 No. A1783
Manufacturer: Hasbro
Includes: Spare arms, back cannon, rocket launcher, rocket
Action Feature: n/a
Retail: $9.99
Availability: January 2013
Other: Pretty Good

PREVIOUS
RSS
NEXT

I like Iron Patriot figures, even though I've read exactly zero comics starring the character. Coincidentally, the movie is opening today and as such I have not yet seen it. I'm told this "Iron Patriot" is James "Rhodey" Rhodes, better (and previously) known as War Machine. But that's not why I'm interested in this figure, which was given to me by a buddy who got it for freesies in New York over Toy Fair. (Thanks, Mike!) The reason it's interesting is that it can be dismembered and reassembled, which I think is a feature many adult collectors say they want, few benefit from, and looks terrible in the packaging. Seriously, look at the box. It's a dismembered hero. That's not appealing.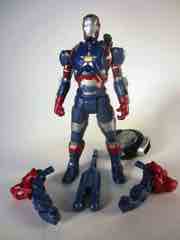 Interchangeable limbs have been around for years and are most prominent in the Glyos System and LEGO's Hero Factory in this era, although fans of Bionicle, Galidor, Stikfas, Xevoz, Socket Poppers, and other toys will say been there, done that. Still, it hasn't really been tried in a mainstream toy line for a few years so the idea is a welcome one and I appreciate that Hasbro included a second set of arms so you can swap parts right out of the box. (And it is a box, basically, rather than a blister card.) The main arms look like the movie design, while the alternate arms are bizarre greebley things with panels and chunks galore, a stark contrast to the smooth design of the default figure.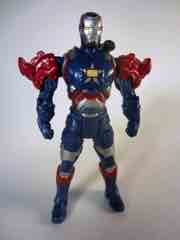 I like the sculpt, and the paint job is great. Were this exact figure released for five or six bucks without the swappable parts, it'd be totally worth it. Even for $10, it looks pretty good as Hasbro rendered it in blue plastic and added metallic silver and red paint which really do help to make it look more expensive. Unfortunately, the figure isn't as detailed or as accessorized or articulated as the Iron Man 2 figures. 5 points of articulation for $10 is not a good deal, even if it has a very nice heroic pose, a better-than-usual stance, and great proportions. This feels like a real toy, a superhero plaything I could have had when I was a kid. But the thing is, I'm old, and in 2013 I would expect this to either be cheaper or higher-tech. The paint job and sculpt are the parts which have improved since the last film, which is sort of a shame given the cost went up so much. The firing rocket is perfectly adequate, and can plug into holes on the figure's back, calves, forearms, or any other new place you deem him worthy to have an added orifice.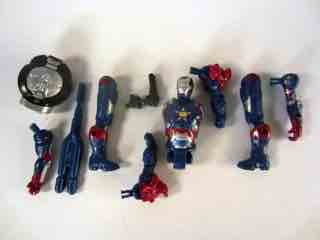 Given the popularity of construction-based action figures, it makes sense Hasbro would bring this to their own figure lines. I'm kind of disappointed that the first three month of Iron Man toys for the new movie are pretty much entirely the same styles of armor at different price points, as it would be cool to see a Tony Stark or Mandarin figure with which to change around parts. I like the simplicity of the design and was originally interested in buying several more, although by the time they got marked down to $7 at Target in late March I decided I was in no rush to buy more - I was happy enough with just the one for now. He looks cool as a figure to hang out on my desk (and has been there for a few months) and I figure I'll eventually get an Iron Man to go with him for more crazy part swapping. Or, hopefully, Hasbro will expand the "assemblers" concept to include Thor, Wolverine, and Spider-Man so I can make some crazypants hybrids. Iron Man's body with another Iron Man's pants isn't exactly wacky customizable fun, but Spider-Man with Iron Man's arms? That could be fun.
...so go ahead and get one, especially if it's cheap. I can't say it's as pleasing as other figure lines with swappable parts (see: Outer Space Men 2010-present) but it does show Hasbro experimenting with other play functionality on its action figures, which have become rather stale over the past few years. I'm a-keepin' this one.
--Adam Pawlus
Additional Images


Click here to see more Hasbro figures in Figure of the Day.
See more Iron Man figures in Figure of the Day:
Day 4: Hasbro Iron Man 2 Iron Man (Blast-Off Figure Stand) Action Figure
Day 34: Hasbro Iron Man 2 Iron Monger (Comic Series) Action Figure
Day 55: Hasbro Iron Man 2 Iron Man (Original) Action Figure
Day 60: Hasbro Iron Man 2 Iron Man Silver Centurion Action Figure
Day 70: Hasbro Iron Man 2 Deep Dive Armor Iron Man
Day 75: Hasbro Iron Man 2 Hulkbuster Armor Iron Man
Day 84: Hasbro Iron Man 2 Comic Series War Machine
Day 115: Hasbro Iron Man 2 Comic Series Guardsman
Day 124: Hasbro Iron Man 2 Movie Series Iron Man Mark V
Day 154: Hasbro Iron Man 2 Movie Series Iron Monger
Day 209: Hasbro Iron Man 2 Comic Series Iron Man #30 Action Figure
Day 249: Funko Marvel Universe Pop! Vinyl Iron Man Vinyl Figure Bobble Head
Day 652: Hasbro Iron Man 3 Assemblers Iron Patriot
Day 702: Hasbro Iron Man 3 Assemblers Striker Iron Man
Day 703: Hasbro Iron Man 3 Assemblers Ghost Armor Iron Man
Day 747: Hasbro Iron Man 3 Assemblers Crosscut Iron Man
Day 773: Hasbro Iron Man 3 Nano Shell Iron Man
Day 812: Hasbro Iron Man 3 Strike Eagle Iron Man
Day 872: Hasbro Iron Man 3 Marvel Legends Iron Man Mark 42
Day 878: Hasbro Iron Man 3 Marvel Legends Iron Monger
Day 1,011: Hasbro Guardians of the Galaxy Marvel Legends Infinite Series Iron Man
Day 1,021: Hasbro Iron Man 3 Marvel Legends Heroic Age Iron Man
Day 1,094: Hasbro Iron Man 3 Marvel Legends Lieutenant Colonel James Rhodes
Day 1,484: Hasbro Captain America Civil War Spider-Man, Captain America, and Iron Man Action Figures
Day 2,438: Hasbro Marvel Iron Man Action Figure
Day 2,516: Hasbro Marvel Legends 375 Iron Man Action Figure
Day 2,536: Hasbro Marvel Legends 375 Iron Man (Stealth Armor) Action Figure

Want to buy this figure? Check Iron Man availability at our sponsors:
Entertainment Earth