Soundwave
Series 01 #001

Transformers Generations Voyager
Item No.: Asst. A1403 No. A1404
Manufacturer: Hasbro
Includes: Shoulder cannon, Laserbeak Data Disc
Action Feature: Transforms from Communications Vehicle to robot
Retail: $22.99
Availability: December 2012
Other: 01 Series 001

PREVIOUS
RSS
NEXT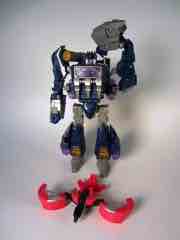 At first I was a little flummoxed why Soundwave was getting a toy upgrade when the 2010 version was pretty great. Now much larger, Soundwave towers over all the other Cybertron-games figures save for Bruticus. Also, he's made better and is packed with ratcheting joints.
Standing just over 7-inches tall, this figure is articulated similarly to the last version... but he's larger. The figure benefits from the heft and feels like a solid, chunky, and most importantly fun toy. He really does feel like an alternate toy built from the same schematics as the deluxe 2010 version, with pretty much everything ending up in a very similar place. The robot chest now carries discs rather than the figure's "battery" gun and shoulder mount, and the figure doesn't include a weapon. It does feel like something is missing, in that sense, but the whole sidekicks-in-torso thing make up for it.
Deco isn't half bad, and could be improved upon. The light purple plastic of the chest window is what hurts the look, as it washes out the Decepticon symbol on the chest and doesn't let the gold paint around it pop. It looks good overall, but why bother to put a purple logo on purple plastic? It's just tough to see, so if you're a sticker fan you might want to toss one on the chest. The eyes are red, the face is silver, and the sculpting feels more crisp than the previous version. Heck, the 2010 Deluxe toy really does feel like a rough draft compared to this one.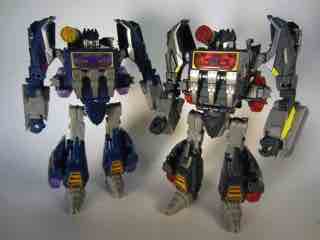 The figure is built around a pop-open chest, which has an "eject" button and a finger on the left hand posed to look like he can push it himself. (He can!) The chest compartment swings open and the is adjustable, allowing you to store 2 discs inside. Getting them in there is tough as it's a tight fit, and getting them to shoot out is more than a little tricky. I was hoping it would be smoother, but at least in my experience it doesn't work as much as I would like. It doesn't hurt the toy, but getting the disc to smoothly pop out and auto-activate it is more than a little tough.
Transforming Soundwave is a joy. There's a little bit of fidgeting and it's pretty easy to figure out. It's quite similar to the previous toy yet again, minus a chunk which hangs off the back and works as the plunger to fire the discs out. Other than that, it's pretty simple stuff. The box gives it a difficulty of "2" out of 3 and that seems a little high to me.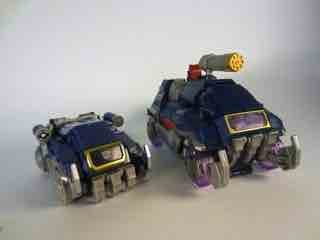 The vehicle mode is a bigger version of the original, with rolling wheels and not much else. His battery shoulder cannon now sits on top of the vehicle as either a gun or a communications device, and here's the funny thing. There's a little red seat behind it, but it's so small that no currently available figure I can identify would fit in it. The transparent purple wheels have silver hubcaps and look pretty great. It'd be even better if they left the design on the hubcap unpainted so some purple could shine through.
Rounding out the set is Laserbeak, now a small thick round disc. It seems to be taking a page from Bakugan, as there's a button on the bottom of the disc which activates an auto-transform when it hits a hard surface. Carpets and rugs aren't conducive to activating the feature. The disc isn't much to look at, but Laserbeak is sculpted as a nifty robo-vulture with a lot of detail. My one big complaint? The eyes are unpainted. It really would help give him some personality, although he's pretty neat as it is. The toy itself doesn't do much, as there are no weapons or parts, but the transformation makes it fun enough.
For $23 or so I think you'll get your money's worth. It's definitely $7-$8 more fun than your average Deluxe Generations toy these days plus the added sidekick toy is effectively $4 or $5 right there. If you like Soundwave toys, this is a good one. It's not G1, but hey, that's not going to be happening again any time soon. If you're a fan of big, chunky, not-too-complex toys this may be the best buy of the season.
--Adam Pawlus
Additional Images

Click here to see more Hasbro figures in Figure of the Day.
Click here to see more Transformers figures in Figure of the Day.

Want to buy this figure? Check Transformers availability at our sponsors:
Entertainment Earth