Neo Nebula Armorvor
Grey fur, Purple armor, Green visor

Glyos Action Figures
Item No.: n/a
Manufacturer: Onell Design
Includes: n/a
Action Feature: Alternate helmet head, backpack
Retail: $8.00
Availability: October 20, 2012
Other: The Purple Repaint

PREVIOUS
RSS
NEXT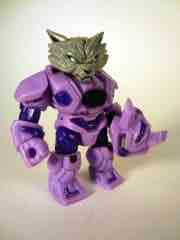 With a limit of 1 per customer, the Neo Nebula Armorvor sold out in minutes last year. These little buggers seem to be some of the most popular things Onell Design has cranked out, and with good cause: they're fun! 2012 was a big year for toys in the key of Battle Beasts with each having their own unique benefits. I like the Armorvors because they feel like a weird mix of 1980s toys and hyper-modern stuff. The decision to keep these with swivel joints gives them a retro feel you just don't get in the US toy market all that much.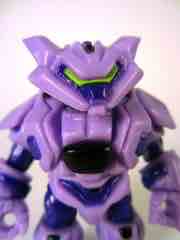 There are now at least seven flavors of the 2 1/2-inch release, and for some reason I'm compelled to pick them all up. I really look forward to more variety or a new head, because as much as I love it I'm wondering if I'll have something like 12-18 different flavors of Armorvor by year's end. Of course I'm going to try to collect them all. They're too neat.
The Neo Nebula version of the Armorvor has a layout similar to the Verexxan or Venjorun versions. There are black details, and a lot of dark purple elements to bring out the sculpt. It's really pretty well done. Made of over a dozen parts, the reconfigurable figure has a removable "black core" in his chest which should remind you of classic rubsign stickers, and if it doesn't you're probably younger than my intended target audience.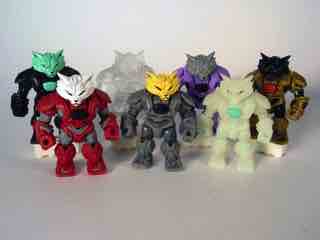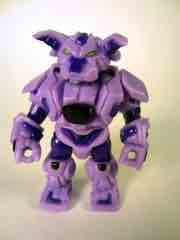 Two heads are better than one, so Onell Design gave this one three faces. The furry grey wolf head has but one face, but the armored one has two. On one side, it looks like a helmeted wolf. The other has a dog-like head, which has yet to make an appearance in the fun yet far and few between Glyos comics online.
The once-$8 figure seems to be hovering around $35 on online auction sites, and if it were the only release of the mold I'd say go ahead and buy it. I've played around with my Armorvor figures more than almost any other toy in 2012, with the exception of Fall of Cybertron Optimus Prime. Armorvors are tons of fun, but Onell Design has put out new colors every few months in 2012 and it would be reasonable to expect more are en route in the coming months. If the chance comes up, get at least two so you can try swapping the parts around. And then contact The GodBeast for some custom heads. I assume Onell Design will eventually release another alternate head, but probably not soon. After all, the figure seems to be selling out just fine as it is.
--Adam Pawlus
Additional Images


Click here to see more Onell Design figures in Figure of the Day.
Click here to see more Glyos Compatible figures in Figure of the Day.